Here are the Twins' 2019 Top 30 Prospects
The Twins know that in order for the team to have big league success, given their market, they have to largely sign and develop their own players. And over the years, they've been successful. That surprsing 2017 postseason club? It had more homegrown players than any other team in the
The Twins know that in order for the team to have big league success, given their market, they have to largely sign and develop their own players. And over the years, they've been successful.
That surprsing 2017 postseason club? It had more homegrown players than any other team in the playoffs that year. And though they weren't able to repeat last year's success, there's a slew of talent on its way up to Minnesota.
Top 30 Prospects lists
| | |
| --- | --- |
| AL East | BAL, BOS, NYY, TB, TOR |
| NL East | ATL, MIA, NYM, PHI, WSH |
| AL Central | CLE, CWS, DET, KC, MIN |
| NL Central | CHC, CIN, MIL, PIT, STL |
| AL West | HOU, LAA, OAK, SEA, TEX |
| NL West | ARI, COL, LAD, SD, SF |
| Division | Team |
The Twins' farm system has been in MLB Pipeline's Top 10 a number of times, as high as No. 3 back before the 2015 season started. After being absent from 2016-17, it climbed back into the top 10 in our midseason ranking last year and currently stands at No. 8.
The big reason sits atop the list. Royce Lewis and Alex Kirilloff provide one of the better 1-2 offensive punches in the Minors, perhaps behind only Vladimir Guerrero Jr. and Bo Bichette of the Blue Jays. Add in up-and-coming right-hander Brusdar Graterol, who could be one of the top pitching prospects in the game a year from now, and that's a triumvirate to match that of any system.
But it's not just elite-level talent here. This system is deep, with some exciting young players just starting out, all the way up to role players ready to contribute at some point in 2019 should the need arise.
Here's a look at the Twins' top prospects:
1) Royce Lewis, SS
2) Alex Kirilloff, OF
3) Brusdar Graterol, RHP
4) Wander Javier, SS
5) Trevor Larnach
Biggest jump/fall
Here are the players whose ranks changed the most from the 2018 preseason list to the 2019 preseason list.
Jump: Jose Miranda, 2B/3B (2018: 28 | 2019: 14) -- Bat took big step forward in 2018; chance to be a plus hitter.
Fall: Tyler Jay, LHP (2018: 16 | 2019: NR) -- Former first-rounder has struggled to stay healthy; left unprotected, he wasn't taken in Rule 5.
MLB's Top 10 farm systems
Best tools
Players are graded on a 20-80 scouting scale for future tools -- 20-30 is well below average, 40 is below average, 50 is average, 60 is above average and 70-80 is well above average. Players in parentheses have the same grade.
Hit: 65 -- Alex Kirilloff
Power: 60 -- Brent Rooker
Run: 70 -- Royce Lewis
Arm: 60 -- Wander Javier
Defense: 60 -- Gilberto Celestino (Gabriel Maciel)
Fastball: 70 -- Brusdar Graterol (Jorge Alcala)
Curveball: 55 -- Blayne Enlow (Lewis Thorpe, Zack Littell)
Slider: 60 -- Brusdar Graterol
Changeup: 60 -- Stephen Gonsalves
Control: 60 -- Griffin Jax (Luis Rijo)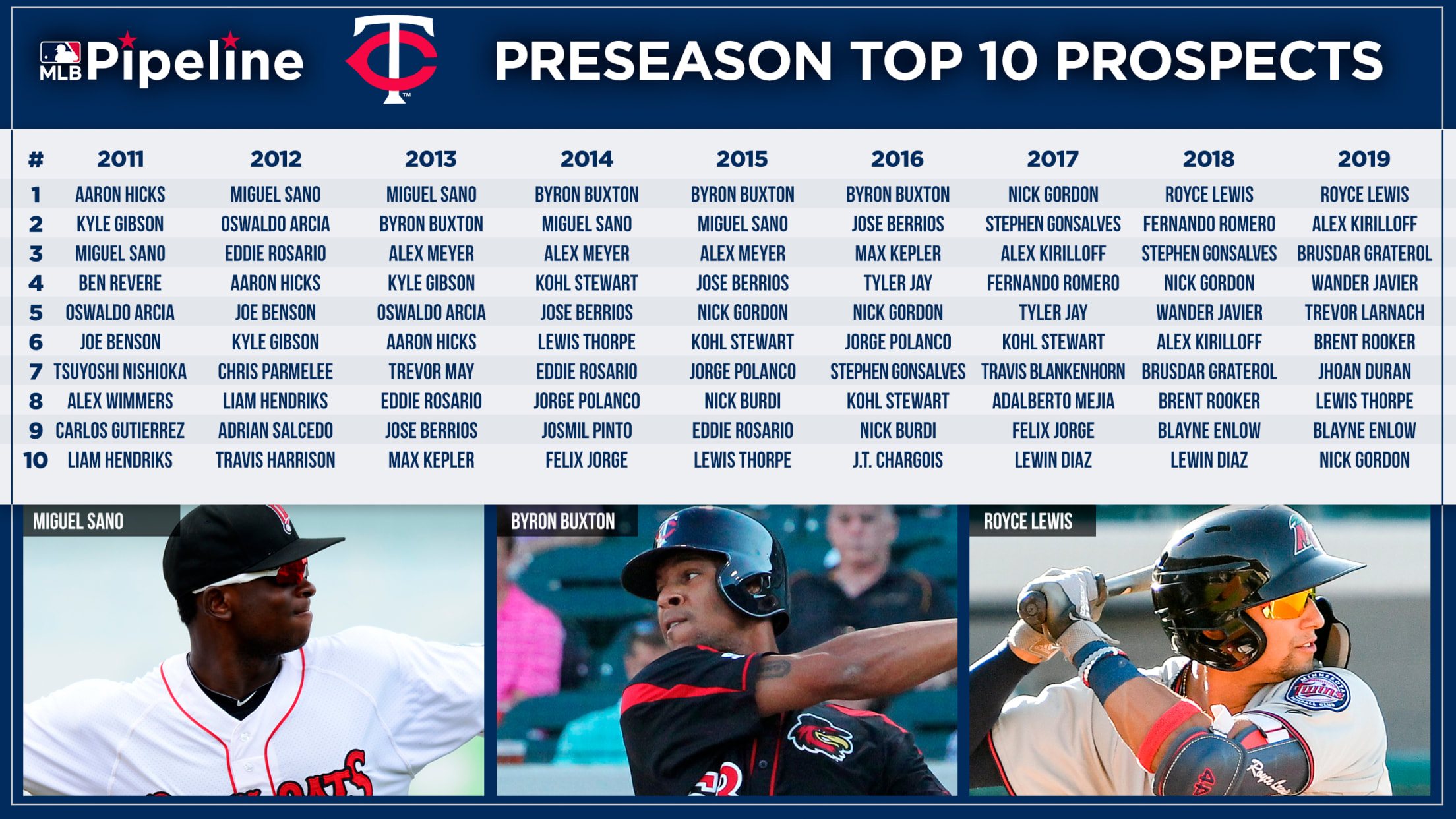 .
How they were built
Draft: 17 | International: 5 | Trade: 7 | Free agent: 1
Breakdown by ETA
2019: 7 | 2020: 7 | 2021: 11 | 2022: 4 | 2023: 1
Breakdown by position
C: 2 | 1B: 1 | 2B: 5 | SS: 3 | 3B: 0 | OF: 9 | RHP: 8 | LHP: 2