Friday's top prospect performers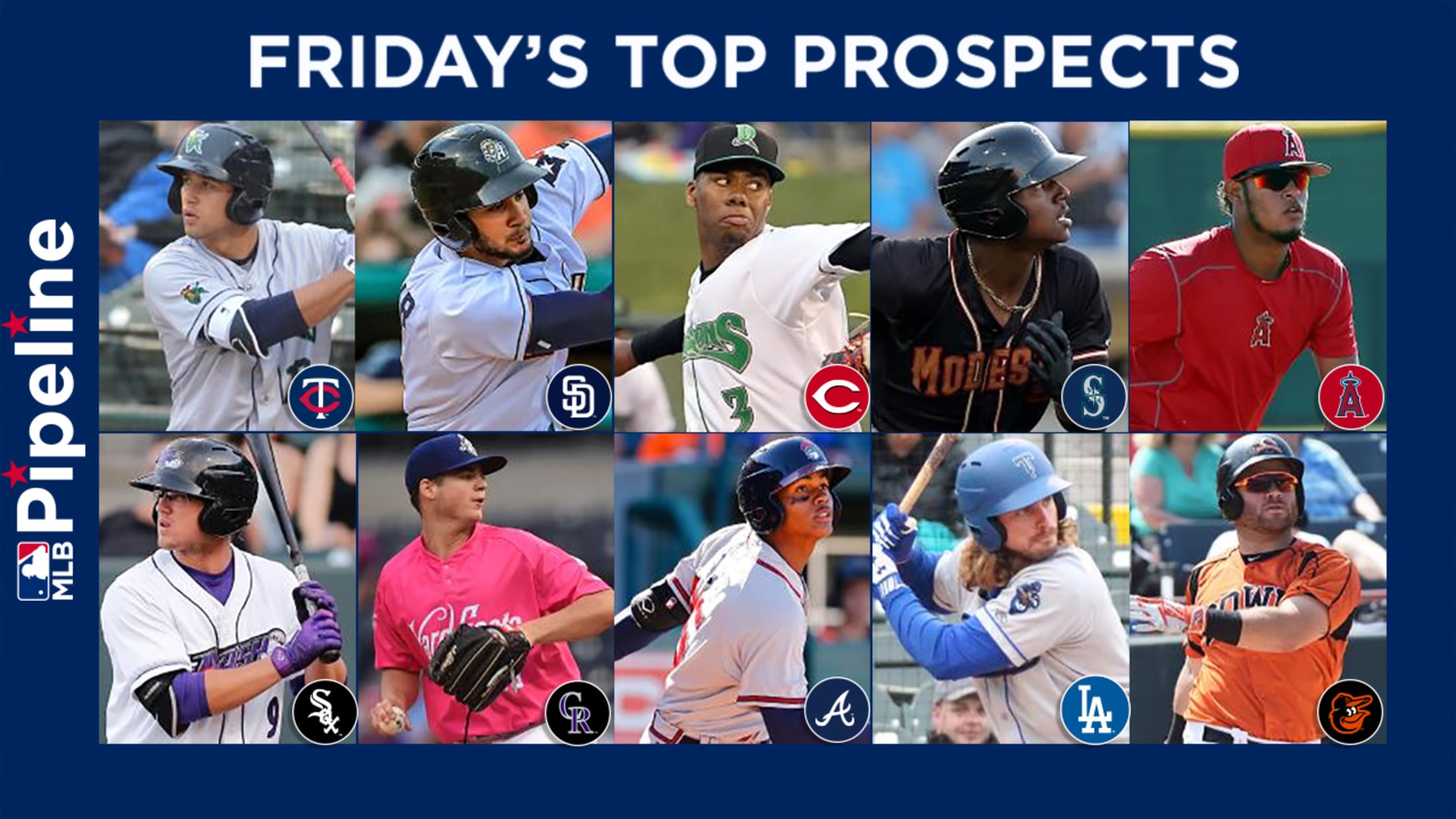 Here's MLB Pipeline's roundup of the top prospect performances in the Minor Leagues on Friday.A trio of Twins prospects put on a hitting clinic on Friday night as Alex Kirilloff, Luis Arraez and Ben Rortvedt each hit a home run and together combined for 11 hits and 10 RBIs to
Here's MLB Pipeline's roundup of the top prospect performances in the Minor Leagues on Friday.
A trio of Twins prospects put on a hitting clinic on Friday night as Alex Kirilloff, Luis Arraez and Ben Rortvedt each hit a home run and together combined for 11 hits and 10 RBIs to lead Class A Advanced Fort Myers over Bradenton, 14-7.
Promoted to Fort Myers earlier this week, Kirilloff, Minnesota's No. 3 prospect (No. 71), furthered his breakout campaign by going 4-for-6 with five RBIs, three a product of his first Florida State League home run in the fifth inning, in his second game with the Miracle. The 20-year-old outfielder was 1-for-6 with one run scored in his Fort Myers debut on Thursday.
MILB Video - Title: Kirilloff goes deep - Url: http://www.milb.com/r/video?content_id=2184081483
Fully healthy after having his entire 2017 season wiped out by Tommy John surgery, Kirilloff, the Twins' first-round pick in '16, has emerged as one of the better offensive prospects below the Double-A level in his first full season. In 67 games between Fort Myers and Class A Cedar Rapids, he's slashing a robust .337/.392/.610 with 14 home runs, 20 doubles and 61 RBIs.
:: Complete prospect coverage ::
Arraez (No. 21) put Fort Myers on the board with a leadoff home run, his first of the season, and ultimately finished a triple short of the cycle, going 5-for-6 and scoring four runs in his second career five-hit game. He's tallied multiple hits in six of his past 10 contests, during which he's hitting .447 (21-for-47). Overall, the 21-year-old second baseman owns a .304/.358/.412 batting line in 51 games this season.
As for Rortvedt, the Twins' No. 22 prospect went deep in his first two at-bats, hitting two-run shots in the second and fourth innings, to record his first career multihomer game. The 20-year-old catcher's homers were his first in nine games with the Miracle and gives him three homers in 48 games for the season. He's hitting .290/.340/.420 overall after slashing .224/.284/.315 with one home run over 89 games with Cedar Rapids in his first full season.
The rest of the best performances from top prospects Friday
• No. 5 overall prospect Fernando Tatis Jr. (Padres' No. 1) put Double-A San Antonio on the board with a third-inning solo shot and went on to finish 3-for-5 with two runs scored in a 3-0 win over Midland. The 19-year-old shortstop is having a strong campaign in the Texas League, sporting a .276/.348/.490 slash line with 12 homers, 64 runs scored and 11 steals despite a dismal first month of the season (.177/.231/.333, 34 K in 24 games).
MILB Video - Title: Tatis Jr.'s solo homer - Url: http://www.milb.com/r/video?content_id=2184911583
• No. 20 overall prospect Hunter Greene (Reds' No. 2) took the loss but still completed a career-high 6 2/3 innings, allowing three runs (two earned) on five hits as Class A Dayton fell to South Bend, 3-2. The 18-year-old's heater was up to 101 mph in the first inning and he faced the minimum through three before scuffling in the subsequent frame. Greene recovered to retire seven of the final 10 batters he faced, ultimately striking out seven and issuing zero walks in the outing. He hasn't allowed more than two earned runs in six straight starts, dating back to May 18.
MILB Video - Title: Greene's seventh strikeout - Url: http://www.milb.com/r/video?content_id=2184845383
• No. 62 overall prospect Kyle Lewis' (Mariners' No. 1) and Evan White's (No. 2) solo home runs accounted for all of Class A Advanced Modesto's offense in a 9-2 loss against Stockton. It marked the fourth home run of 2018 for both players, and together they collected five hits, with White finishing 3-for-4 and Lewis 2-for-4.
• No. 79 overall prospect Kevin Maitan (Angels' No. 2) launched his first home run and extended his season-opening hitting streak to seven games for Rookie-level Orem. The 19-year-old switch-hitter collected three hits for the second time in three games as he finished 3-for-5 with two RBIs and three runs scored. He's hitting .433/.500/.533 overall, with 13 hits in his first seven contests in the Pioneer League.
MILB Video - Title: Maitan hits a solo homer - Url: http://www.milb.com/r/video?content_id=2185301083
• No. 85 overall prospect Blake Rutherford (White Sox No. 7) drove in four with a two-run homer and a two-run double to finish 3-for-4 with three runs scored and a stolen base in Class A Advanced Winston-Salem's 8-2 win over Down East. The homer was Rutherford's second in as many days and pushed his season total to six home runs -- one more than he amassed over 134 games in his first two seasons. The 21-year-old outfielder is slashing .333/.358/.587 in June and .295/.335/.471 for the season.
MILB Video - Title: Rutherford goes yard - Url: http://www.milb.com/r/video?content_id=2184330083
• No. 93 overall prospect Peter Lambert (Rockies' No. 3) retired the final 15 batters he faced en route to completing seven innings of one-run ball in Double-A Hartford's 6-1 win over Binghamton. He allowed just two hits -- one being a solo home run to Tim Tebow -- and struck out five before departing after 76 pitches (52 strikes). The 21-year-old righty has been sensational in four starts this month, going 4-0 with a 1.14 ERA and 0.73 WHIP in 31 2/3 innings. For the season, Lambert leads all qualified Eastern League hurlers in ERA (tied, 2.31), WHIP (1.03) and innings pitched (85 2/3).
• Braves No. 9 prospect Cristian Pache went 2-for-4 with a home run and two RBIs to back a scoreless effort on the mound by Kyle Muller (No. 12) as Class A Advanced Florida blanked Daytona, 3-0. Muller, a 6-foot-6 left-hander, scattered five hits over six innings and recorded four strikeouts and four walks as he improved his ERA to 3.12 through eight starts in the Florida State League. Pache's homer, a solo shot in the third inning, was his fifth of the season, and the 19-year-old outfielder is hitting .278/.303/.413 overall after logging his third multihit game in his last 10 contests.
• Braves No. 30 prospectHuascar Ynoa carried a no-hit bid into the fifth inning before completing six one-hit frames in Class A Rome's 5-0 win over Augusta. He issued four walks but struck out seven in the outing, also recording seven ground-ball outs and throwing 60 of his 99 pitches for strikes. The 20-year-old righty has racked up 80 strikeouts while holding hitters to a .210 clip over 67 2/3 innings (14 starts) in his first full season.
• Dodgers No. 5 prospect DJ Peters and Will Smith (No. 8) combined to record five extra-base hits and five RBIs as they powered Double-A Tulsa past Northwest Arkansas, 9-3. Peters hit a pair of solo homers and later added a double to finish 3-for-5 at the plate. Smith, meanwhile, homered for a third straight game and also hit a double as part of 2-for-4, three-RBI performance. Smith's homer was his 10th of the year, while Peters pushed his total to 14 with his third multihomer game of the season.
MILB Video - Title: Peters' first homer - Url: http://www.milb.com/r/video?content_id=2184647883
• Orioles No. 10 prospect D.J. Stewart was one of seven players to tally multiple hits as Triple-A Norfolk hammered Louisville, 16-1. The 24-year-old outfielder registered three of the Tides' 20 hits to finish 3-for-5 with a home run, four RBIs and four runs scored. He's hitting .278/.374/.461 with seven homers in 51 games for the season.