Kids enjoy Pitch, Hit & Run at Target Field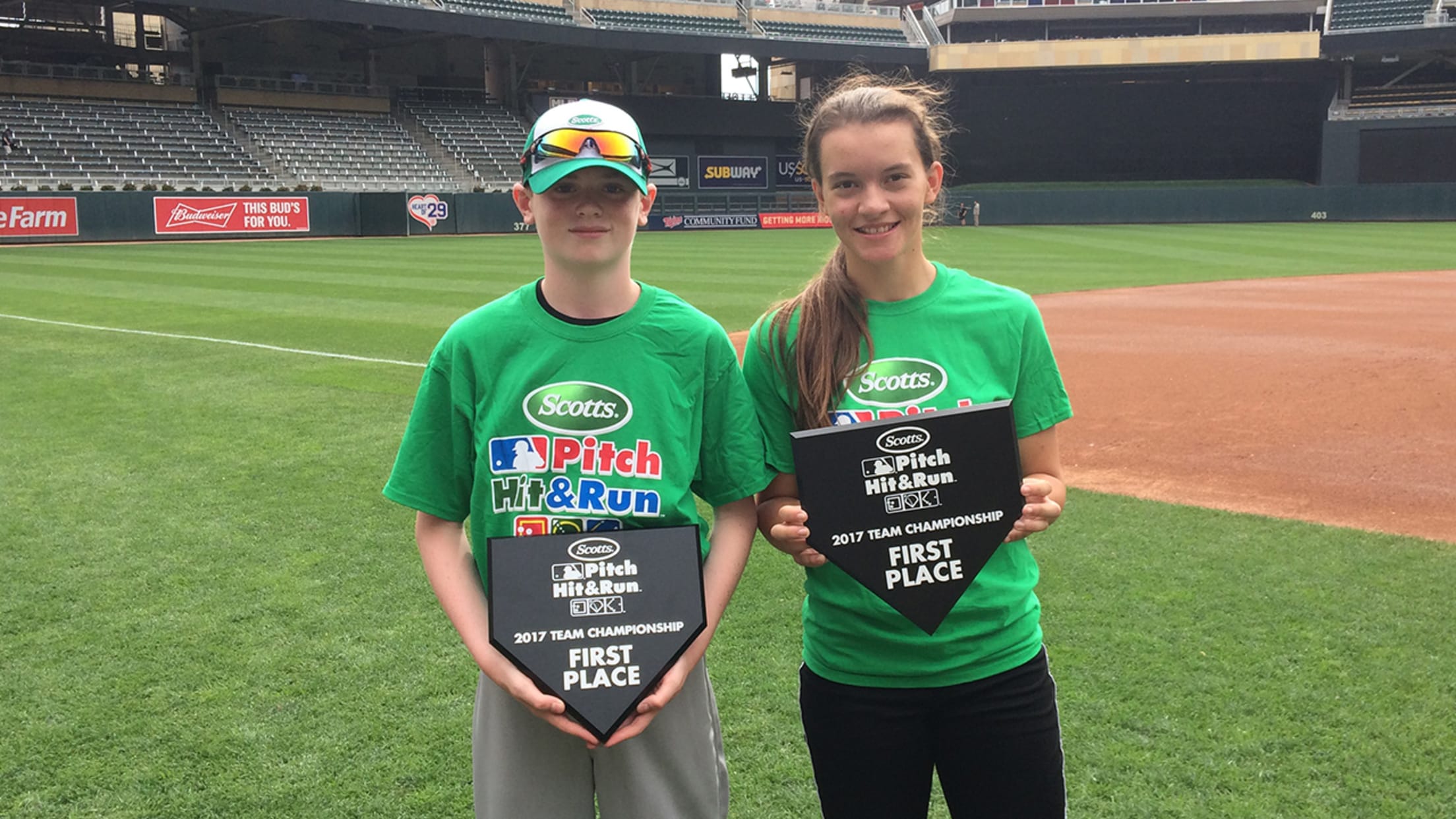 Stren Crouch and Mackenzie Boone won the 13/14 divisions. (Shane Jackson)
MINNEAPOLIS -- Perhaps the thing that Stren Crouch is most eager about for his return to Algona, Iowa, is the ability to brag to all his friends.Crouch claimed the first-place plaque in the 13/14 boys baseball division on Saturday at the 21st annual Scotts Pitch, Hit & Run competition. But
MINNEAPOLIS -- Perhaps the thing that Stren Crouch is most eager about for his return to Algona, Iowa, is the ability to brag to all his friends.
Crouch claimed the first-place plaque in the 13/14 boys baseball division on Saturday at the 21st annual Scotts Pitch, Hit & Run competition. But what he's looking forward to most is boasting about spending the morning playing baseball at Target Field.
"It's really cool because you get to brag to all your friends who didn't get to come," Crouch said. "I'm very excited. This is my first time down here."
Pitch, Hit and Run competition is underway at Target Field. Twins-Tribe twinbill to follow. Buckle in, folks. It's going to be a long one. pic.twitter.com/UBOJ8bO70u

— Shane Jackson (@SJacksonLJW) June 17, 2017
At first, Crouch didn't really understand what all the fuss was about when his dad pushed him to practice. However, it became more clear once he stepped on the field and heard the thunderous applause from the stands after each of the 24 participants completed an event.
There were four divisions in both baseball and softball, consisting of three competitors depending on age. Each participant began the event by throwing six pitches into the pitching net in front of the left-field wall.
After that, they took three swings off the tee from the left-field corner, hitting the ball across the outfield. To conclude the two-hour competition, each contestant was timed running from second base all the way to home plate. The scores were tallied up, and each finalist was recognized.
"My dad wanted me to practice all the time; I didn't really get the big picture until I was here," Crouch said. "But now that I'm down here, it's been really fun. I think practicing helped pay that off."
But not all participants were first-timers. Mackenzie Boone clinched a first-place finish in the 13/14 softball division in her final try at the event. Saturday marked her seventh time making it to the Major League ballpark, including four victories. She has also finished second twice and third once.
Boone (Bismarck, N.D.) admitted that that running was her best event and she worked on hitting and pitching more going into this year.
"It's obviously very cool knowing that the professional players will be out here later," Boone said, "and knowing that we were doing the same thing."
The other softball winners on the day were Bria Holm (Moorhead, Minn.) in the 11/12 division, Zoe Montag (Algona, Iowa) in the 9/10 division and Elizabeth O'Malley (Montevideo, Minn.) in the 7/8 division.
Joining Crouch in the winner's circle on the baseball side were Christopher Peters (Rosenort, Manitoba) in the 11/12 division, Mitchell Olson (North Oaks, Minn.) in the 9/10 division and Wesley Nickelson (Drake, N.D.) in the 7/8 division.
The top competitors nationwide from each age group will have a chance to compete in Miami during MLB All-Star Week at Marlins Park.
Pitch, Hit & Run, the "Official Youth Skills Competition of Major League Baseball," invites kids to demonstrate their pitching, hitting and running abilities in baseball and softball. The competition coincides with the "PLAY BALL" initiative between Major League Baseball, USA Baseball and USA Softball, which encourages widespread participation in all forms of baseball/softball activities among all age groups, especially youth.
Shane Jackson is a reporter for MLB.com based in Minneapolis.