Mauer, Sano dealing with injuries
Former's sore quads 'nothing major'; latter not ready for return to 3rd base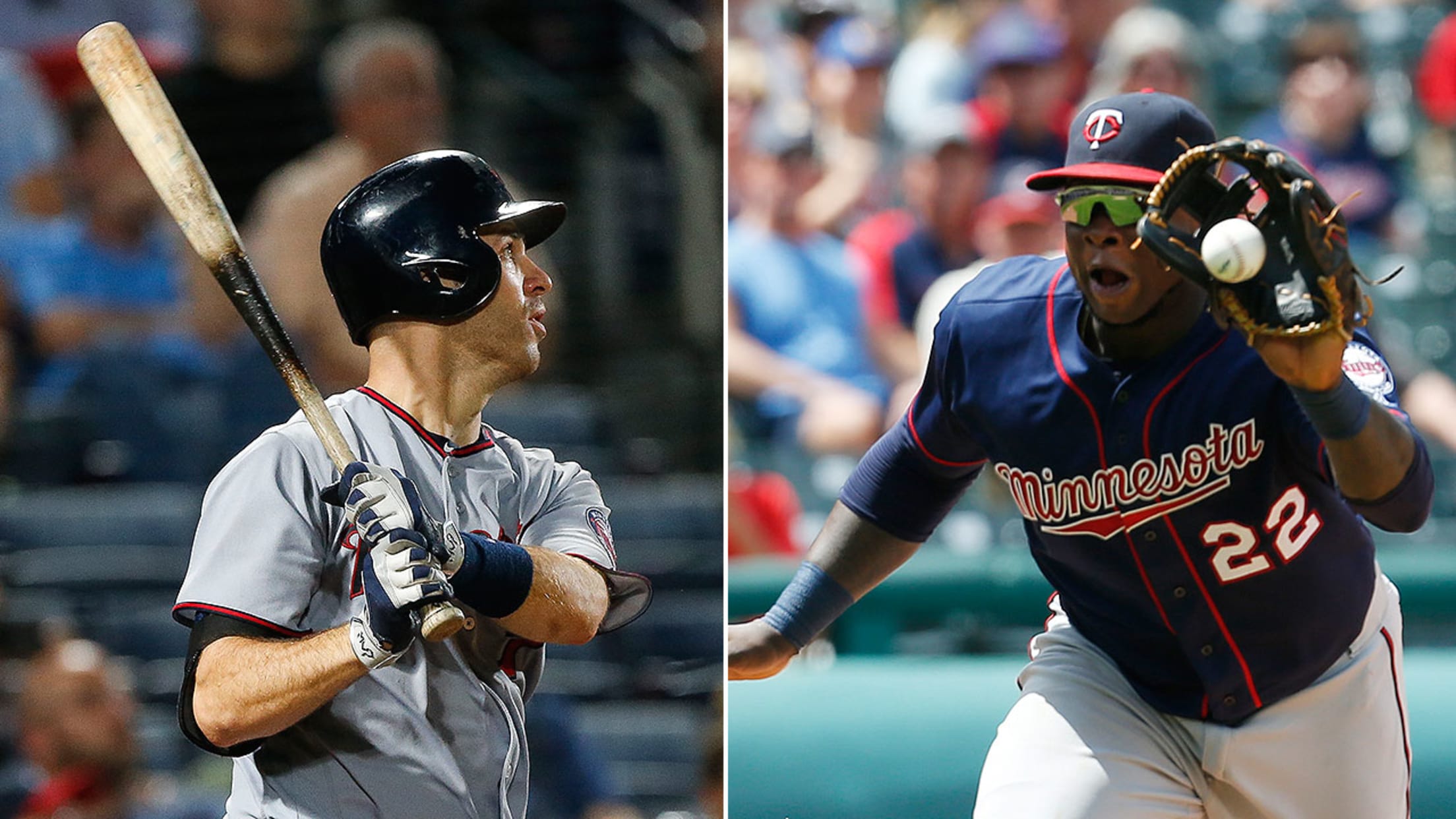 Joe Mauer (sore quads) and Miguel Sano (sore right elbow) were held out of Wednesday's lineup. (AP)
ATLANTA -- Joe Mauer and Miguel Sanó were both held out of the Twins' lineup against the Braves on Wednesday, as Mauer is dealing with sore quads and Sano isn't quite ready to return to third base with his sore throwing elbow.Mauer continued his impressive August by going 3-for-4 with
ATLANTA -- Joe Mauer and Miguel Sanó were both held out of the Twins' lineup against the Braves on Wednesday, as Mauer is dealing with sore quads and Sano isn't quite ready to return to third base with his sore throwing elbow.
Mauer continued his impressive August by going 3-for-4 with a homer and a walk in Tuesday's 4-2 win over the Braves, but Twins manager Paul Molitor said Mauer has been playing with quad soreness and that it was aggravated while he ran the bases.
"His legs have been a little bit sore the last week or so," Molitor said. "Last night, he scored from first on a double in the first inning, and I don't think he was running at 100 percent the rest of the game. Could I have pushed him out there? Probably. But I don't think he's 100 percent for what he can do on the bases, and it could affect his defense."
Molitor, though, stressed that the injury isn't serious and that Mauer could return to the lineup on Thursday in Kansas City. Mauer is hitting .436/.516/.709 with two homers, seven doubles and 11 RBIs in 14 games this month. With Mauer out, Kennys Vargas started at first base.
"It's nothing major," Molitor said. "My impression is that it's not a strain or a pull. I just listen to the player and make the decision accordingly. I had him targeted to play down here with no DH and his defense, but I just had to make a little adjustment. We'll see what he feels like he can do tomorrow."
Sano, meanwhile, has been dealing with a sore right elbow, and he tested it out on Tuesday by throwing from third base during batting practice for the first time in more than a week. Sano was able to get through the drill without any issues, but Molitor said it was clear that Sano is not fully healthy.
Sano could play third at some point this weekend in Kansas City, but he appears more likely to see action at DH, which isn't an option in Atlanta with National League rules. Trevor Plouffe made his second straight start at third in Sano's absence.
"I watched him fairly intently during batting practice, throwing across with his 15 to 20 throws, and he wasn't throwing max effort but throwing accurately," Molitor said. "I asked him how it went, and he said, 'OK.' He's doing better, but I don't get the feeling he's feeling 100 percent yet."