Sano favors 'Boqueton' for Players Weekend
New event focuses on players' personalities starting Friday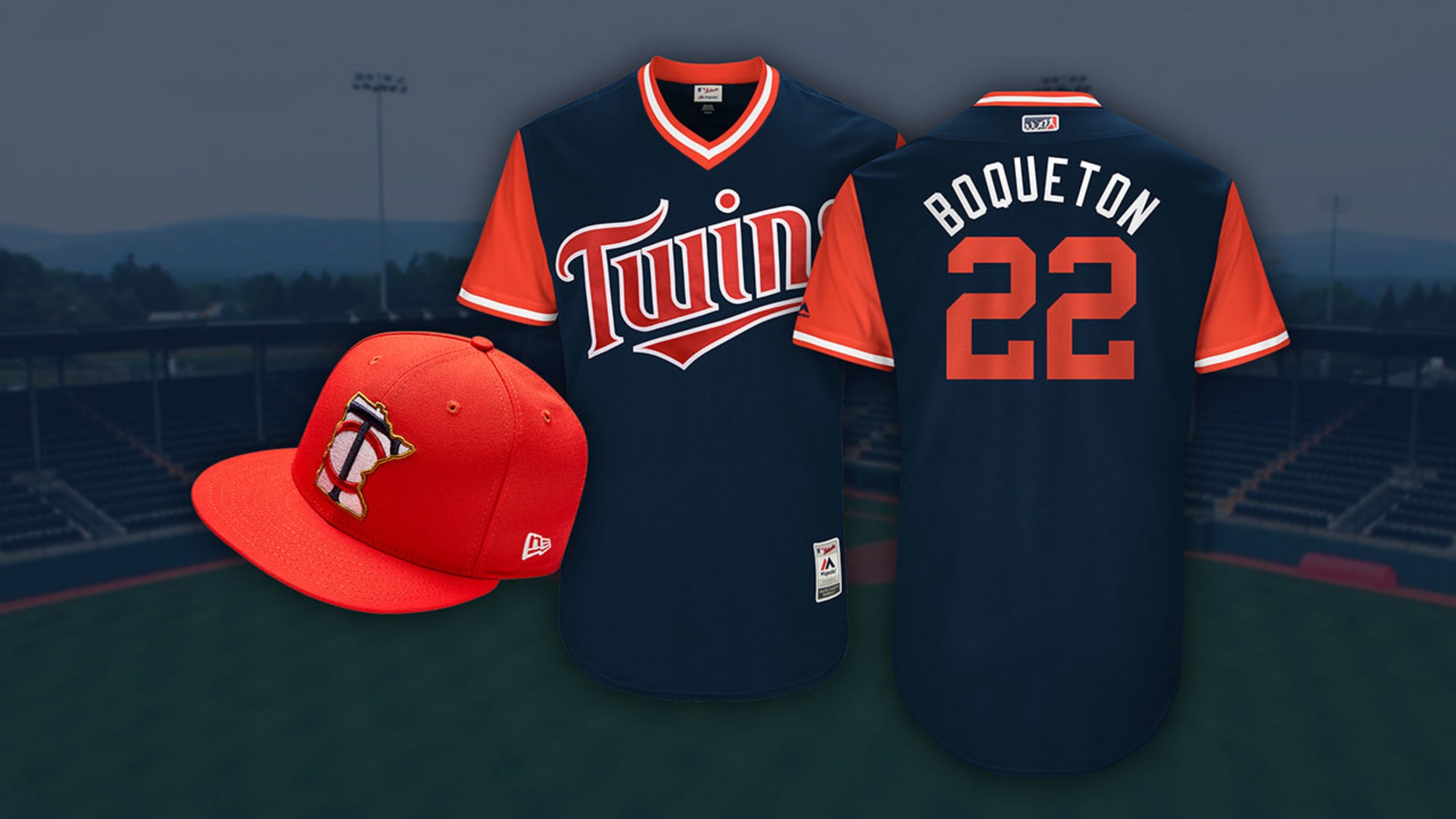 DETROIT -- Ever since he was a kid in the Dominican Republic, Miguel Sano has always been noticeable on the baseball field, and not just because of his imposing size and prodigious talent.• Players Weekend gear available at MLBShop.comSano likes to have fun while playing, and can be a bit of
DETROIT -- Ever since he was a kid in the Dominican Republic, Miguel Sano has always been noticeable on the baseball field, and not just because of his imposing size and prodigious talent.
• Players Weekend gear available at MLBShop.com
Sano likes to have fun while playing, and can be a bit of a character, leading to his nickname, "Boqueton," which roughly translates to "Big Mouth." It was a nickname given to him by his trainer when he was 12 years old, and it's stuck ever since. Even though Sano will not be in the lineup after going on the 10-day DL, he will sport "Boqueton" on his jersey as part of the inaugural Players Weekend, this Friday through Sunday.
"It's a nickname that's stuck around," Sano said through translator Carlos Font. "Every time I'm in my hometown, people yell at me, 'Boqueton, Boqueton.' Even in Minnesota a lot of people call me 'Bocaton,' when I'm at third base."
The Twins will be in Toronto for a three-game series that weekend, and players will be able to have a nickname placed on the back of the jerseys made by Majestic Athletic, as well as to wear and use uniquely colored and designed spikes, batting gloves, wristbands, compression sleeves, catcher's masks and bats.
Players will wear specially designed caps by New Era, and unique socks from Stance. During pregame workouts and postgame interviews, they will wear T-shirts highlighting a charity or cause of their choice.
"It's awesome," Sano said. "Every time you get a nickname it means you're loved. My thing is to just keep playing the game, and people can call me what they want, but as long as kids can see you can make it and better yourself, it's good to me."
Also, each player will wear a special patch on his sleeve showing the progression of a child evolving into a Major Leaguer. Under that logo is white space, and every player will mark a name of a person who they are grateful to for helping them advance their careers, such as family or a coach.
Sano will have "Angelica" written on his patch as a tribute to his daughter, who passed away a week after her birth in November 2014. Sano thought about having her name on the back of his jersey, but wanted to keep his nickname light-hearted, and honored her with the patch instead.
Game-worn, Players Weekend jerseys will be auctioned at MLB.com/auctions with 100 percent of the net proceeds donated to the MLB-MLBPA Youth Development Foundation, a joint effort established in July 2015 by MLB and the MLBPA with an initial commitment of $30 million focused on improving the caliber, effectiveness and availability of amateur baseball and softball programs across the United States and Canada.
• Players Weekend: Nicknames of the game
Here's a look at other nicknames that will be used by the Twins and their meanings:
Ervin Santana, Magic: Santana said basketball is his favorite sport, and he was nicknamed "Magic" as a kid because of his basketball skills and love for Magic Johnson. Santana's real name is Johan, but he changed it to Ervin as a Minor Leaguer to avoid confusion with former Twins lefty Johan Santana. He also chose Ervin because of Earvin Magic Johnson.
Jose Berrios, Orlandito: Berrios goes by Jose or J.O. in the United States, but everyone back home knows him by his middle name, Orlando, and he's called "Orlandito," which means Little Orlando.
Eddie Rosario, Bandito: Rosario said a spelling mistake led to "Baudidou," on the back of his jersey, but he was trying to go with "Bandito," which has been his playful nickname with his group of friends since he was a kid in Puerto Rico.
Eduardo Escobar, El de la Pica: Escobar's nickname pays homage to where he was born in La Pica, Venezuela. He said it's a nickname his teammates and friends still call him.
Ehire Adrianza, Guarenero: Like Escobar, Adrianza's nickname is a tribute to his hometown of Guaranas, Venezuela.
Jorge Polanco, Chulo: Polanco said it's been his nickname since he was a baby and was given to him by his uncle. It roughly translates to "pretty boy," and is what his family calls him.