Sano shows mobility in first spring start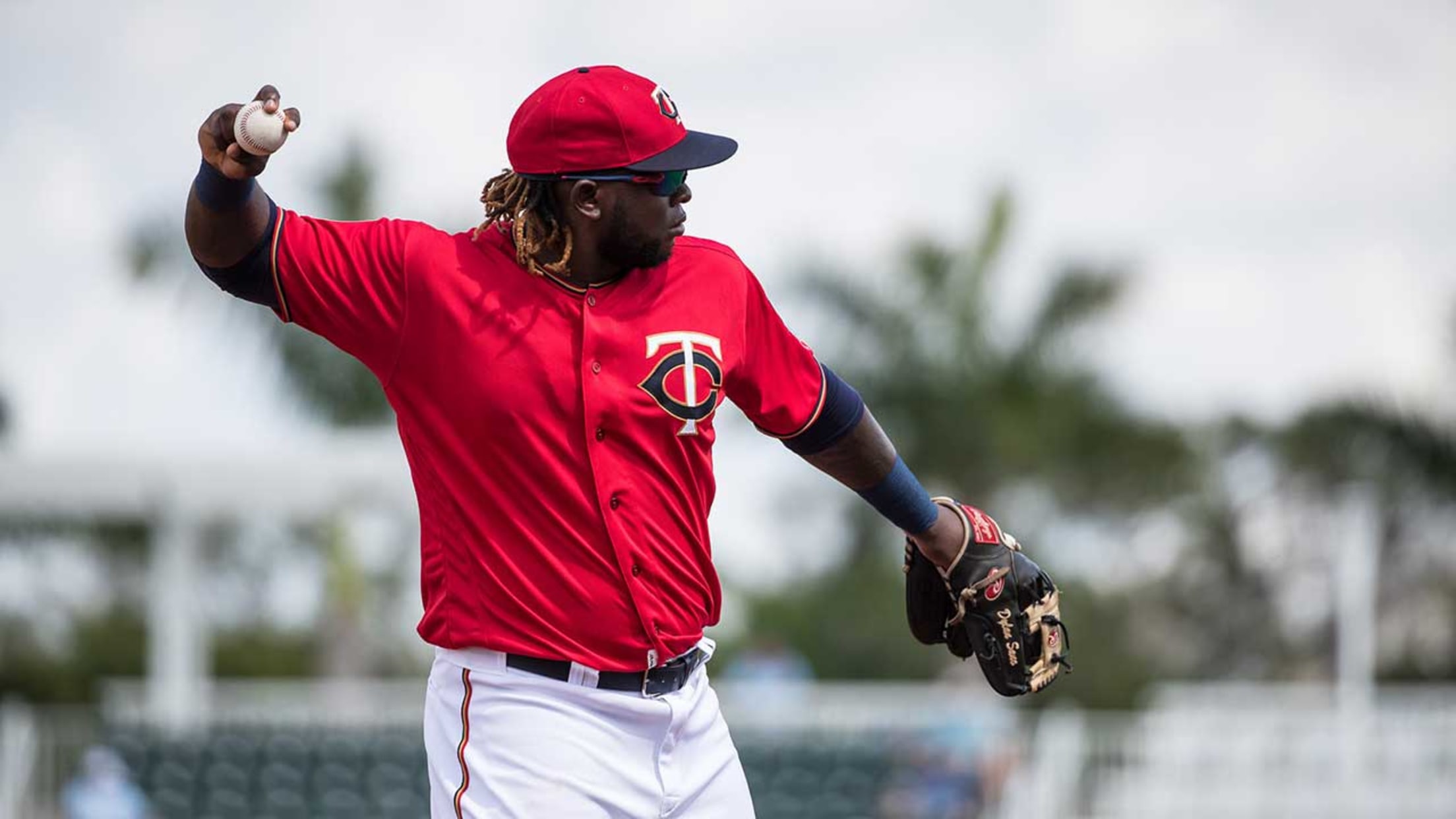 FORT MYERS, Fla. -- Third baseman Miguel Sano made his spring debut in the Twins' 3-1 loss to the Rays on Wednesday, going 0-for-2 with a nice play on a slow roller in the fourth inning that helped ease any concerns about his health after undergoing November surgery to place
FORT MYERS, Fla. -- Third baseman Miguel Sano made his spring debut in the Twins' 3-1 loss to the Rays on Wednesday, going 0-for-2 with a nice play on a slow roller in the fourth inning that helped ease any concerns about his health after undergoing November surgery to place a titanium rod in his left shin.
Sano played five innings at third base, flied out to left on the first pitch he saw in the second inning and flied out to right to end the fourth. The Twins are easing Sano into Spring Training, as he continues to work on his conditioning after the surgery that limited his mobility early in the offseason.
"The at-bats you're not worried about, it's more about him being on his feet for five innings," said Twins bench coach Derek Shelton, who managed the split-squad Twins at Hammond Stadium. "We saw him make a nice barehand play that probably a lot of third basemen don't make. But he made it easy and got through it and feels good afterwards. It's the first step of Spring Training for him."
:: Spring Training coverage presented by Camping World ::
Sano came in on a soft roller from Nick Solack in the fourth, and he barehanded the ball and made a strong throw to first for the out. It was one of two balls hit to him, as he also spun and threw to first on a grounder hit by Willy Adames in the first that ended up as an infield single.
"It's a tough play because the hop it took, which caused him to step back," Shelton said. "I think the most important thing was he took a step back and there was no hesitation on making the spin move. For him to be as agile as he was, it was a positive."
Sano wasn't available after the game, but he reportedly met with Major League Baseball on Tuesday about the alleged sexual assault that occurred in 2015. Twins chief baseball officer Derek Falvey said Wednesday he's hopeful the process will now be resolved soon.
"The hope is that we get this resolved during Spring Training," Falvey said. "I certainly recognize there is a process to that and Major League Baseball is working through that. But our hope is we get some direction soon."
Spring debuts
• First baseman Joe Mauer went 0-for-2 against the Rays in his first Grapefruit League action. Mauer is expected to get 30 to 40 at-bats this spring.
• Closer Fernando Rodney struggled with his command in the third, giving up a run on a hit and a walk. But his velocity was solid, hitting as high as 95 mph on the radar gun.
• Lefty Zach Duke threw a scoreless sixth, but he gave up a hit and walked a batter. Catcher Jason Castro caught an extra inning to make sure to catch Duke for the first time.
Buxton, Rosario star
Left fielder Eddie Rosario robbed C.J. Cron of a homer with a leaping catch at the wall in the first inning, and center fielder Byron Buxton joined the action, robbing Cron of a homer again with a catch in left-center in the fifth. Buxton then followed it up with a solo blast to left, his first homer of the spring in the bottom half of the inning.
Camp battles
In the Twins' 4-2 win against the Astros, Zack Granite went 0-for-2 with a walk and a run scored, while infielder Ehire Adrianza went 2-for-4 with a two-run double. Kennys Vargas went 1-for-3, while Erick Aybar went 2-for-3. Robbie Grossman went 0-for-3. All are competing for bench spots.
Injury updates
• Non-roster reliever Michael Kohn left his outing against the Astros with a right forearm injury while throwing a pitch to George Springer. Kohn previously had Tommy John surgery that caused him to miss the 2012 season and was coming off shoulder surgery. He hasn't appeared in the Majors since '15.
• Shortstop prospect Nick Gordon sustained a mild right wrist strain while sliding into third base on Tuesday. He remained in the game after the injury, which isn't considered serious. He didn't participate in any baseball activities on Wednesday as a precaution.
• Non-roster outfielder Ryan LaMarre left Wednesday's game against Houston with a groin strain and is considered day to day.
Up next
• Left-hander Adalberto Mejia, who is competing for the final spot in the rotation with Phil Hughes and Anibal Sanchez, is set to make his second start of the spring on Thursday against the Cardinals at 12:05 p.m. CT in Jupiter, Fla. Other pitchers scheduled to see action include Alan Busenitz, Myles Jaye, John Curtiss and Rule 5 right-hander Tyler Kinley. Fans can catch all the action on MLB.TV.