Twins, Phillies unveil shared DR academy
Clubs partner on training facility that will also provide housing for prospects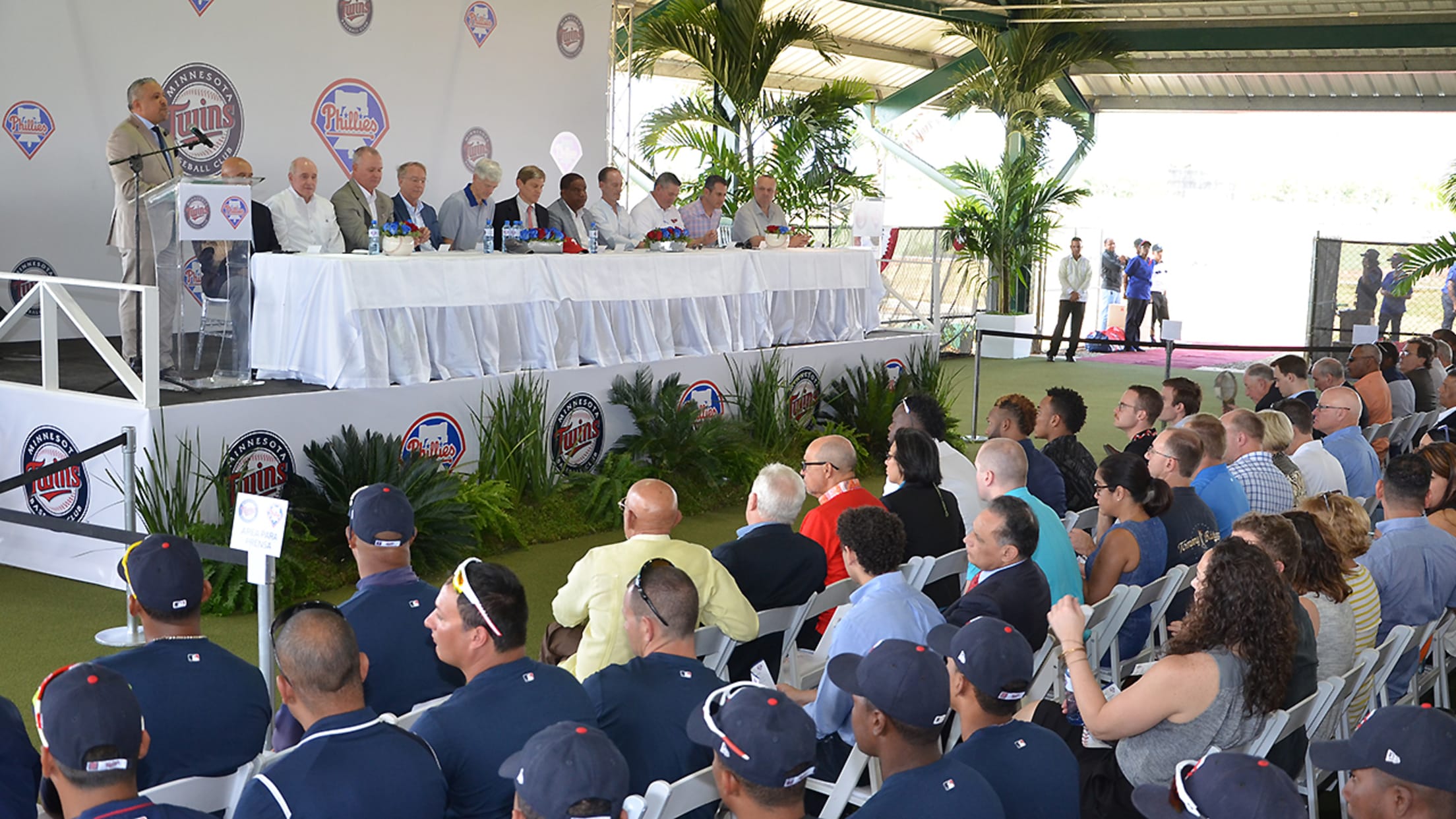 The Twins and Phillies will share the new $18 million facility, where prospects will live and train. (Minnesota Twins) (Minnesota Twins)
The Twins officially opened their new baseball academy in the Dominican Republic on Tuesday, hosting a grand opening in Boca Chica with the Phillies, who will share the facility.The two clubs entered a partnership to help build the $18 million academy, which is housed on 45 aces and features six
The Twins officially opened their new baseball academy in the Dominican Republic on Tuesday, hosting a grand opening in Boca Chica with the Phillies, who will share the facility.
The two clubs entered a partnership to help build the $18 million academy, which is housed on 45 aces and features six baseball fields and housing for prospects. It will allow prospects for both teams to live and train at the facility while also participating in education and cultural development programs.
Several dignitaries from the Dominican Republic, such as Danilo Diaz (minister of sports) and Ricardo Noboa (commissioner of Dominican Baseball), were on hand for the opening ceremony, along with MLB executives Kim Ng (senior vice president of baseball operations) and Rafael Perez (director of Dominican Republic operations)
"The Minnesota Twins are proud to be in partnership with the Philadelphia Phillies organization on the development of this state-of-the-art player complex in the Dominican Republic," Twins president Dave St. Peter said. "We are grateful to so many dedicated staff and partners who have helped make this academy a reality. The vision for this facility is rooted in the personal and physical development of our players. Clearly, the Dominican Republic is a vital source for talent and a community of great importance to our respective organizations."
Take a look at scenes from this morning's Grand Opening of the Dominican Republic Baseball Academy.

Full album: https://t.co/IU6ImfyzUH pic.twitter.com/9OaEIP48sW

— Minnesota Twins (@Twins) January 17, 2017
The academy is essentially split in half with each team having three fields, bullpen mounds, an agility field, batting cages, a dormitory for 78 players, dining hall, weight room, training room, video coaching room and three classrooms for English language and Spanish instruction in multiple high school level topics. The two clubs will also share a kitchen and a 98-person auditorium.
"Today is an exciting day for the Phillies and the Twins, and for the future of our respective franchises," said Phillies president Andy MacPhail, who served as Minnesota's GM from 1985-94. "This new facility allows both teams to provide on-field training and development, off-the-field cultural development and educational advancement, all of which are vital to becoming a successful baseball player in the United States."