Duffey's dad always along for the ride
Righty, father had unforgettable drive to Toronto for Majors debut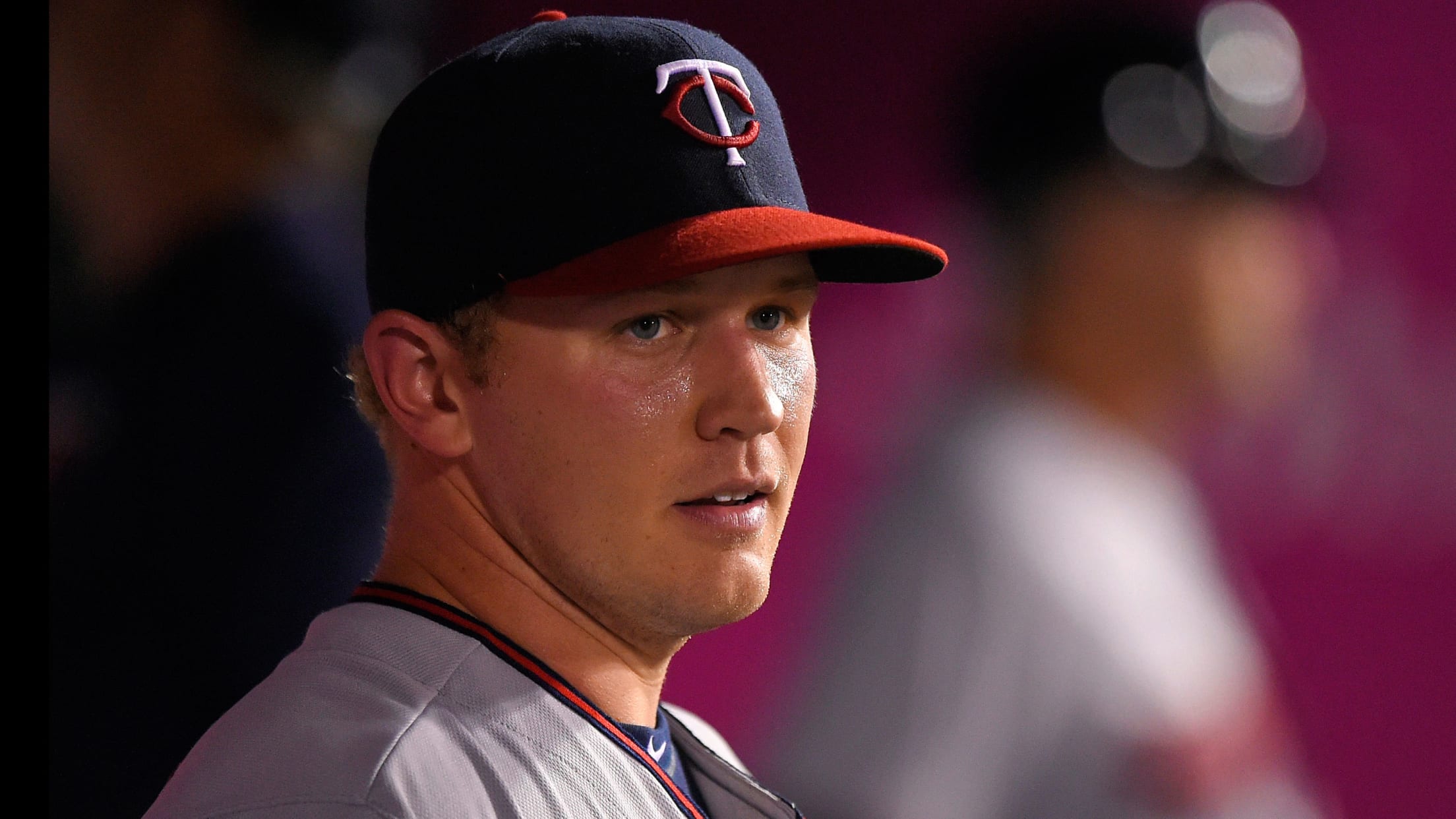 "It's always been good to have him there," said Tyler Duffey of his dad, Tim. (AP)
MINNEAPOLIS -- After the excitement that came with getting the news he was getting called up to the Majors for the first time in his career, Twins right-hander Tyler Duffey realized it wasn't going to happen without a call to his dad.Duffey's debut was to come against the Blue Jays
MINNEAPOLIS -- After the excitement that came with getting the news he was getting called up to the Majors for the first time in his career, Twins right-hander Tyler Duffey realized it wasn't going to happen without a call to his dad.
Duffey's debut was to come against the Blue Jays in Toronto on Aug. 6, but his passport was at home in Houston. So he called his dad, Tim, with the good news, but also told him to get to Rochester, N.Y., as quickly as possible with his passport. It all ended up working out, as he arrived two days before his scheduled start, and it led to a bonding experience with his dad on the way to the ballpark he'll never forget.
"I called him, and the first thing I said was, 'You need to get to Rochester with my passport now,'" Duffey said with a laugh. "So he took a 6 a.m. flight the next morning, and I talked to Mike Herman, our traveling secretary, and asked if we could just drive up, because it was only three hours. So [my dad and I] drove up together, and got lost halfway, up in Canada, but it was a really cool thing, just us two talking and driving up together for my debut."
:: Father's Day 2016 ::
Duffey's debut didn't exactly go as planned, as he gave up six runs in two innings, but he could see just how much the moment meant to his dad, especially after all they had gone through together. It was his dad who helped coach him growing up and had him study big league pitchers as an adolescent. Duffey was particularly drawn to the Braves' trio of Greg Maddux, Tom Glavine and John Smoltz, and he tried his best to emulate those aces as a youngster growing up in the Houston area.
"I think it was as fun for me getting called up as it was for [my dad]," Duffey said. "I grew up watching pitchers because of him. I watched the Braves to no end with Glavine, Maddux and Smoltz. We had Leo Mazzone's books. I loved Greg Maddux. He was my guy."
Duffey went on to excel playing baseball at Bellaire High School outside Houston, and when it came to choosing a college, he decided to stay local, playing for Rice University. It was a dream to play so close to home, which allowed his parents to see him pitch, but tragedy struck while he was at Rice.
Duffey's mother, Shanna, was diagnosed with breast cancer and died after complications from a blood clot in 2012 during his junior year -- about two months before he was drafted by the Twins in the fifth round.
Four years later, Duffey still thinks about his mom every day, and he said her death changed his perspective on life.
"It's not easy ever," Duffey said. "It's one of those things where we've dealt with it in different ways. You're not better for having lost a parent, or anyone for that matter, but it made us a lot stronger. Just in life in general, I just don't worry about things as much anymore. It's not worth it. There's a lot of things worse that can happen in day-to-day life."
Duffey said the loss of his mother also helped him forge a stronger bond with his dad and his brother, Travis, who is two years younger and is an electrical engineering major at the University of Houston. Tim recently retired after working for more than 20 years as an environmental police officer for Harris County, and he was able to spend a few weeks with his son during Spring Training. He made it to Duffey's season debut in Washington on April 24.
Tim watches all of his son's starts and offers critiques on what he could do better. Duffey said his dad can pick up on things others can't, because he's been watching him pitch his whole life. But it's a relationship that goes much deeper than baseball, and one Duffey is thankful for.
"Our bond has definitely gotten stronger," Duffey said. "We've had our ups and downs. It was a life-changing thing, to say the least. But we're stronger, and we've definitely gotten closer. It's always been good to have him there."