Twins launch Winter Caravan on 2 routes
Annual trek opens with radio-station stops, ice fishing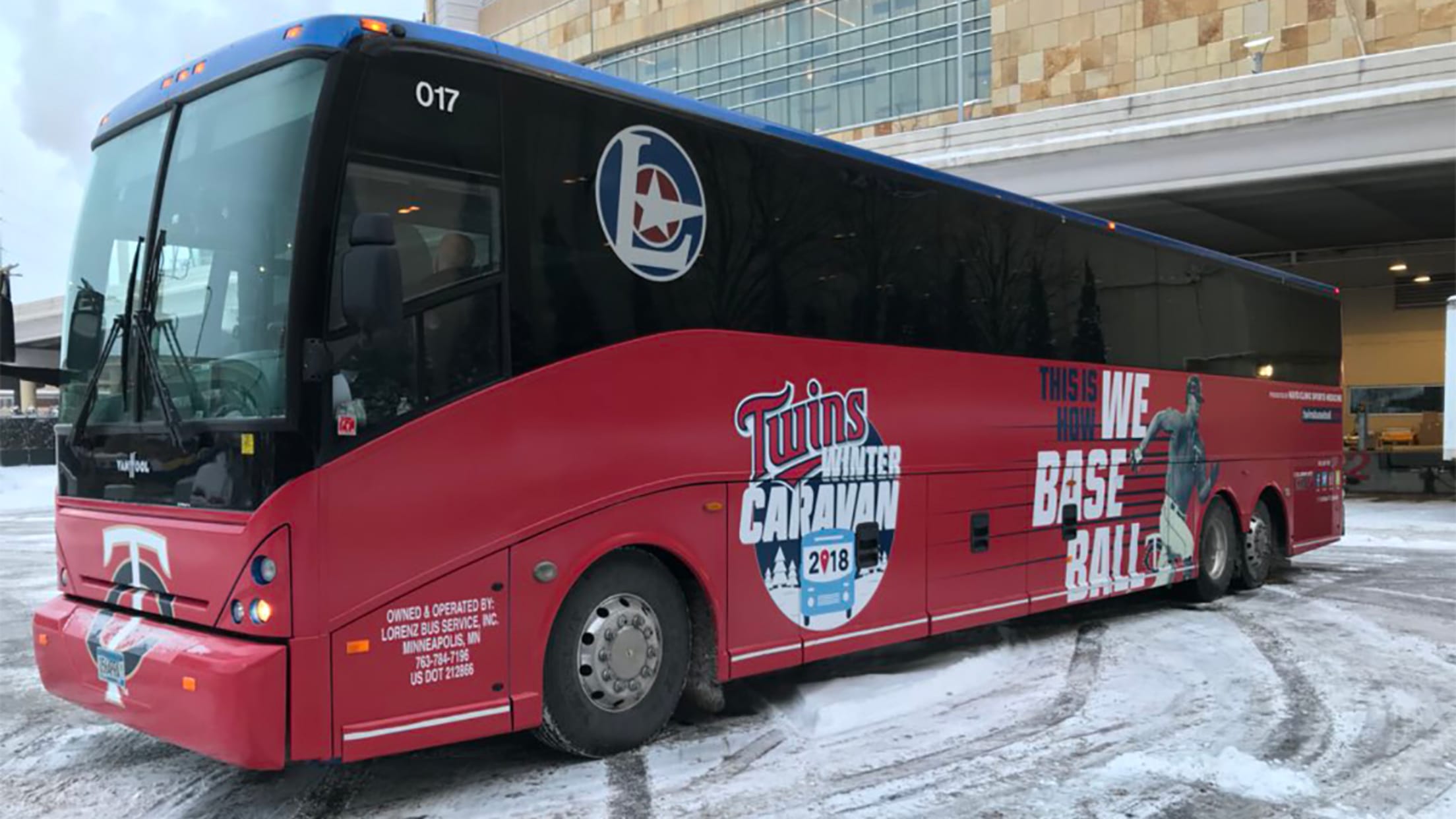 MINNEAPOLIS -- The Twins' annual Winter Caravan officially started Monday, with two legs departing from Target Field to open the two-week event that features stops in more than 40 communities throughout the Upper Midwest.Both legs opened with stops at radio stations, with the first group featuring outfielder Robbie Grossman, shortstop
MINNEAPOLIS -- The Twins' annual Winter Caravan officially started Monday, with two legs departing from Target Field to open the two-week event that features stops in more than 40 communities throughout the Upper Midwest.
Both legs opened with stops at radio stations, with the first group featuring outfielder Robbie Grossman, shortstop Jorge Polanco and broadcaster Cory Provus visiting the La Raza Spanish-language station in Minneapolis. The second leg, featuring manager Paul Molitor, reliever Alan Busenitz, infielder Eduardo Escobar and former Twins players Dan Gladden and Jack Morris, stopped by WCCO, which is the new radio home of the Twins.
The @twins caravan is ready to roll in style. #twinswintercaravan pic.twitter.com/AHxNxbvDwu

— Bryan Donaldson (@MNCommunityGuy) January 15, 2018
Much of the discussion centered on Minnesota's offseason so far, with the additions to the bullpen, as well as the expectations for next season after reaching the American League Wild Card Game last year. And of course, there was plenty of talk about the Vikings' incredible "walk-off" win on Sunday, especially from Molitor and Morris, two St. Paul natives.
"I think everyone is excited about getting back to work," Molitor said on the air with WCCO's Dave Lee. "February is coming up quickly. We've made some nice additions to our bullpen. We'll see what other additions we can make before we get to Spring Training. But the big thing is you don't rest on your laurels."
As Molitor noted, the Twins aren't done this offseason, as they're still looking to add a top free-agent starter, such as Yu Darvish, Jacob Arrieta, Lance Lynn or Alex Cobb. It's sure to be a topic of conversation among fans at stops throughout the caravan.
"I just think they have the right pieces in place," Gladden said on WCCO. "You're always looking for another piece, and I think the Twins are looking for a front-line starter. But I thought the bullpen pitched well with the young guys. There's a lot of upside. I'm looking forward to it."
After the radio stations, both legs headed south for an ice-fishing tournament at Madison Lake in Mankato, Minn. Busenitz, a Georgia native, had never been on a frozen lake before Monday.
When it's your first time on a frozen lake... 😁❄️

How was it @abooze32? #TwinsWinterCaravan pic.twitter.com/bBiM4FUqW6

— Minnesota Twins (@Twins) January 15, 2018
The first leg went from the ice-fishing tournament to New Ulm, Minn., while the second route stayed in Mankato for the night event at Kato Ballroom. The first route has stops in Windom, Minn., Worthington, Minn., and Spencer, Iowa, on Tuesday before heading to Iowa Falls, Iowa, and Mason City, Iowa, on Wednesday and Owatonna, Minn., Northfield, Minn., and Treasure Island Casino on Thursday.
The second route heads to Albert Lea, Minn., and Rochester, Minn., on Tuesday, with events in Preston, Minn., and Winona, Minn., on Wednesday and stops in Wabasha, Minn., Eau Claire, Wisc., and Menomonie, Wisc., on Thursday.
First time on a frozen lake for these warm climate natives! ❄️ #TwinsWinterCaravan pic.twitter.com/eVexJtTwQy

— Minnesota Twins (@Twins) January 15, 2018
In addition, center fielder Byron Buxton will attend Camp Ripley to meet with members of the National Guard on Friday, while Zack Granite and Mitch Garver will attend the annual Class A Cedar Rapids banquet in Iowa on Wednesday. It all leads up to TwinsFest this weekend and the second week of caravan, which begins on Jan. 22.