Power show: Twins-Yanks position by position
Both clubs surpassed 300 homers in record-smashing season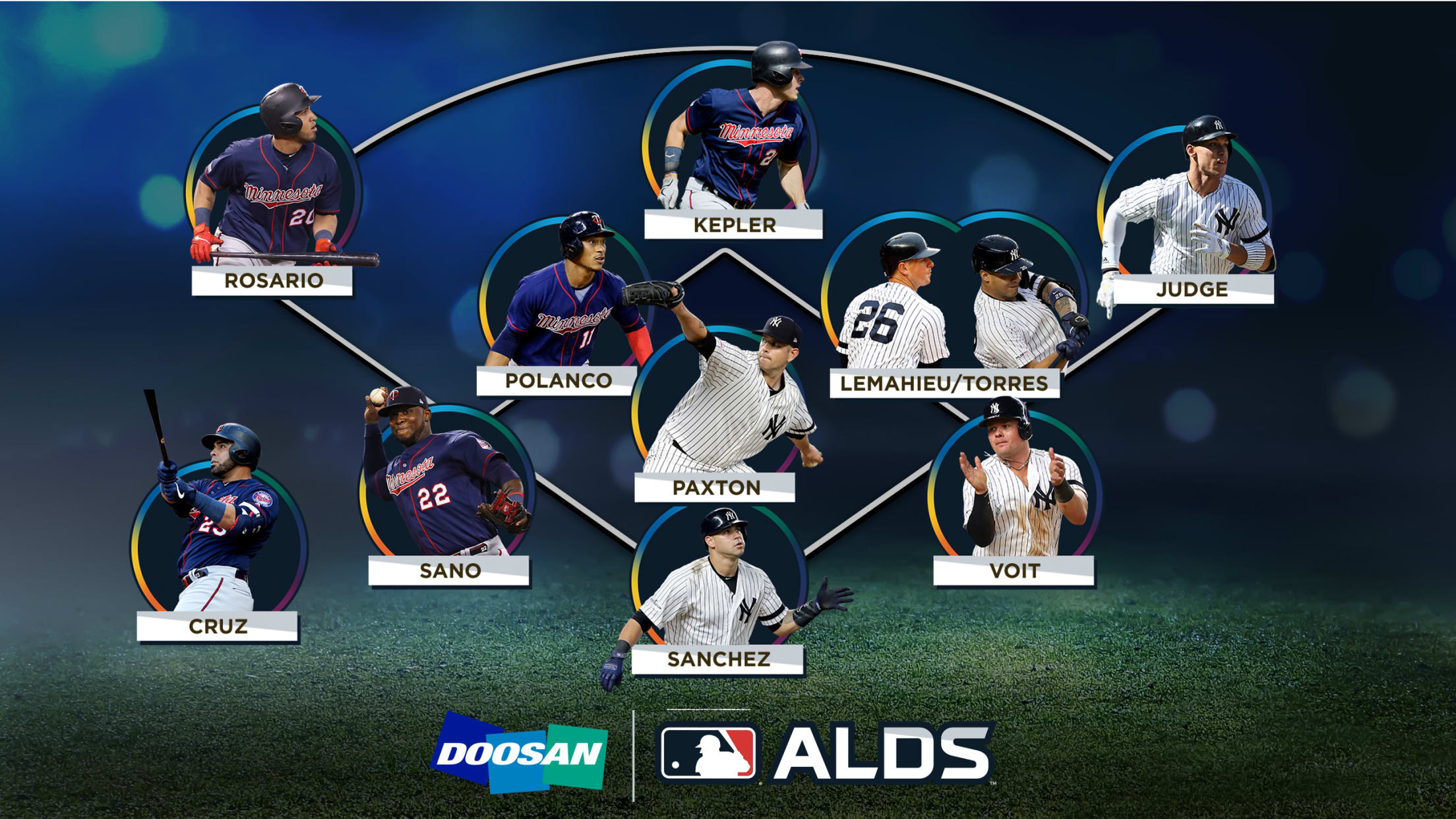 Last week, the Twins became the first team to hit 300 homers in a season. A few days later, the Yankees joined them. And while you'll hear a lot this week about how the Yankees dominated the Twins in October over the years, that's not the story here. The story
Last week, the Twins became the first team to hit 300 homers in a season. A few days later, the Yankees joined them. And while you'll hear a lot this week about how the Yankees dominated the Twins in October over the years, that's not the story here. The story here is power, lots of it.
The Twins are the first team to have five members of the 30-homer club. They also have eight players with at least 20, including 41 by Nelson Cruz and 36 by Max Kepler. The Yankees have seven members of the 20-homer club, led by Gleyber Torres' 38 and Gary Sánchez's 34.
And yes, about that history: This is the sixth time the Twins and Yankees have met in the postseason, all since 2003 (including the '17 American League Wild Card Game). The Yankees are 13-2 against the Twins in that time, last losing a postseason game to Minnesota in '04.
The Yankees, believe it or not, just won their first division crown since 2012. The Twins, having just won their first division title since '10 (when they were eliminated by the Yankees), haven't won a postseason series since '02 and haven't been to the World Series since 1991.
Here's a position-by-position breakdown of this exciting matchup in the AL Division Series presented by Doosan, with Game 1 coming on Friday in New York:
Catcher
Twins catchers lead the AL in WAR (5.0), home runs (47) and wOBA (.348). Mitch Garver's 3.7 WAR and .400 wOBA are tops among AL catchers. Against almost any other team, the Twins would have a clear advantage at this position. But the Yankees were in the top three in all those categories, and if Sánchez is healthy, he's arguably the best in the game. His 34 home runs (in 105 games) were the most among MLB catchers, and his return to the lineup on Friday for the first time since suffering a groin injury on Sept. 12 was a huge relief to the Yankees. If he's good to go -- and that's a significant question -- for the remainder of the playoffs, the Yankees' lineup is deeper and better than almost anyone's.
Small advantage: Yankees
First base
Both teams have questions here. Luke Voit has two home runs and a .208 batting average in 23 games since returning from the injured list. But the Yankees have so much depth that it's not even clear he'll be in the lineup for Game 1. Edwin Encarnación is expected back, DJ LeMahieu can play there and Mike Ford is another option. Minnesota's CJ Cron is playing through a thumb injury that seems responsible for his one extra base hit and .180 batting average this month, and the Twins could go with Marwin Gonzalez.
Advantage: Yankees
Second base
This is a strong position for both teams. The Twins have the AL's second-highest OPS (.824), Yankees third (.791). Twins rookie Luis Arraez made his debut on May 18 and is hitting .334 in 92 games. He suffered a sprained ankle on Saturday, however, and his availability for the series is in question. Jonathan Schoop is the other option for Minnesota. For the Yankees, LeMahieu has gotten 65 starts, Torres 63, and both seem likely to be in the Game 1 lineup someplace.
Advantage: Yankees
Shortstop
Just when the Twins may have wondered if Jorge Polanco would ever be the player they projected him to be, he delivered a breakout season with 40 doubles, 22 home runs and an .841 OPS. Meanwhile, Torres held down the position until Didi Gregorius returned from Tommy John surgery. They've combined for 40 homers and 30 doubles at short. Gregorius is hitting .165 since Aug. 24, and it bears watching how long manager Aaron Boone stays with him if things don't turn around during the playoffs.
Small advantage: Twins
Third base
Miguel Sanó has 21 home runs in 64 games since the All-Star break after missing the first six weeks of the season recovering from a cut on his heel. He was hitting .214 on July 2. He hits the baseball harder more consistently than any other player. His 57.5 percent hard-hit rate (defined as 95+ mph) is first among MLB players, and his 94.5 mph exit velocity is second. Gio Urshela is the Yankees' starter, but this is another place LeMahieu could wind up. Urshela's home run on Friday was much needed since he's hitting .208 since returning from a hand injury on Sept. 8.
Surprising advantage: Twins
Left field
Giancarlo Stanton has played 17 games this season and could be the biggest X-factor of the entire postseason. He has played 46 of 1,161 career games in left field. That total includes four this month. But as any Yankee fan knows, his true position is wherever Boone puts him in the batting order. He has an 1.159 OPS in nine games since returning from the IL. Eddie Rosario's 32 home runs are ninth among AL outfielders. His 28 doubles are 14th.
Advantage: Twins
Center field
This is a very strong position. Brett Gardner's 12th season has been his best in a year when he Yankees weren't even sure he'd be an everyday player. He's top five among AL center fielders in homers, doubles, runs and OPS. For the Twins, Kepler shifted to center in the wake of Byron Buxton's season-ending injury and has continued a breakout season that has included 36 homers, 32 doubles and 60 walks. His .355 wOBA is 10th among AL outfielders.
Unsentimental advantage: Twins
Right field
Aaron Judge is the man to see. Even in a season when he has missed some time. Even with another infusion of young talent in the game. His 95.8 mph exit velocity is tops in MLB, and his 56.8 percent hard-hit rate is second. He has 27 homers and a .921 OPS in 102 games. The Twins will use Gonzalez here unless Cron's injury prompts manager Rocco Baldelli to use him at first. In that case, Jake Cave would play right.
Lopsided advantage: Yankees
Designated hitter
Cruz was the Twins' best offseason signing and has helped transform the offense more than any other player. He leads all designated hitters with 41 homers and a 1.028 OPS. Encarnación could equalize Minnesota's advantage if he's healthy. A strained oblique has sidelined him since Sept. 12, but the Yankees expect to have him in their Game 1 lineup.
Advantage: Twins
Pitching staff
Remember how the Yankees constructed the greatest bullpen of all time? The Twins have been better since the Trade Deadline. Twins relievers have a 3.78 ERA and 1.24 WHIP, and Tyler Duffey has been as good as any reliever in baseball of late, striking out 22 without issuing a walk in 12 September appearances. Yankees relievers, on the other hand, have a 4.20 ERA and 1.28 WHIP since the break, but no one will question their depth.
Now about those rotations. If James Paxton, Luis Severino and Masahiro Tanaka are healthy, the Yankees probably have an advantage over José Berríos, Jake Odorizzi and Kyle Gibson. But that may not matter since the new normal is figuring the best way to get 27 outs rather than designating roles.
The Yankees have invested more dollars and have bigger names, but this matchup probably will decide the series and is much closer than a lot of people think.
Small advantage: Yankees
So who is going to win? The Yankees will be favored by almost everyone and deservedly so. If Encarnacion, Paxton and Sanchez are healthy, they're the better team. But these two teams are very close.