Cancer survivor Austin raises awareness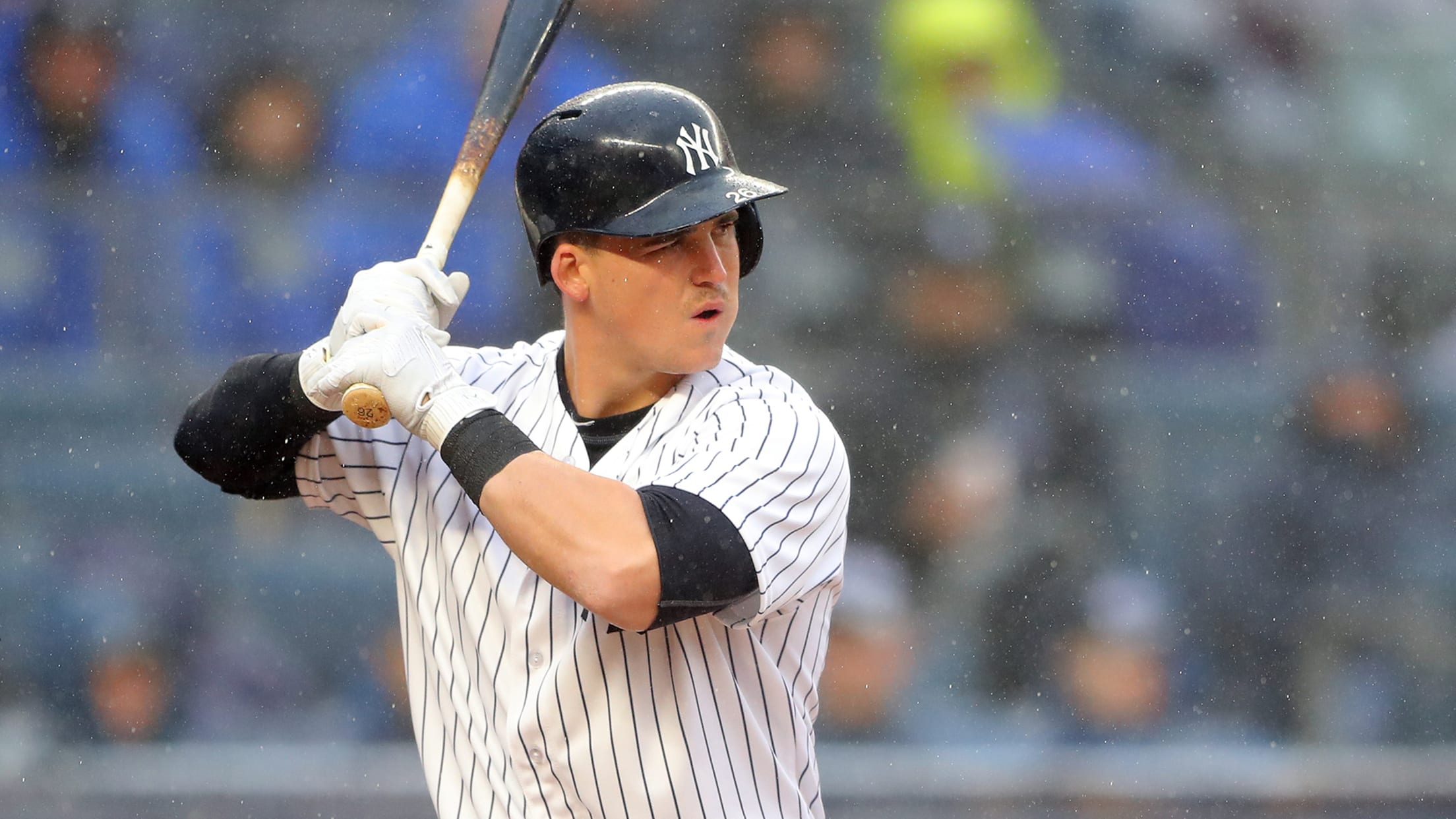 NEW YORK, NY - APRIL 3: Tyler Austin #26 of the New York Yankees bats during the game against the Tampa Bay Rays on Tuesday, April 3, 2018 in the Bronx borough of New York City. (Photo by Alex Trautwig/MLB Photos via Getty Images) (Alex Trautwig/Getty Images)
NEW YORK -- Yankees first baseman/outfielder Christopher Austin wants to give back and, in this case, he wants to raise awareness for testicular cancer. It comes down to self-examination, to try to catch the cancer in its early stages.Recently, Austin, a survivor of the disease when he was 17, helped
NEW YORK -- Yankees first baseman/outfielder Christopher Austin wants to give back and, in this case, he wants to raise awareness for testicular cancer. It comes down to self-examination, to try to catch the cancer in its early stages.
Recently, Austin, a survivor of the disease when he was 17, helped kick-start April's Testicular Cancer Awareness Month. He's out to sell 1,000 limited-edition T-shirts that he helped design to fund an early-detection event put on by the Sean Kimerling Testicular Cancer Foundation, which aims to raise awareness of early detection and treatment for the disease. Proceeds from shirt sales will benefit the foundation's annual awareness campaign, "Running of the Balls."
"At first, I was hesitant to do it on testicular cancer because it was something so close to home for me," Austin said. "It kind of scared me a little bit. But thank goodness we decided to raise money for this. People can go to Athletes Brand and get their shirts today. It's awesome. It's a special thing that we are doing. It's going to be a big thing for years to come."
BALL OUT shirts available today!! Go to https://t.co/OZDPkylO1I to get yours! Benefiting @SeanKimerling #testicularcancermonth pic.twitter.com/9L13SfDEe4

— Tyler Austin (@T1721Austin) April 2, 2018
Austin, 26, said he wouldn't have survived testicular cancer without his support system, which includes his mother, Kim, and fiancée, Stephanie. Without them, Austin wouldn't have a career in baseball.
Austin detected something was wrong after experiencing crazy pain in 2009, a pain he couldn't even describe. The pain would come and go until one morning Austin woke up and was hurting so bad that he decided to go to the hospital. Doctors then informed him that night that he had cancer.
After recovering from the disease, Austin went on to play in the AFLAC All-American Game and was selected by the Yankees in the 13th round of the 2010 Draft from Heritage High School in Georgia. Austin is platooning at first base with Neil Walker, and entering Monday's off-day, he is hitting .250 with two home runs and five RBIs in eight games.
"They have been my biggest fans -- my mom my whole life, Stephanie since high school," Austin said. "To know that I have them in my corner at all times -- no matter good and bad -- it's a comforting feeling to know you have them and I could lean on them whenever I need something."
Bill Ladson has been a reporter for MLB.com since 2002. He covered the Nationals/Expos from 2002-2016. Follow him on Twitter and Facebook.