Glasnow working to quicken delivery
Right-hander hoping to limit stolen bases; Choi arrives at camp; Adames makes stance adjustment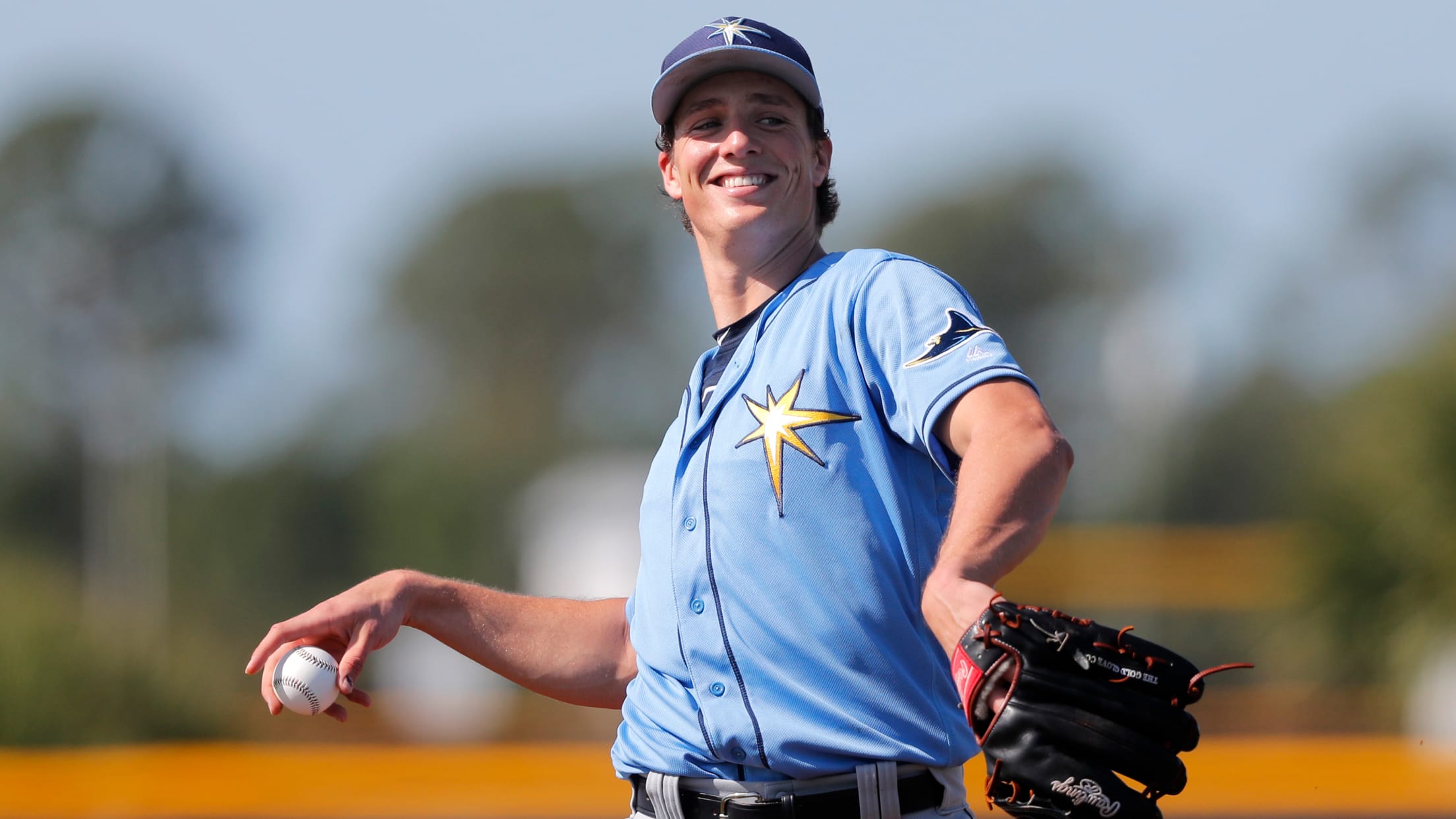 PORT CHARLOTTE, Fla. -- Tyler Glasnow is hoping to build off a positive 2018, but his delivery is going to look a little different this season.Hoping to remain more consistent in the strike zone, while also trying to contain the opposing team's running game, Glasnow and pitching coach Kyle Snyder
PORT CHARLOTTE, Fla. -- Tyler Glasnow is hoping to build off a positive 2018, but his delivery is going to look a little different this season.
Hoping to remain more consistent in the strike zone, while also trying to contain the opposing team's running game, Glasnow and pitching coach Kyle Snyder worked on getting the 6-foot-8 pitcher to be just a little bit quicker to the plate.
:: Spring Training coverage presented by Camping World ::
It isn't a big adjustment, nor is it something the Rays want Glasnow to tinker with too much; Tampa Bay expects him to be the No. 3 starter in 2019. But it's an adjustment that Glasnow feels comfortable with as he enters Spring Training.
"The motivation behind [the change] was that my biggest problem is that I was always very drifty," Glasnow said. "I would go forward, because I'm very long-limbed and my arm path is very long. So the longer I stay back, the more success I have, and that showed to be pretty true, especially last year."
Last season, between the Pirates and Rays, Glasnow allowed 21 stolen bases in just 111 2/3 innings. His delivery time would sometimes take about two seconds, but Glasnow and Snyder are hoping to reduce that to about 1.5 seconds while also not affecting the control of his pitches.
Glasnow realizes that because of his size, he's never going to be a pitcher that completely limits the running game, but the hope is to be able to improve from last season's struggles. He'll get a better sense of where he is when Grapefruit League games start on Feb. 22, but in the meantime, Glasnow has seen an improvement in his velocity.
"Whenever I'm back over my hips longer, my spin efficiency is a lot higher," Glasnow said. "My velocity has gone up, my spin efficiency has gone up and it's just getting my body into a better spot to be consistent."
According to Statcast™, the average velocity on Glasnow's fastball last season was 96.5 mph. In his first couple of bullpen sessions of the spring, Glasnow has hovered around 98.7 mph, according to manager Kevin Cash.
"Everybody that has faced him has said that it's not a fun at-bat," Cash said. "Now it's finding that consistency. But we need to give him a little more margin of error given that he's 6-foot-7, 6-foot-8. He's filling up the zone right now."
Glasnow is expected to join Blake Snell and Charlie Morton as the Rays' top three starting pitchers heading into the season.
Choi arrives at camp
With Ji-Man Choi's arrival, the Rays had 62 of the 66 players on their roster at camp on Saturday. Choi is expected to handle the designated-hitter role for the Rays, but the club expects him to get playing time at first base whenever necessary. He'll be competing with Yandy Díaz, Brandon Lowe and prospect Nate Lowe at camp.
"It's my job," said Choi when asked if he was ready to handle first-base duties during Spring Training.
Choi spent his offseason working out in Arizona at Exos, where infielder Matt Duffy also worked out during the offseason.
Choi day pic.twitter.com/kgL88hCK6r

— Juan Toribio (@juanctoribio) February 16, 2019
Adames makes slight adjustment
For the first time in his young career, Willy Adames will go into Opening Day as the team's starting shortstop. He focused on his strength over the offseason, and now he's working on a slight adjustment at the plate.
Adames says that he eliminated the toe tap from his swing, and that he will only have a leg kick. He says it feels comfortable because it's not much of a change, but if he struggles with the adjustment, he'll likely go back to the toe tap.
Hungry for baseball. 😛#SpringRays pic.twitter.com/uLJdjRyruZ

— Tampa Bay Rays (@RaysBaseball) February 16, 2019
Around the horn
• Cash mentioned Jake Faria, Colin Poche and Glasnow as the pitchers that stood out to him on Saturday.
Faria, Poche, Glasnow, Ryan Yarbrough, Yonny Chirinos, Hunter Wood and Diego Castillo were among the pitchers that had a scheduled bullpen session on Saturday.
• Ian Gibaut suffered a right lat tweak during Friday's bullpen session, according to Cash. The 25-year-old is competing for a bullpen spot, and while he'll be sidelined for a couple of days, he doesn't expect that the injury is anything serious.
"Just a little soreness," Gibaut said. "It's just the beginning of the year, working through the kinks. Just taking it slowly. It's just a little setback."
• Diaz, Jesus Sanchez, Lucius Fox and Tommy Pham are the only players that haven't arrived at camp, but Cash expects all four of them to join the club on Sunday. The first full-squad workout is scheduled for Monday.
** Juan Toribio ** covers the Rays for MLB.com. Follow him on Twitter @juanctoribio.