Naquin, Gomes back solid Salazar vs. A's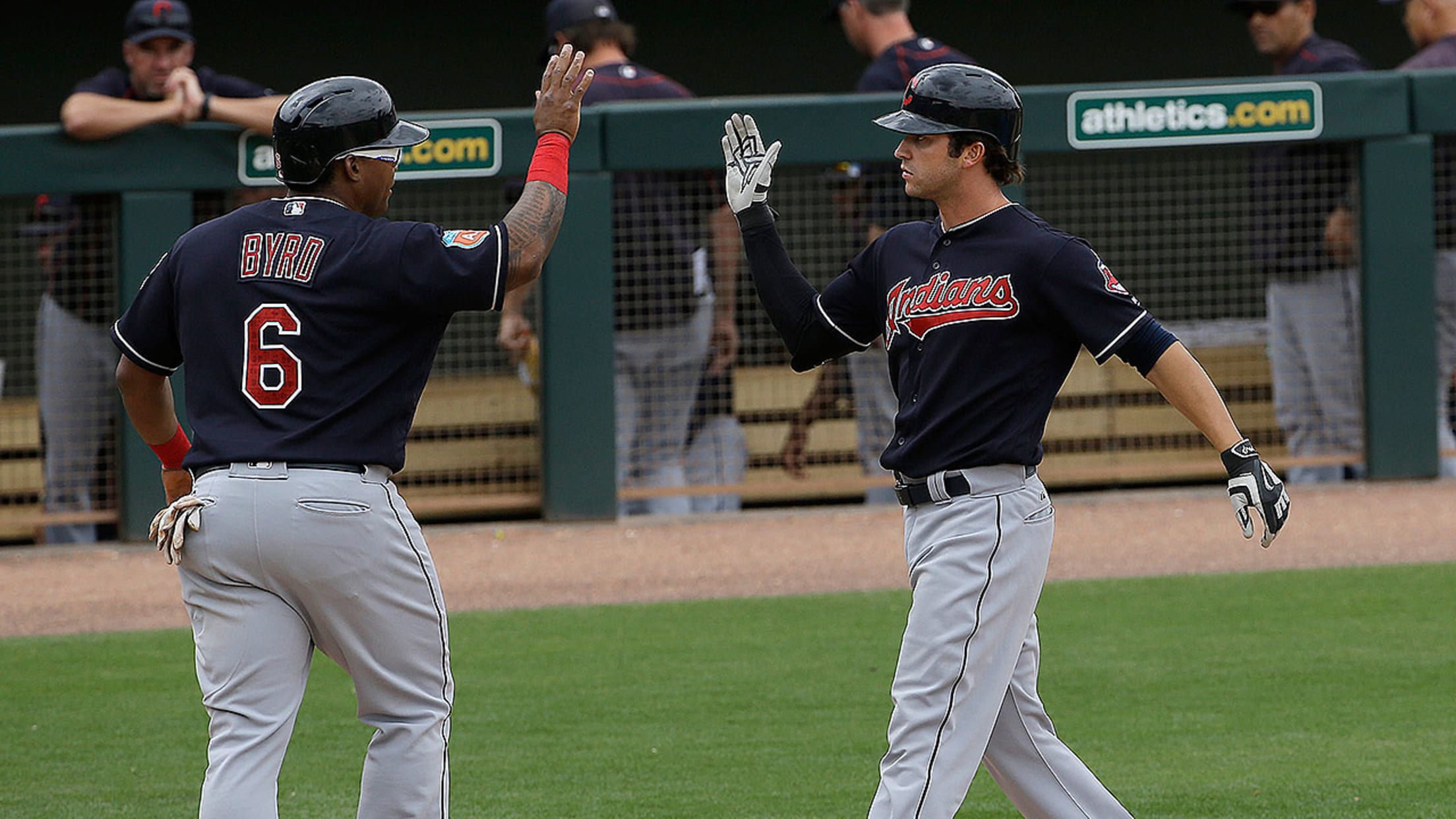 Tyler Naquin hit a two-run homer in the fifth inning Monday. (AP)
MESA, Ariz. -- Outfielder Tyler Naquin smacked a two-run homer, catcher Yan Gomes finished with two hits and as many RBIs and righty Danny Salazar tossed six solid innings to help the Indians secure a 6-4 victory over the A's at Hohokam Stadium on Monday afternoon.All of the Indians damage
MESA, Ariz. -- Outfielder Tyler Naquin smacked a two-run homer, catcher Yan Gomes finished with two hits and as many RBIs and righty Danny Salazar tossed six solid innings to help the Indians secure a 6-4 victory over the A's at Hohokam Stadium on Monday afternoon.
All of the Indians damage was done against A's starter Jesse Hahn, whose spring struggles continued to the tune of six runs and 10 hits.
The right-hander completed just 4 2/3 innings, walking two, hitting another and fanning two. His ERA sits at 11.15 ERA, and he could be out of an Opening Week rotation job if he can't rebound in his final exhibition start Saturday.
• Hahn hoping to improve in crucial final tuneup
Hahn's day began with a leadoff double to former Athletic Rajai Davis, who scored on Gomes' single. The Indians got a run-scoring triple from infielder Michael Martinez in the next inning and RBI base hits from Gomes and outfielder Collin Cowgill in the third before Naquin dealt the final blow to Hahn by way of a two-run shot to left in the fifth.
"Naquin, when you start seeing him hit the ball like that the other way," Indians manager Terry Francona said, "I would hope his confidence is rising as he continues to play, because every time he plays, it's kind of like putting money in the bank. He's learning, and he should be confident."
First baseman Yonder Alonso homered for the A's, his first of the spring, and Khris Davis notched an RBI double off Salazar, who yielded seven hits, walking two and fanning three.
"[He was] good," Francona said of Salazar. "He got through six with a pretty manageable pitch count. He made a couple mistakes, but he really pitched pretty well, so that was good. Guys are getting out now where they're starting to pitch through the fatigue and see how their legs are and all that. All in all, I think he's in pretty good shape."
• Salazar a No. 3 who can pitch like a No. 1
The A's added RBI singles in the seventh and eighth from Josh Reddick and Alonso, respectively. Both Alonso and Davis finished with three-hit games.
Up next for the A's: An intriguing pitching matchup will be on display at Sloan Park in Mesa, Ariz., on Tuesday, when A's right-hander Sonny Gray and Cubs right-hander Jake Arrieta will square off in a 1:05 p.m. PT game that's scheduled to air live on MLB Network. The game also will be broadcast on a free exclusive webcast.
Up next for Indians: The Indians will have a busy day on Tuesday with games in the afternoon and evening in Arizona. Right-hander Trevor Bauer is slated to start for the Tribe in a 3:10 p.m. ET tilt against the Angels in Tempe, Ariz., on MLB.TV, and righty Josh Tomlin is the planned starter for a 9:05 p.m. ET game against the Mariners back home at Goodyear Ballpark, which will be broadcast on a free exclusive webcast. Following Tuesday's action, the Indians will likely be in a better position to announce the final spots on the pitching staff.