O'Neill goes on DL; OF Garcia called up
Cecil begins rehab assignment; Ozuna returns to Marlins Park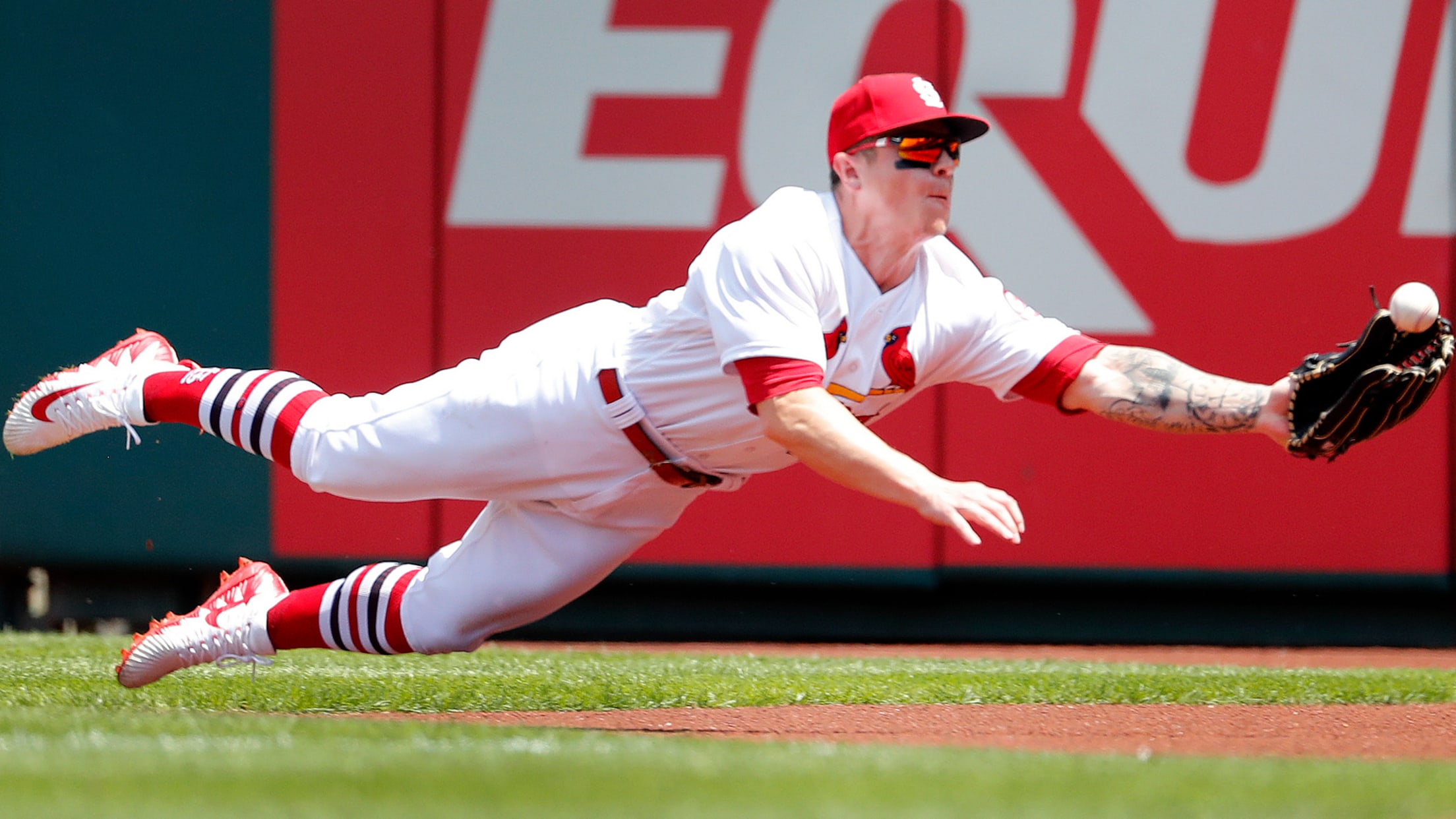 MIAMI -- Careful not to disclose details given their sensitive nature, Cardinals general manager Michael Girsch did specify that the issue that forced Tyler O'Neill to the disabled list on Monday is not baseball-related.Per Girsch, O'Neill is suffering from a "groin condition" -- officially labeled left groin inflammation -- that
MIAMI -- Careful not to disclose details given their sensitive nature, Cardinals general manager Michael Girsch did specify that the issue that forced Tyler O'Neill to the disabled list on Monday is not baseball-related.
Per Girsch, O'Neill is suffering from a "groin condition" -- officially labeled left groin inflammation -- that "flared up" this weekend in Pittsburgh. O'Neill received treatment on Monday for the condition, which Girsch said is not chronic and does not require an operation.
"I'm not going to tell you what he's dealing with, because I can't explain it exactly," Girsch said.
Though the Cardinals don't expect O'Neill to be sidelined more than the required 10 days, the situation does interrupt the rookie's season for the fourth time. O'Neill, the organization's No. 2 prospect per MLB Pipeline, had his Spring Training cut short due to hamstring and oblique injuries, and he landed on the DL with a hamstring strain last month. O'Neill went 7-for-11 after being recalled last week.
Just as William Fowler's fractured foot created an opportunity for O'Neill last week, O'Neill's absence now does the same for another rookie outfielder. The club purchased the contract of Adolis Garcia from Triple-A Memphis to fill O'Neill's spot on the active roster. A right-handed-hitting outfielder, Garcia's promotion comes on the heels of a torrid stretch at Memphis. He recently earned Cardinals Minor League Player of the Month and Pacific Coast League Player of the Month honors for July, when he hit .354/.374/.771 with 10 home runs in 25 games.
"He's done a little bit of a Matt Carpenter the last couple months," Girsch said. "We use the term 'five-tool player' a lot, but he's got all the tools. He can run. He's got a big arm. He hits for significant power. He's a good defender in right field. The only question is his hit tool: making contact."
In all, Garcia batted .281/.321/.501 with 36 home runs and 191 strikeouts in 222 games across two Minor League seasons between Double-A Springfield and Memphis.
"Right now, we'll start him on the bench and see where we are," Cardinals interim manager Mike Shildt said. "He can go in late in the game, play defense, pinch-hit, pinch-run, do a number of things."
Adolis García was recently named the Cardinals Minor League Player of the Month (July) after batting .354 in the month and leading the PCL in extra-base hits (19), total bases (74), home runs (10), slugging (.771) and OPS (1.145), and finishing second in RBI (25). pic.twitter.com/4inHS6owLC

— St. Louis Cardinals (@Cardinals) August 6, 2018
The callup also caps a winding baseball journey for the 25-year-old, whom the Cardinals signed as an international free agent for a reported $2.5 million bonus last February. Before that, Garcia defected from Cuba to Japan, where he played a season in the Yomiuri Giants system. Garcia is the younger brother of former Braves third baseman Adonis Garcia, who is now playing in Korea.
"My brother has always been my example," said Garcia, who once starred for the Cuban national team. "We work really hard, so that is our goal, to come here. When I got the call to come here, I was super happy. That is what we work for."
Garcia could become the seventh player to make his Major League debut with the Cards this season, joining O'Neill, Jordan Hicks, Yairo Munoz, Austin Gomber, Daniel Poncedeleon and Dakota Hudson.
AROUND THE HORN
• The Cardinals expect newly acquired right-hander Tyson Ross to join them in Miami late Monday night, then to activate Ross on Tuesday. Though he can eventually provide depth to a rotation that ranks as the Majors' youngest and least experienced, Ross will initially be used out of the bullpen. He has not pitched in relief since 2013.
• Several key Cardinals pitchers are preparing to take tangible steps in their recoveries this week. Both Adam Wainwright (elbow inflammation) and Carlos Martinez (shoulder strain) traveled with the team to Miami, where both are set to test their ailing arms in varying degrees. Wainwright is scheduled to throw a bullpen in the coming days, and if all goes well, he could embark on a rehab assignment thereafter. The 36-year-old has been on the DL since mid-May.
The first step in gauging the progress Martinez's shoulder has made since going on the DL on July 31 will be a game of catch. Back in St. Louis, Michael Wacha is also scheduled to begin a throwing program. Wacha has been on the DL since June 21 with a moderate left oblique strain.
Brett Cecil (right foot inflammation) will begin a rehab assignment at Triple-A Memphis on Monday night, Girsch said. The Cards placed the left-hander on the DL on July 23 amid a flurry of moves to revamp their disappointing bullpen. Cecil owns a 5.70 ERA in 27 appearances this season.
OZUNA HOMECOMING
All smiles, Marcell Ozuna sat in the visiting dugout at Marlins Park for the first time on Monday, and he received a hero's welcome from family and local media. Before being acquired by the Cardinals last offseason, Ozuna spent 10 years in the Marlins' organization, which signed him as a teenager out of the Dominican Republic.
"It's emotional," Ozuna said. "This is the team that gave me an opportunity. … This is where I grew up."
Among the family and friends in attendance was a particularly special guest: Ozuna's father, Marcelito. He traveled from the Dominican Republic to Marlins Park for the occasion. But once on the field, he had a problem finding his son. Ozuna's father initially looked in the Marlins' dugout.
"He got a little confused," Ozuna said. "That he's here, that means everything to me, family."