Tribe activates Olson; Miller throws off mound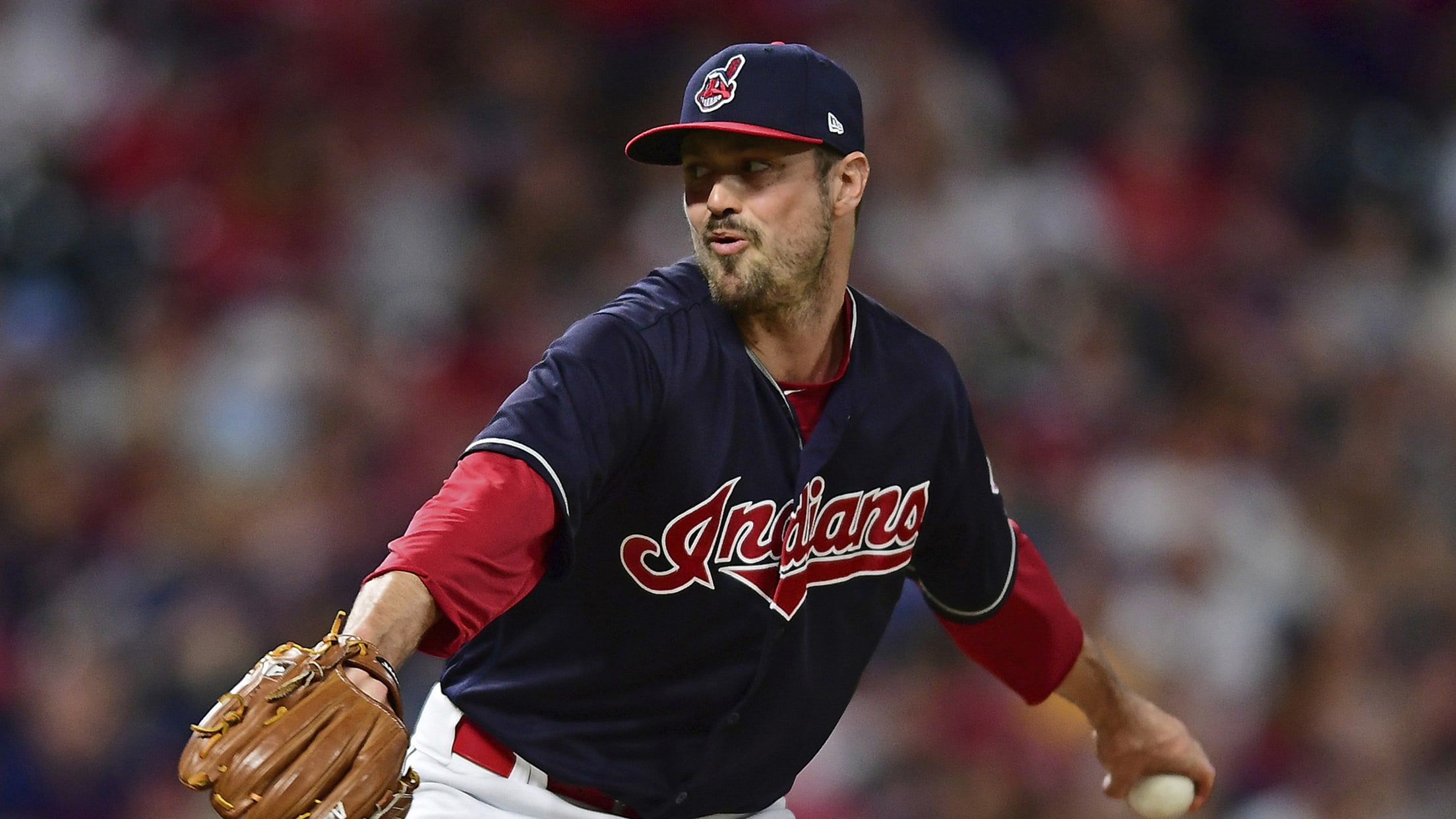 Cleveland Indians relief pitcher Andrew Miller delivers in the seventh inning of a baseball game against the Houston Astros, Friday, May 25, 2018, in Cleveland. The Astros won 11-2. (AP Photo/David Dermer) (David Dermer/AP)
CLEVELAND -- Andrew Miller took the mound at Progressive Field on Wednesday afternoon, firing pitch after pitch while Indians pitching coach Carl Willis monitored the session closely. It was another step forward in the lefty's progression to coming off the disabled list.In the meantime, Cleveland has left-hander Tyler Olson back
CLEVELAND -- Andrew Miller took the mound at Progressive Field on Wednesday afternoon, firing pitch after pitch while Indians pitching coach Carl Willis monitored the session closely. It was another step forward in the lefty's progression to coming off the disabled list.
In the meantime, Cleveland has left-hander Tyler Olson back in the fold.
Prior to Wednesday's game against the Reds, the Indians activated Olson from the 10-day disabled list, following his bout with a strained left lat muscle. In order to vacate a spot on the active roster for Olson's return, Cleveland designated veteran lefty Marc Rzepczynski for assignment.
"He seems to be champing at the bit, which is always a good thing," Indians manager Terry Francona said of Olson. "When we knew he was healthy, we talked to Zep and Zep is as professional as you can be. [He was] unbelievable. We were very honest. It's still not a conversation you look forward to, but I do think our communication with him helped."
Olson joins Oliver Perez as the lefty options out of the bullpen for Francona, whose relief corps had a Major League-high 5.37 ERA heading into Wednesday's action. Olson has not been immune to the bullpen-wide issues, having posted a 7.27 ERA in 28 games before landing on the DL last month. Within that showing, though, Olson did limit left-handed batters to a .216 average (.653 OPS) in 40 plate appearances.
Miller, who has a 4.40 ERA with 23 strikeouts and 10 walks in 14 1/3 innings this season, remains on the 10-day DL with a right knee issue that has kept him out of the mix since late May. The lefty has thrown a handful of bullpen sessions on this homestand, and Wednesday's workout on the game mound enabled the Indians to gather Statcast™ information about his mechanics, as well as pitch velocity and movement.
Francona said the 39-pitch mound session, which included a brief break after 20 throws, went well. The manager and Chris Antonetti, the Indians' president of baseball operations, were watching the workout from the team's dugout.
"Every time he throws, he takes a step in the right direction," Francona said. "He's way more comfortable in his delivery. He even looks it. So, he's trending in a good way, which is really obviously huge for us."
Francona made it clear recently that Miller's return would not come until the second half of the season. The next step is a simulated throwing session on Saturday, though the Indians are still working out the details. The manager said Miller may be cleared to throw to hitters, but the team may have him do so with a Minor League affiliate to avoid facing his Tribe teammates.
At some point in the near future, Miller would then embark on a Minor League rehab assignment.
"It's been a while now. He needs to pitch," Francona said. "We rely on him so much. We're fortunate that it's July and we have time to let him get on a roll, because we've all seen what he can do when he gets on a roll. We've just got to do it right, and up to this point we have. I think we're going to get rewarded for it at some point, because he's going to help us a ton."