Wade rejoins Yanks looking to make impact
Tanaka scheduled to start vs. Orioles on Tuesday in return from DL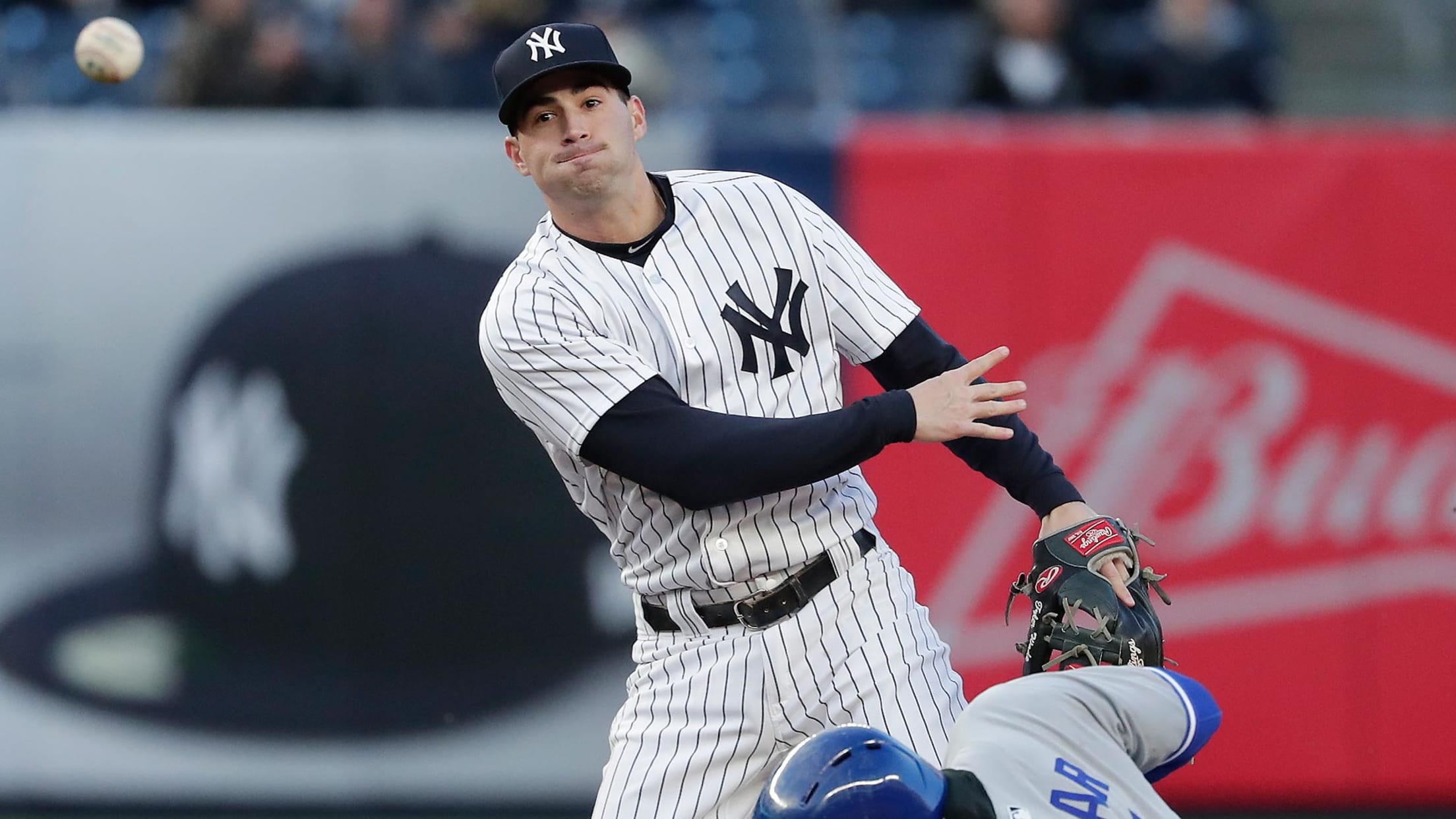 TORONTO -- Having cracked his first Opening Day roster, Tyler Wade brought big expectations north of the border for the Yankees' season opener at Rogers Centre. The team has largely played up to expectations since, though Wade missed out on much of the fun. He hopes it is not too
TORONTO -- Having cracked his first Opening Day roster, Tyler Wade brought big expectations north of the border for the Yankees' season opener at Rogers Centre. The team has largely played up to expectations since, though Wade missed out on much of the fun. He hopes it is not too late to make an impact.
Wade rejoined the Yankees for Friday's series opener against the Blue Jays, summoned from Triple-A Scranton/Wilkes-Barre after Gleyber Torres landed on the 10-day disabled list with a right hip strain Wednesday. Neil Walker is expected to take most of the reps at second base, so manager Aaron Boone envisions deploying Wade in a utility role.
"I needed to work on some things and I went down there motivated, wanting to get back to feeling like myself," Wade said. "It took a while but I got back to that spot where I wanted to be, mentally and physically. I'm happy to see these guys rolling and playing really good baseball. I'm ready to contribute any way I can."
The 23-year-old Wade forced his way to New York with a strong spring but struggled out of the gate, batting .086 (3-for-35) in 13 big league games. A viral infection did not help matters; Wade said that he lost 11 pounds as a result of what was described at the time as flu-like symptoms.
He was optioned to Triple-A on April 22, the day that Torres was promoted to the Majors.
"He's had some struggles, but I think he's made some adjustments and he's been playing well for really a month now," Boone said. "His speed and versatility gives us a lot of flexibility."
Having focused only on second base in the spring, the Yankees gave Wade reps at second base, third base, shortstop and all three outfield positions at Triple-A, where he batted .271/.332/.376 with 16 doubles, three triples, two homers and 18 RBIs in 64 games.
"[I was] just kind of getting back to where I was last year and the ability to use all parts of the field," Wade said. "Just impacting the baseball the right way and working on getting back to being aggressive with the bases, taking any extra bases I can."
Comeback trail
Torres accompanied the Yankees to Toronto, though he will largely be resting for the weekend, unable to do much other than receive ice therapy. Torres said that he is "feeling better every day" and hopes to resume baseball activities by the upcoming Orioles series.
"I don't like [being on the DL], for sure," Torres said. "The most important thing for me is to come back healthy and strong and not try to come back too fast."
Torres said that he hopes to return immediately after the All-Star break. He said the stiffness in his hip started bothering him this past week, and that it is in a different spot from the discomfort he felt in December.
"I felt tight, but I could play with it for sure," Torres said. "[Monday] I felt it more and I told the manager. They gave me one day [off], then two days I felt good. I was playing, but after a couple at-bats [Wednesday] I felt it was tight again. It wasn't right, so I told the team to make sure it was nothing more."
Tanaka time
Masahiro Tanaka has been scheduled to start on Tuesday at Baltimore, having tossed 69 pitches over five innings in a Minor League rehab start at Triple-A on Thursday. Tanaka was injured running the bases in a June 8 game against the Mets at Citi Field.
"The report was really good," Boone said. "It was making sure he used his pitches, got his count up. We feel good about him making his next start with us and looking forward to getting him back in our rotation."
Boone said that Carsten Sabathia will start one game of the Yanks' Monday doubleheader at Camden Yards, with the second starter still yet to be decided. Jonathan Loaisiga and Luis Cessa are among the candidates.
Bombers bits
Catcher Austin Romine (left hamstring tightness) was behind the plate for the first time since Monday. Kyle Higashioka filled in for Romine, joining Alfonso Soriano as the second Yankee to stroke homers for his first three Major League hits.
"Higgy obviously did a real nice job playing in [Romine's] place and he'll continue with the day games here and the doubleheader coming up," Boone said. "He'll still figure in that mix a little bit. But it is good to have Ro back."
This date in Yankees history
July 6, 1933: Babe Ruth hit the first All-Star Game home run, a two-run shot off the Cardinals' Bill Hallahan, as the American League defeated the National League, 4-2, at Comiskey Park. Lefty Gomez started for the Junior Circuit, firing three scoreless innings.