These All-MLB candidates are (still) underrated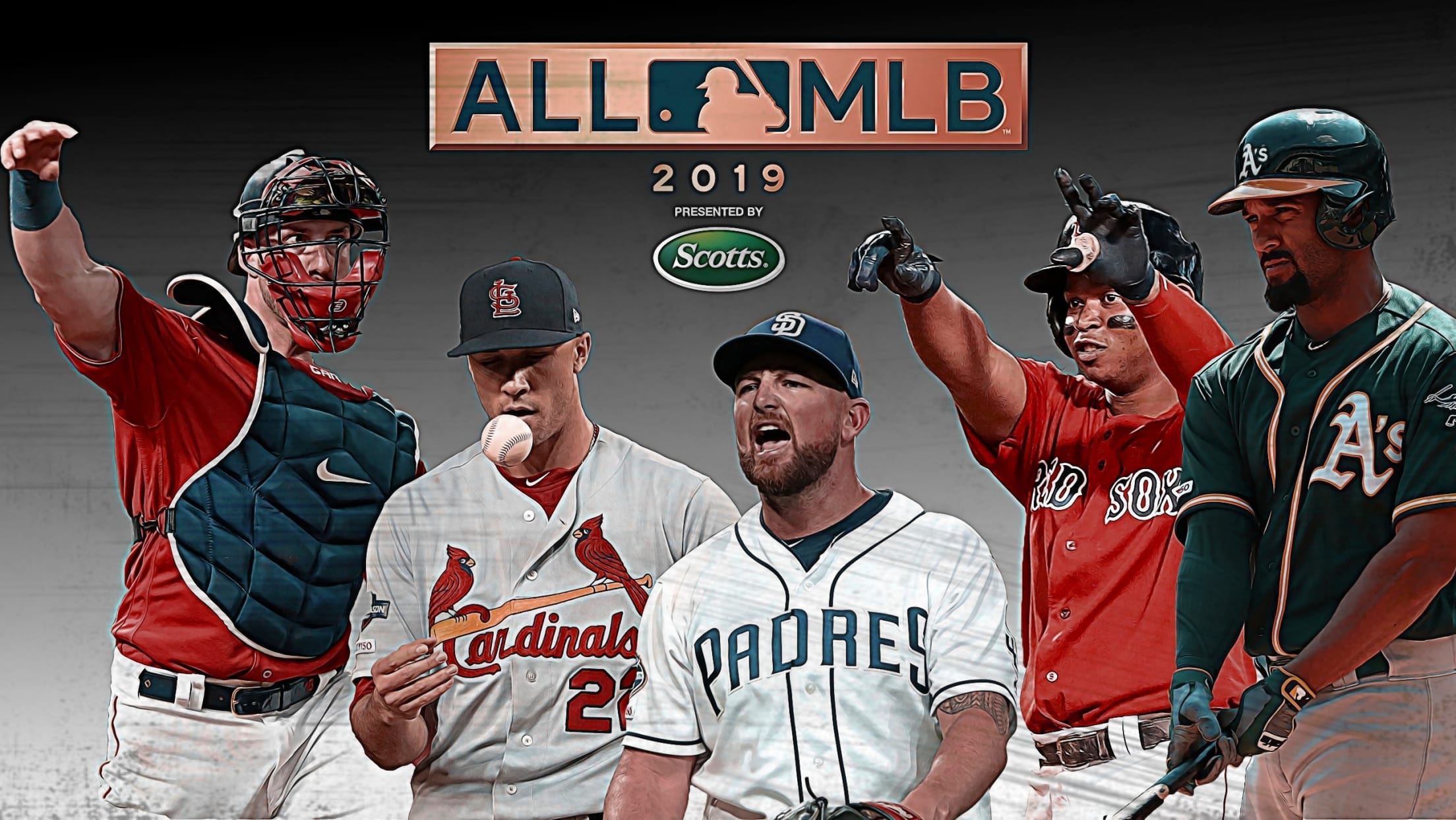 The list of nominees for the inaugural All-MLB team features a wide range of big leaguers, from perennial Most Valuable Player Award candidates to some of 2019's biggest breakout stars -- but it also includes its share of underrated players. While even being selected for consideration for this prestigious honor
The list of nominees for the inaugural All-MLB team features a wide range of big leaguers, from perennial Most Valuable Player Award candidates to some of 2019's biggest breakout stars -- but it also includes its share of underrated players.
While even being selected for consideration for this prestigious honor is a step in the right direction, many of the candidates were widely underappreciated in 2019.
The selection process for the 2019 All-MLB Team runs through Tuesday at 5 p.m. ET, with 50 percent of the vote coming from fans and 50 percent coming from a panel of experts.
Fans can vote right here, and may do so once every 24 hours between now and when voting ends next Tuesday. The inaugural All-MLB Team will be announced on Dec. 10 at baseball's annual Winter Meetings in San Diego.
There will be a first team and second team All-MLB, and voters are asked only to consider performance during the regular season when casting their ballots. Each team will include one selection at each position (including designated hitter and three outfielders, regardless of specific outfield position), five starting pitchers and two relievers.
Without further ado, here's a look at 10 All-MLB candidates who may have had a better 2019 season than most realize:
Mitch Garver, C (Twins)
Four Twins players received votes for the American League MVP Award, but Garver was not one of them. While it was certainly understandable for Nelson Cruz, Jorge Polanco, Eddie Rosario and Max Kepler to be recognized for their contributions to one of the most potent offenses in baseball, Garver made a significant impact of his own, albeit in a smaller sample. The catcher hit 31 homers in just 93 games -- the equivalent of a 54-homer pace over 162 games. Garver's .995 OPS led all catchers with at least 200 plate appearances, and his .630 slugging percentage was 95 points higher than any other catcher. Though he didn't receive any MVP consideration, Garver did take home his first career Silver Slugger Award.
Marcus Semien, SS (Athletics)
From Javier Báez to Francisco Lindor to Trevor Story, there were quite a few shortstops who received MVP hype entering the 2019 season. Yet it was Semien who garnered the highest share of MVP votes at the position. The Oakland shortstop finished third in AL MVP voting after posting career highs in homers (33), RBIs (92), batting average (.285), on-base percentage (.369), slugging percentage (.522), runs (123) and hits (187). He was also one of just five players to play all 162 games in '19.
Tim Anderson, SS (White Sox)
While Semien received some MVP consideration, another previously unheralded shortstop took home the AL batting title. Anderson led the Majors with a .335 average that marked a 95-point improvement from 2018. He also improved his slugging percentage from .406 to .508, and his OPS jumped nearly 200 points, from .687 to .865.
Rafael Devers, 3B (Red Sox)
Whether it's from playing alongside Mookie Betts and J.D. Martinez or playing at one of the deepest positions in the Majors, Devers' incredible 2019 season may have gone slightly overlooked. He finished with 32 homers, 54 doubles and 115 RBIs, while slashing .311/.361/.555 -- and he did all that at just 22 years old. Devers is the second youngest player in MLB history with 50 doubles and 30 homers in the same season, behind only Alex Rodriguez, who did so at the age of 20.
Yoán Moncada, 3B (White Sox)
Moncada broke out in a big way in 2019. The centerpiece of the deal that sent Chris Sale to the Red Sox in December 2016, Moncada hit .234 over his first two seasons with the White Sox and led the Majors with 217 strikeouts in '18. This year, however, the 24-year-old hit .315 with 25 homers and a .915 OPS -- up 201 points from last season -- all while transitioning from second base to third base.
Jack Flaherty, SP (Cardinals)
Flaherty showed flashes of his ace potential as a rookie in 2018, but he took his game to historic levels down the stretch in '19. After struggling to a 4.64 ERA over 18 starts prior to the All-Star break, Flaherty posted a microscopic 0.91 ERA in 15 second-half outings. That's the second-lowest ERA by any pitcher with at least 15 second-half starts in big league history, trailing only Jake Arrieta (0.75 ERA in 2015).
Shane Bieber, SP (Indians)
Only two pitchers in Major League Baseball tossed three complete games in 2019 -- Bieber and Lucas Giolito (more on him in a moment). Bieber helped keep the Indians in postseason contention deep into September despite Cleveland being without Corey Kluber, Mike Clevinger or Carlos Carrasco for much of the season. Along with the three complete games, Bieber finished with a 3.28 ERA, 259 strikeouts and twirled a pair of shutouts en route to finishing fourth in AL Cy Young Award voting, behind Justin Verlander, Gerrit Cole and Charlie Morton.
Lucas Giolito, SP (White Sox)
As mentioned above, Giolito's three complete games were tied with Bieber for the most in the Majors. Giolito, Bieber and Miami's Sandy Alcantara were also the only players to toss multiple shutouts in 2019. Giolito finished the season with a 3.41 ERA and 228 strikeouts while earning his first career All-Star selection. Making those numbers even more impressive is the fact that they came on the heels of Giolito posting a Major League-worst 6.13 ERA in his first full big league season in '18.
Brandon Workman, RP (Red Sox)
While the Red Sox struggled initially to find a replacement for Craig Kimbrel at the back end of the bullpen, Workman eventually emerged as the shutdown closer they sought. Though Workman had some success over the previous two seasons -- he had a 3.22 ERA in 76 appearances from 2017-18 -- few could have predicted his dominance in '19. The 31-year-old righty posted a 1.88 ERA while striking out 104 batters over 71 2/3 innings in 73 appearances. Despite not really settling into the closer role until August, Workman finished with more saves (16) than earned runs allowed (15).
Kirby Yates, RP (Padres)
By nearly any metric, Yates was the most dominant reliever in Major League Baseball in 2019. The 32-year-old righty led all relief pitchers with a 1.19 ERA, while racking up an MLB-leading 41 saves. Yates also struck out 101 batters in just 60 2/3 innings, good for an average of 15.0 strikeouts per nine innings. He's one of just two pitchers in big league history -- along with Craig Kimbrel in 2012 -- to have a sub-1.20 ERA and 15 strikeouts per nine innings in any season while pitching at least 40 innings.