These 11 free agents are better than you think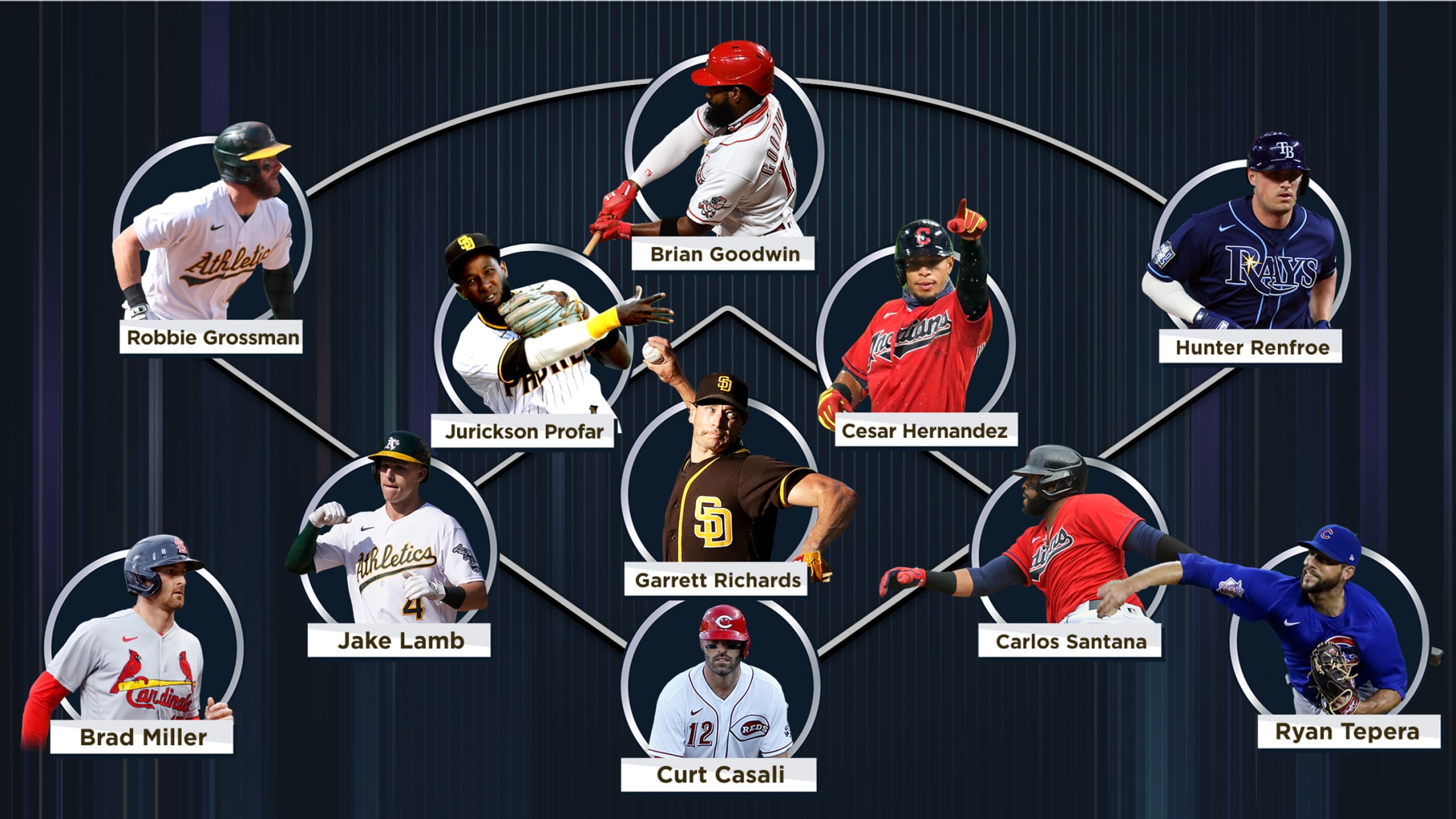 This is a free-agent market big on bodies but light on stars. And with so many teams feeling the financial pinch of the pandemic, it's going to be especially important to find bang for your buck. We're here to help with this team of bargain ballplayers who could prove to
This is a free-agent market big on bodies but light on stars. And with so many teams feeling the financial pinch of the pandemic, it's going to be especially important to find bang for your buck.
We're here to help with this team of bargain ballplayers who could prove to be wily signings.
As tends to be the case, it's hard to determine who really qualifies as "underrated." But it seems safe to say that none of the following guys are front-of-mind in free agency at the moment. Ages listed as of Opening Day 2021.
C: Curt Casali (age 32)
The catching market beyond J.T. Realmuto, James McCann and a 38-year-old Yadier Molina largely revolves around complementary pieces. And Casali, freshly non-tendered by the Reds, is a good one.
Over the last two seasons, Casali's FanGraphs wins above replacement is 1.8, which ranks fifth among all free-agent catchers, just above Molina (1.7). In that time, Casali has provided essentially league-average output (a .244/.340/.435 slash) while grading out above-average in his framing skills. Give him the at-bats against left-handed pitchers (against whom he has an .816 career OPS), and you're in good shape behind the plate. Also, the alliteration of "catcher Curt Casali" is clearly compelling.
1B: Carlos Santana (age 34)
This may have been the year of the MVP first baseman (Freddie Freeman and José Abreu), but teams aren't exactly going to be tripping over MVP-caliber first basemen in this free-agent class. And so they must take a gamble. Santana is up there in years (entering his age-35 season), hit just .199 with a .699 OPS in 2020 and is not likely to repeat his All-Star 2019. But he remains a disciplined hitter in an undisciplined era.
The switch-hitting Santana's 18.4% walk rate that registered as elite this past season, and his expected metrics (a .261 expected batting average and .463 expected slugging percentage, based on batted-ball data) point to bad luck in the shortened season for this traditionally slow-starter.
2B: Cesar Hernandez (age 30)
Speaking of disciplined hitters, it is tempting to put the high-contact, low-K Tommy La Stella in this spot, as he's a worthy target of those who can't land DJ LeMahieu. But because we already had La Stella (and Kolten Wong) on our top 25 free agents list at the outset of the offseason, let's shine a light on Hernandez -- a durable switch-hitter who provides contact, a little bit of speed and good defense on the cheap.
Over the last two seasons with Philadelphia and Cleveland, Hernandez has slashed a respectable .280/.338/.408 while grading out above-average on the basepaths and with the glove. His 1.9 fWAR in 2020 ranked third among all second basemen.
SS: Jurickson Profar (age 28)
OK, Profar hasn't actually played short since 2018. But we wanted to stick him somewhere on this squad, and, once you get past the big names of this free-agent shortstop class (Didi Gregorius, Marcus Semien and Andrelton Simmons), it thins out in a hurry.
Profar endured injury trouble early in his career and never did live up to his pedigree as the No. 1 prospect in baseball back in 2013, and he didn't stick at short. But he's become a valuable, versatile utilityman who can help any contending club. Over the last three years, he's posted an essentially league-average OPS+ (101), with 20 homers apiece in 2018 and '19 and a 20-homer pace in '20. He's done that while taking turns at every infield position and left field. Profar's a streaky hitter, but he'll only be 28 next season.
3B: Jake Lamb (age 30)
With a grand total of 165 games played over the last three seasons, Lamb is admittedly more "under-healthy" than underrated. But all that absence makes him easy to overlook in a market in which teams unable to splurge on a 36-year-old Justin Turner at the hot corner don't have a lot of great options.
Lamb just turned 30, and, prior to all that injury trouble, he had a combined .345 on-base percentage and .498 slugging percentage in 2016-17. The A's acquired him in September 2020 after he was released by the D-backs and, in the tiniest of samples, he had an .882 OPS in 49 trips to the plate. Hope is not a plan, but, given the price tag and past performance, a team could do worse than to hope Lamb can stay healthy.
LF: Robbie Grossman (age 31)
Grossman was the quintessential member of a good Oakland A's team in 2020 in that he was both excellent and anonymous. His 126 weighted runs created plus (or 26% better than league average) ranked 23rd among all qualified outfielders, and he tied for eighth in outfield outs above average, with four. Odds are, you probably didn't notice.
Even if the Statcast metrics are bearish on Grossman repeating his .482 slugging percentage, his walk and whiff percentages were both well north of league average, and Grossman has quietly compiled a .350 on-base percentage in more than 2,700 plate appearances.
CF: Brian Goodwin (age 30)
Perhaps Jackie Bradley Jr. qualifies as underrated in a center-field market fronted by George Springer, though he was on our top-25 list. Maybe David Dahl qualifies after he was non-tendered by the Rockies, but that move seemed to get a lot of attention, given that Dahl is only 26 and was an All-Star in 2019.
So we'll give the nod here to a useful offensive player with speed. Goodwin's brief tenure in Cincinnati after the 2020 Trade Deadline didn't work out. But with the Angels the last two seasons, he slashed .258/.327/.469 with 21 homers, 36 doubles and four triples in 567 plate appearances. Goodwin strikes out too much (32.9% in 2020) and grades out poorly in the outfield, but the 30-year-old has proven himself to be a viable everyday player after a frustrating start to his big league career.
RF: Hunter Renfroe (age 29)
Team success aside, Renfroe had a miserable season with the Rays after they acquired him in the Tommy Pham trade with the Padres last winter. His batting average fell from an already low .216 to .156, his OBP fell from an already low .289 to .252, and his slugging percentage torpedoed from a worthwhile .489 to a very-much-not-worthwhile .393.
So it's understandable why the Rays designated him for assignment and why no other team wanted to pay him more than $3.5 million in arbitration. But Renfroe's hard-hit percentage was in line with his 2019, when he hit 33 homers and 19 doubles. He's also a good defender in the outfield. And he looks suspiciously like Mike Trout, which has to count for something!
DH: Brad Miller (age 31)
The true DH market beyond Nelson Cruz and Marcell Ozuna offers little in the way of bankability. So let's just use this spot on a guy who can provide power, bounce around the field, and, yes, handle DH duties, if need be.
Over the last two seasons, Miller has an .853 OPS and 123 OPS+ in 341 plate appearances. And the 31-year-old's production in a successful stint in St. Louis in 2020 was no fluke. In fact, his expected slugging percentage (.483) and expected weighted on-base average (.364) were both even better than his actual marks (.451 and .343, respectively). Miller hits the ball hard and draws walks and is usable anywhere in the infield.
Starter: Garrett Richards (age 32)
The starting market has a bunch of bounceback bets (Jake Odorizzi, José Quintana, Corey Kluber, James Paxton, etc.) that may or not pay off. Richards is an intriguing member of that group because of the way his arm has recovered from elbow issues that began in 2016 and ultimately required Tommy John surgery in 2018.
Prior to the injury travails, Richards had emerged as a frontline starter for the Angels, going 28-16 with a 3.18 ERA and 116 ERA+ from 2014-15. The Padres signed him prior to 2019 as a reclamation but ultimately only got 17 appearances and a 4.65 ERA out of him. Richards, though, averaged 95.1 mph with his four-seamer this year -- the 15th-highest average of any pitcher with at least 750 pitches thrown. Even more intriguingly, the 32-year-old's fastball spin (2,626 revolutions per minute) was the third-best of anybody with that many pitches, and his curveball spin (3,299 rpm) was the best.
Reliever: Ryan Tepera (age 33)
All right, so Tepera was actually overrated when he got that accidental down-ballot NL MVP vote. But he's underrated in terms of what he can bring to a bullpen.
Tepera's surface numbers in 2020 were just whatever – a 3.92 ERA and 1.40 WHIP in 20 2/3 innings. The Cubs non-tendered him. But he possesses a serious weapon in a cutter that generated 51 misses on 82 swings. That whiff rate (62.2%) was the highest of any pitch in baseball this season. Overall, the .309 expected slugging percentage against Tepera this season was in the 89th percentile. That's not MVP material, but it's something you can work with.