The 2020 All-Star teams could have been ...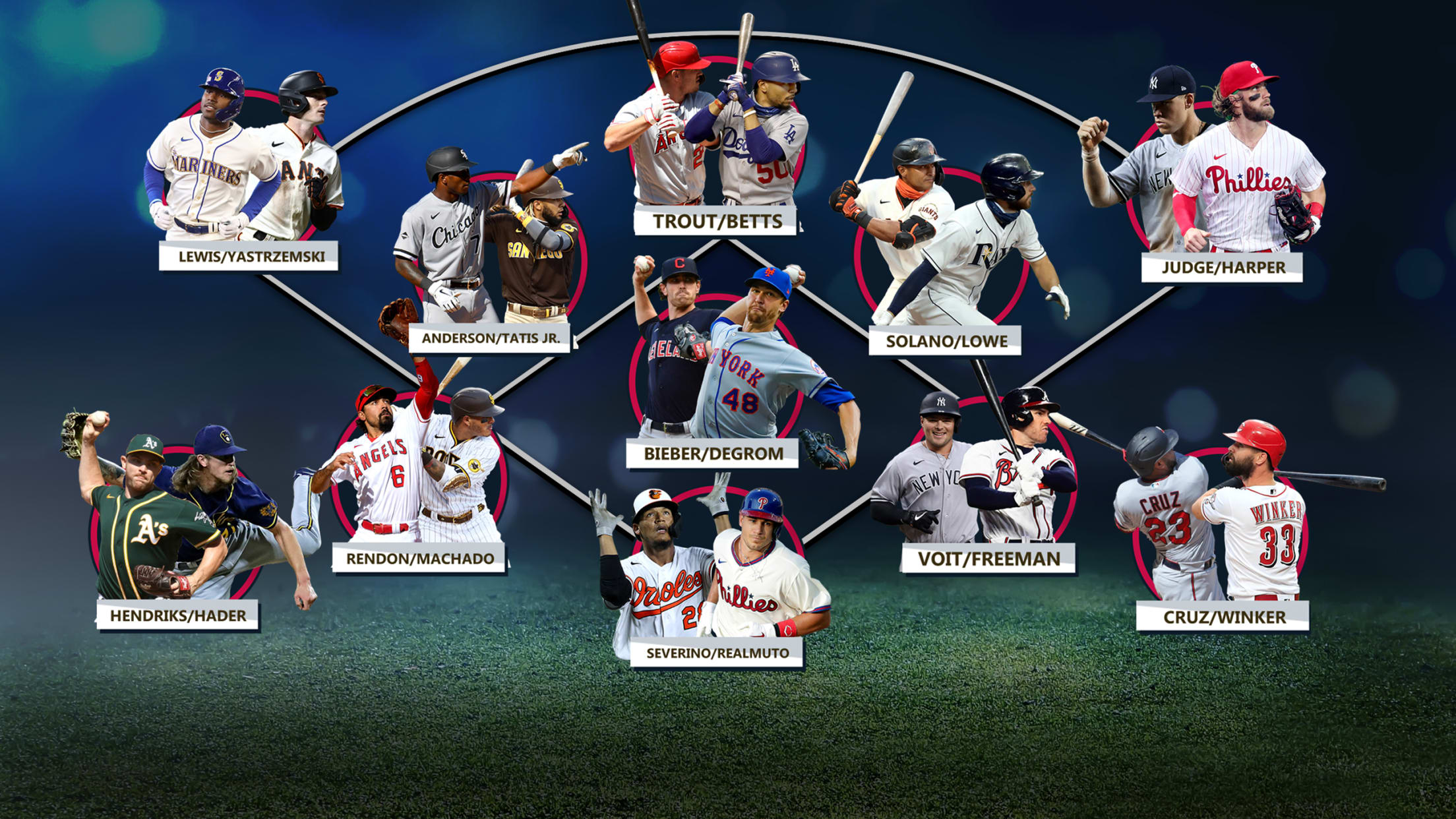 While there are certainly much bigger issues in the world and we've learned to appreciate whatever baseball we can get in 2020, the cancellation of the Midsummer Classic still rates a pretty big bummer. This marks the first summer since 1945 -- and just the second since 1933 -- without
While there are certainly much bigger issues in the world and we've learned to appreciate whatever baseball we can get in 2020, the cancellation of the Midsummer Classic still rates a pretty big bummer. This marks the first summer since 1945 -- and just the second since 1933 -- without an All-Star Game.
It doesn't feel right.
And so, because old habits die hard, we asked a panel of more than 60 staffers from MLB.com and MLB Network to vote for All-Stars here at the calendrical midpoint of the regular season. The statistics guiding these votes are relatively puny, but this is still a fun exercise to salute those who hit the ground running in this short, strange campaign.
With the cardboard cutouts all standing and applauding, we now present to you … the officially unofficial 2020 Faux-Star Teams!
CATCHER
AL starter: Pedro Severino, Orioles
Backup: Salvador Perez, Royals
The O's out-of-nowhere start to the season was powered in part by an offensive breakout from Severino (.333/.413/.568 slash). He's formed a terrific tandem with Chance Sisco. Prior to going on the injured list with vision problems, Perez was enjoying the kind of offensive start (.838 OPS) that, in ordinary circumstances, would have earned him his seventh straight All-Star selection.
NL starter: J.T. Realmuto, Phillies
Backup: Travis d'Arnaud, Braves
With Mookie Betts off the board, Realmuto is making a case as the top free agent of the 2020-21 class with a .289/.340/.622 slash, nine homers and his usual prowess behind the plate. This would have been his third straight All-Star selection. While Realmuto was a clear pick, our voters were split on the backup slot. d'Arnaud has a .948 OPS in 66 at-bats and has been a revelation for the first-place Braves.
Hitter's bounce. pic.twitter.com/TesSudzbPB

— MLB (@MLB) August 25, 2020
FIRST BASE
AL starter: Luke Voit, Yankees
Backup: José Abreu, White Sox
With some of the votes arriving at the start of a weekend in which Abreu hit six homers in a three-game series, this result could have gone either way. That said, Voit still has an MLB-best 1.115 OPS among qualifiers at the position, and Abreu has a 1.030 OPS and 19 extra-base hits. Voit would have been a first-time All-Star, while Abreu has been selected three times previously.
NL starter: Freddie Freeman, Braves
Backup: Anthony Rizzo, Cubs
Four-time All-Star Freeman returned from a rough battle with COVID-19 to post very Freeman-like numbers (.302/.427/.542 slash), which is impressive. Rizzo fell into a 2-for-22 funk just as the voting for these fake teams began. The sizzling Paul Goldschmidt (.344/.487/.525 slash) would have gotten more love if not for the Cardinals' altered schedule and the timing of our vote.
SECOND BASE
AL starter: Brandon Lowe, Rays
Backup: DJ LeMahieu, Yankees
Injuries intervened in Lowe's All-Star rookie year in 2019, but he's picked up right where he left off, and then some, with a .295/.393/.657 slash, 18 extra-base hits and 25 runs scored. LeMahieu had a late start to Summer Camp and is now nursing a thumb issue, but in-between he was typically instant offense for the Yankees, with a league-best .411 batting average. The Blue Jays' Cavan Biggio (.924 OPS, six homers) was among the "snubs" here.
NL starter: Donovan Solano, Giants
Backup: Jake Cronenworth, Padres
Possibly the most fun position on this list because, really, who saw this coming? Solano's a 32-year-old who came into this year with a career .666 (yikes) OPS in 1,396 plate appearances. But he's raked to the tune of a .351/.390/.505 slash for the Giants. The top honor could have just as easily gone to Cronenworth, who was not the highest-profile piece moved in the Tommy Pham-Hunter Renfroe swap, but has been the most impactful, with a .342/.402/.608 slash (including a grand slam, of course) for those poundin' Padres. It should go without saying that both of these guys would be first-time All-Stars.
SHORTSTOP
AL starter: Tim Anderson, White Sox
Backup: Bo Bichette, Blue Jays
Anderson's offensive growth over the past two seasons has been breathtaking, and this would give him his first All-Star nod. Though a high ankle sprain has limited him to 89 plate appearances, Anderson has made the most of them with a .349/.393/.663 slash, six homers and six doubles. Bichette's 1.063 OPS in an injury-limited sample put him in the backup slot, but the Rays' Willy Adames, Red Sox's Xander Bogaerts, Angels' David Fletcher and Astros' Carlos Correa all have an argument.
NL starter: Fernando Tatis Jr., Padres
Backup: Trevor Story, Rockies
Tatis is the star of this MLB season, leading the Majors in homers (12), RBIs (29), total bases (80) and runs (29). He's also stolen six bases and made some dazzling defensive plays and has (figuratively) lit the unwritten rule book aflame. The NL West is stacked at this spot. Story (.303/.370/.615 slash) got the backup nod over the Dodgers' Corey Seager (.300/.340/.600).
THIRD BASE
AL starter: Anthony Rendon, Angels
Backup: Matt Chapman, A's
Rendon wasted no time settling in with his new squad, delivering a .316/.442/.541 slash with six homers in his first 27 games. That gave him the starting nod over Chapman, who has helped fuel the first-place A's with an .849 OPS and 20 extra-base hits. Both of these guys were first-time All-Stars in 2019, but the low-key Rendon opted not to show due to some nagging injuries he was battling at the time. He has no need to report to our phony game.
NL starter: Manny Machado, Padres
Backup: J.D. Davis, Mets
It's a San Diego sweep on the left-hand side of the infield, as a solid start for Machado (.280/.375/.568) pairs him with Tatis. This would have been Machado's fifth selection and first in the NL. But Davis (.295/.417/.466) has made his mark on the Mets, and veteran Asdrúbal Cabrera (.269/.337/.505) was another strong candidate for the hot corner.
OUTFIELD
AL starters: Mike Trout, Angels; Aaron Judge, Yankees; Kyle Lewis, Mariners
Backup: Anthony Santander, Orioles
Trout's greatness should never be taken for granted, and Judge's monster start after he recovered from right rib issues (and before he spent time on the IL with a calf issue before being activated Tuesday) was impressive. But the real takeaway here is Lewis' emergence as a Rookie of the Year favorite with his .360/.446/.568 slash while manning center field for the M's. Santander is another great story as a former Rule 5 pickup who reinvented himself offensively and banged out 10 homers and 11 doubles with a .962 OPS in 29 games.
NL starters: Mookie Betts, Dodgers; Bryce Harper, Phillies; Mike Yastrzemski, Giants
Backup: Charlie Blackmon, Rockies
Like Trout and Judge, Betts and Harper are stars who have played like stars. Betts has 11 homers already for his new club, and Harper's typically torrid start (.321 average, 1.114 OPS) carries added weight in the shortened season. At age 30, Yastrzemski is becoming a star, with the highest FanGraphs-calculated WAR (2.2) in MLB. He'll never catch his grandfather's total of 18 All-Star selections, but it sure would have been nice to see him get his first this summer. Blackmon's .500 batting average as recently as Aug. 11 held sway with our voters in a deep outfield pool.
DESIGNATED HITTER
AL starter: Nelson Cruz, Twins
Backup: Giancarlo Stanton, Yankees
The ageless Cruz (a six-time All-Star in real life) is a no-brainer here, as his 1.088 OPS, 11 homers and 27 RBIs are all tops at the position. Stanton (1.038 OPS, three homers) made enough of an impression on our voting body in 14 games prior to suffering a hamstring strain. But if you're looking for more volume, the Indians' Franmil Reyes and Royals' Jorge Soler were worthy candidates (as was the A's Mark Canha, though he was listed as an outfielder on our ballot).
NL starter: Jesse Winker, Reds
Backup: Dominic Smith, Mets
These won't go down in history as the first NL DHs voted into the All-Star Game, but let's pretend. Winker struggled to adjust to the role early on. But he's spent the last three weeks hitting everything in sight, giving him a .299/.426/.584 slash on the year. Smith has logged more games in the outfield but was on our ballot as a DH, and his 1.161 OPS and 16 extra-base hits earned him the backup honor.
STARTING PITCHER
AL starter: Shane Bieber, Indians
Backup: Lance Lynn, Rangers
The Biebs is the reigning All-Star Game MVP, but he's reached a truly transcendent level in 2020 (6-0, 1.35 ERA, 8.33 K/BB ratio in 46 2/3 innings) and was the clear choice here. And while the Yankees' Gerrit Cole, the Angels' Dylan Bundy, the Twins' Randy Dobnak and Kenta Maeda and quite a few others were worthy of consideration, Lynn, who was last an All-Star with the Cardinals in 2012, is an equally easy choice at No. 2, having crafted a 1.59 ERA and 0.86 WHIP in his first 45 1/3 innings.
NL starter: Jacob deGrom, Mets
Backup: Trevor Bauer, Reds
If we're picking nits, we could quibble with the deGrom selection, as he's "only" fifth in the NL in ERA (1.93) and adjusted ERA+ (220). But he's also Jacob freaking deGrom, and, as with the real All-Star voting, there's no shame in letting track record influence opinions when the statistical sample is so small. But let the record show Bauer, the Braves' Max Fried, the Cubs' Yu Darvish, and the Padres' Dinelson Lamet all had sub-2.00 ERAs at the turn.
RELIEVER
AL "starter": Liam Hendriks, A's
Backup: Nick Anderson, Rays
A bunch of relievers had crazy numbers through a month of work, but there is particular danger in reading too much into small relief samples. Yet Hendriks was probably the best reliever in the AL last year (with his first All-Star selection) and Anderson had a huge presence on the Rays in the second half. So it's not as if what we saw from them in the "first half" -- a 1.17 ERA, 0.72 WHIP and MLB-leading nine saves in 15 1/3 innings from Hendriks and 9 1/3 scoreless innings and a 0.54 WHIP from Anderson -- was a fluke. Unfortunately, Anderson is now on the shelf with right forearm inflammation.
NL "starter": Josh Hader, Brewers
Backup: Kenley Jansen, Dodgers
The track records are even longer here. But Hader hasn't allowed a hit or a run in 9 1/3 innings and has struck out 38% of batters faced, and Jansen is tied for the NL lead with seven saves and has a 1.42 ERA in 12 2/3 innings. So they didn't get here on reputation alone.