5 unsung heros so far in the NL West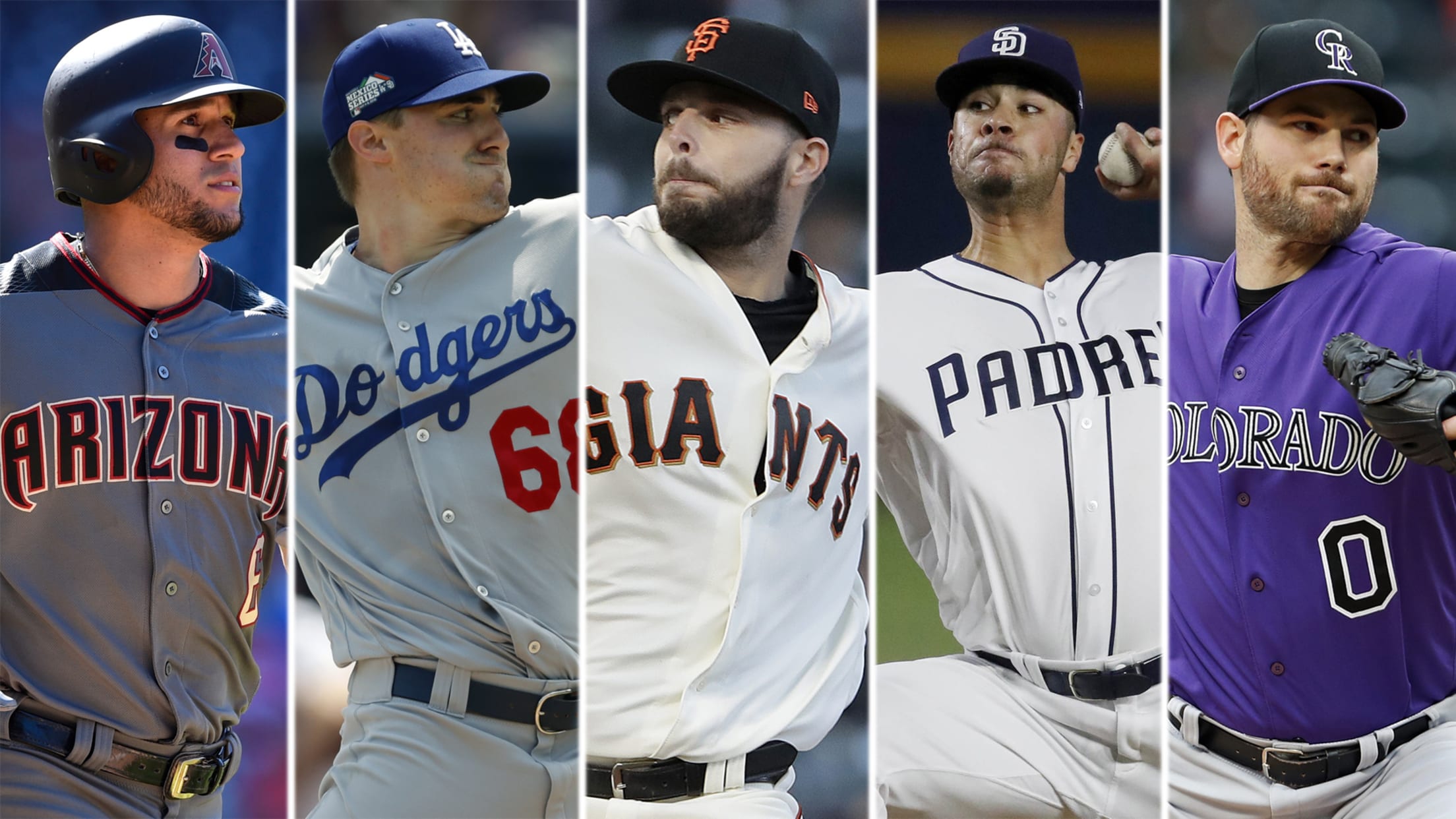 There's an old baseball adage that it takes 25 players to win a pennant, but that's not really true. It nearly always takes a lot more than that.And frankly, it takes more than 25 just to get through a season. It's not only the winning teams that require contributions from
There's an old baseball adage that it takes 25 players to win a pennant, but that's not really true. It nearly always takes a lot more than that.
And frankly, it takes more than 25 just to get through a season. It's not only the winning teams that require contributions from all over the roster. Every team does.
So this week we're tipping our caps to the unsung heroes of the National League West, the guys who have stepped up for their teams but haven't gotten the recognition of the stars or the regulars.
D-backs OF David Peralta
Why you should know about him: An on-base threat for most of his career, Peralta has added a power surge this year to make him one of the season's most effective leadoff hitters. He's drawing walks at a career-best rate, hitting for average and racking up extra-base hits. That has helped keep Arizona's offense afloat even as it has done without Jake Lamb and Steven Souza Jr. for most of the year and seen several other regulars slump.
Why you might not: There are award candidates past and present abound on this roster. Paul Goldschmidt has been an NL Most Valuable Player Award contender in the past, while A.J. Pollock looks like one this year. Likewise for Zack Greinke and Patrick Corbin, respectively, when it comes to the NL Cy Young Award. This is a roster with quite a few stars. And it's not like the D-backs are winning because of their offense, but they are scoring enough runs to support that dominant pitching, and Peralta has been a key part of that.
What they're saying: "I just think David is going to impact the baseball game from the first pitch to the last pitch that he sees and you can't make a mistake to him. I feel like he is going to set a tone for us. If you throw a ball down the middle of the plate, he's going to put some barrel on it and I want us to be known as that type of team." -- D-backs manager Torey Lovullo
Dodgers RHP Thomas Stripling
Why you should know about him: Stripling has done a little of everything, and he's done it well. He's started two games. He's finished two games. Stripling has pitched in more than half of the Dodgers' games, posting a sub-2.00 ERA in the process. Baseball's most injury-ravaged team has plugged him in one spot after another, and he's delivered again and again. In addition to starting, Stripling has entered games in the third, sixth, seventh, eighth, ninth, and 10th innings, and he's only been scored on twice.
Why you might not: Guys like Clayton Kershaw, Kenley Jansen, Kenta Maeda, Alex Wood and even Walker Buehler tend to steal the ink (or electrons). It's safe to guess that if they had their druthers, the Dodgers wouldn't use Stripling to start or finish many games, but his workmanlike performances have been extremely valuable.
What they're saying: "Ross, he's just got so many weapons. He uses the whole mix -- fastball, curve, cutter, change. He can throw a strike when he needs to. I trust him when he's on the mound. He serves a lot of roles for us. Out of the bullpen, he can give us two or three innings, he's effective against right-handed or left-handed [hitters]." -- Dodgers manager Dave Roberts
Giants LHP Andrew Suarez
Why you should know about him: Because for a team that has taken body blow after body blow in its starting rotation, Suarez has been a revelation. The Giants' top three starters have all spent time on the disabled list, leaving them in dire need of contributions from the next man up, and the next, and the next. Enter Suarez, who had some rough moments in his debut but has been outstanding in his past two starts. Since returning to the rotation on May 1, he's struck out 11 against two walks in 12 1/3 innings. It's been desperately needed for the Giants.
Why you might not: Ranked as San Francisco's No. 10 prospect by MLB Pipeline, Suarez is not necessarily the picture of the kind of pitcher who steps in and starts succeeding right away. He's a lefty, and sometimes they come along slowly. And Suarez is not a power guy. Instead, he's more the classic southpaw, a guy who throws multiple pitches for strikes at multiple speeds.
Padres LHP Joey Lucchesi
Why you should know about him: This may be a familiar story by now: A team in dire need of rotation help has gotten it from an unlikely source. Lucchesi was dominant in Spring Training, but it took an injury to Dinelson Lamet to get him into the mix in the Majors. It's worth noting he's not the Friars' only unsung hero. Christian Villanueva has started to be sung a little bit, though, and Statcast™ darling Franchy Cordero has his own cheering section, as well.
Why you might not: Lucchesi came from out of nowhere. He turns 25 soon and spent most of last year with Class A Advanced Lake Elsinore. Lucchesi was drafted from a small college program (Southeast Missouri State). This is not the kind of guy who's ever made prospect hounds drool. But he's always gotten outs, lots of them, at every level. And he's still doing that in the big leagues.
What they're saying: "Our Minor League [staff] knew he was going to come quick. They knew he was going to come probably quicker than the rest. He's proving why right now. He throws strikes. He's got offspeed when he needs it. He can punch guys out. That's a great recipe." -- Padres manager Andy Green said
Rockies RHP Adam Ottavino
Why you should know about him: Because Ottavino is downright awesome. There may be no more dominant reliever in the NL. He has struck out more than half the batters he's faced and has not allowed a homer, offering brilliant relief thanks in large part to an unhittable, ungodly slider. Ottavino is overwhelming and enormously fun to watch, to boot.
Why you might not: Ottavino, a first-round Draft pick 12 years ago, has been through a lot. He didn't work out as a starter, emerged as a quality reliever in 2013-14 after being claimed off waivers and then needed elbow surgery. Ottavino was never right last season in his first full year back, and the uncertainty over him was one factor in the Rockies spending big on their bullpen this offseason. Yet none of those high-priced additions has outpitched the guy who was already around.
What they're saying: "He's really good at holding a pretty good routine down there. If things go bad, he's pretty good at coming back the next day." -- Rockies closer Wade Davis
Matthew Leach is the National League executive editor for MLB.com.