Urena in different spot in Marlins camp in '18
Righty, competing for Opening Day start, throws two scoreless innings in spring debut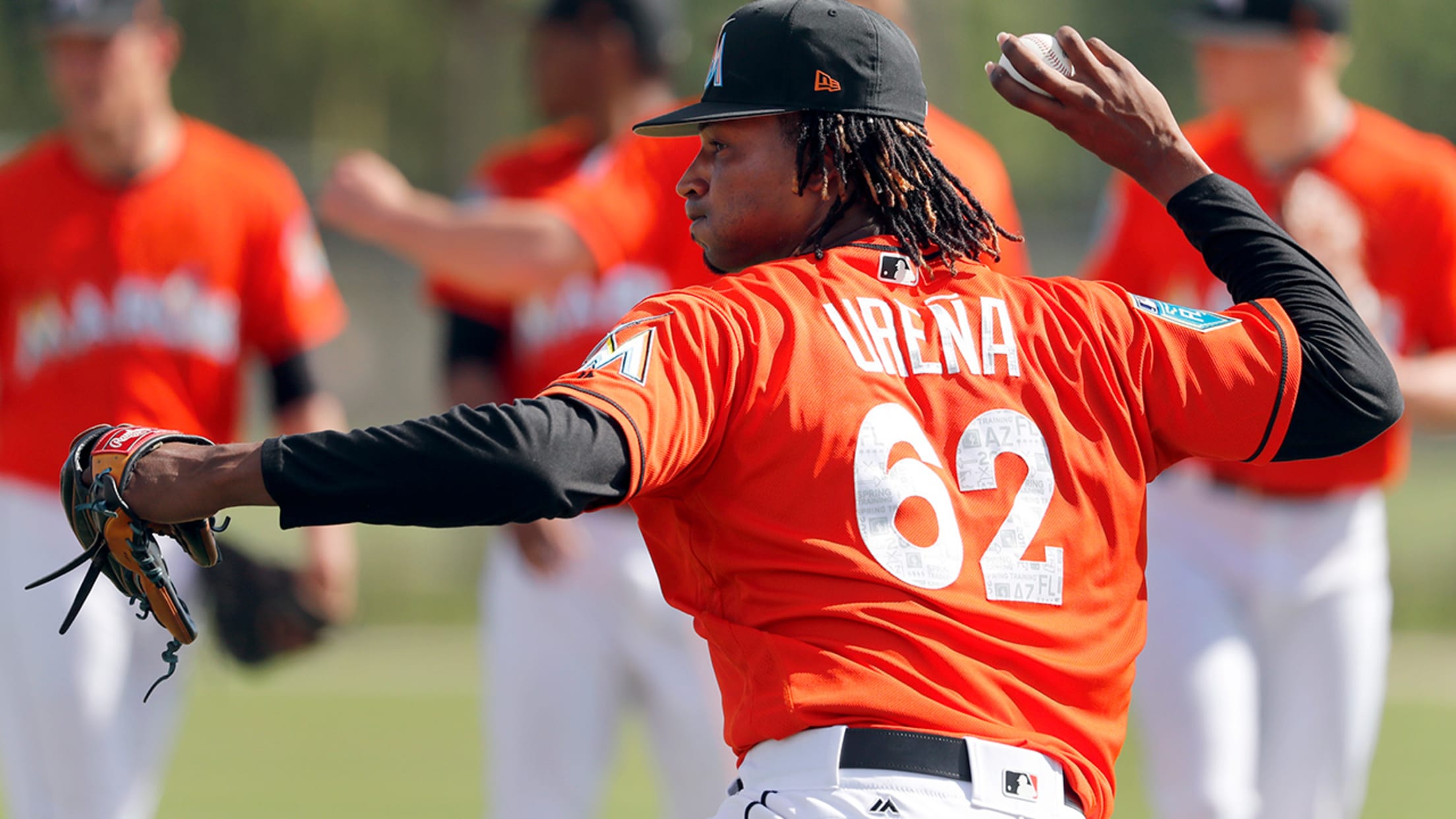 JUPITER, Fla. -- Last Spring Training, Jose Urena was a "bubble candidate" to make a roster spot. Since then, the 26-year-old's status has drastically changed, as he's now a frontrunner to be the Marlins' Opening Day starter.The expectations are higher for Urena, and with that comes increased scrutiny. To truly
JUPITER, Fla. -- Last Spring Training, Jose Urena was a "bubble candidate" to make a roster spot. Since then, the 26-year-old's status has drastically changed, as he's now a frontrunner to be the Marlins' Opening Day starter.
The expectations are higher for Urena, and with that comes increased scrutiny. To truly become a frontline starter, the hard-throwing right-hander needs to show consistency and command with all his pitches.
On Monday, Urena made his first Grapefruit League start, throwing two scoreless innings in Miami's 11-0 win over the Astros at Roger Dean Chevrolet Stadium. The outing was clean and crisp, but far from stellar. Urena got away with a hanging offspeed pitch, and missed some spots, but overall he was effective enough to strike out two while allowing one hit and a walk.
"Obviously, giving up zeros, you assume everything is good," manager Don Mattingly said. "I know he missed a couple of spots and things like that. The first time out, I think it's good to get him out, get him started, and get his Spring Training kind of going."
:: Spring Training coverage presented by Camping World ::
The fact that Urena is being held to a higher standard shows how far he's come from being an unpolished, hard-throwing prospect from the Dominican Republic.
The Marlins' only two pitchers who have already earned rotation spots are Urena and Dan Straily. Mattingly has said the two are the frontrunners to take the ball against the Cubs in the March 29 season opener at Marlins Park.
Urena impressed in 2017, going 14-7 with a 3.82 ERA in 169 2/3 innings.
Urena ended up leading the club in victories, but in Spring Training, he was competing for a roster spot. He was out of options, and actually made the club as a long reliever before sliding into the rotation.
Even with a rotation spot secured this year, Urena is taking nothing for granted.
"For me, it's the same," Urena said. "You don't prepare yourself to make one start. You prepare yourself to try to be there for your teammates, and to do the best you can."
Short at short?
Depth at shortstop is being tested. About the only certainty is that Miguel Rojas is secure in the starting spot, but JT Riddle's status for Opening Day remains uncertain as he is building back from left shoulder surgery. Behind those two are a couple of non-roster invitees, who are more of defensive candidates. Yadiel Rivera has seen limited big league action with the Brewers the past few years, and Peter Mooney, with the Marlins at Triple-A New Orleans last year, are fallback options.
Riddle projects to begin playing in Grapefruit League games around mid-March. He was expected to take batting practice on Monday, the day after he was fielding grounders.
"We'll see where he's at," Mattingly said. "We've talked about him playing in the middle of March. If that gets him ready, it gets him ready. If it doesn't, it doesn't."
If Riddle isn't ready for the opener on March 29, Mattingly says he is comfortable with either Rivera or Mooney.
"Rivera can absolutely pick it," Mattingly said. "This guy is tremendous at short. Peter Mooney looks good, and both of those guys can play all over. I'm comfortable with our depth, but neither one of those guys is on our roster. So that is a question mark that we'll have to talk about, if JT is not ready. … We have the guys that I like. Both of those guys I'd be totally comfortable with, but obviously, they're not on the roster at this moment. Then, it becomes a roster move and where do we go?"
Art of baserunning
When the Marlins are on base, they're going to be on the move.
"We're going to be aggressive," Mattingly said. "We know the mentality we want to have on the bases is going to be aggressive. That's not going to change for games."
The revamped roster will rely more on speed now that the Marlins have lost the big power producers from a year ago. Giancarlo Stanton, Christian Yelich and Marcell Ozuna combined for 114 home runs. All three were traded in the offseason, and the organization has added plenty of speed and athleticism. Outfielders Lewis Brinson, Magneuris Sierra, Braxton Lee and Cameron Maybin all are plus runners, as is catcher J.T. Realmuto.
In the past two years, the Marlins have changed their approach to teaching baserunning. Along with their on-field work, they're also employing watching video and discussing tactics in a classroom setting.
"We like to do our baserunning a little differently, and we do it inside," Mattingly said. "They're working on the field, also. The whole concept of it. Making sure everybody has the principles down that you use out there. Those help you make better decisions. We like doing that in the classroom. We'll do that with the video. We started that last year, and then we added to it as the season went on. Good plays, bad plays. Guys seem to learn better with visuals now."
Up next
Straily makes his Grapefruit League debut on Tuesday at the Nationals, at 1:05 p.m. ET. Giovany Gonzalez is lined up for Washington. On Miami's travel roster, Sierra, Justin Bour and Maybin are among the position players. Adam Conley is also scheduled to pitch. Tuesday's game can be heard with Gameday Audio.