Varitek, Wakefield on HOF ballot for 1st time
Pair was inducted into Red Sox Hall of Fame last summer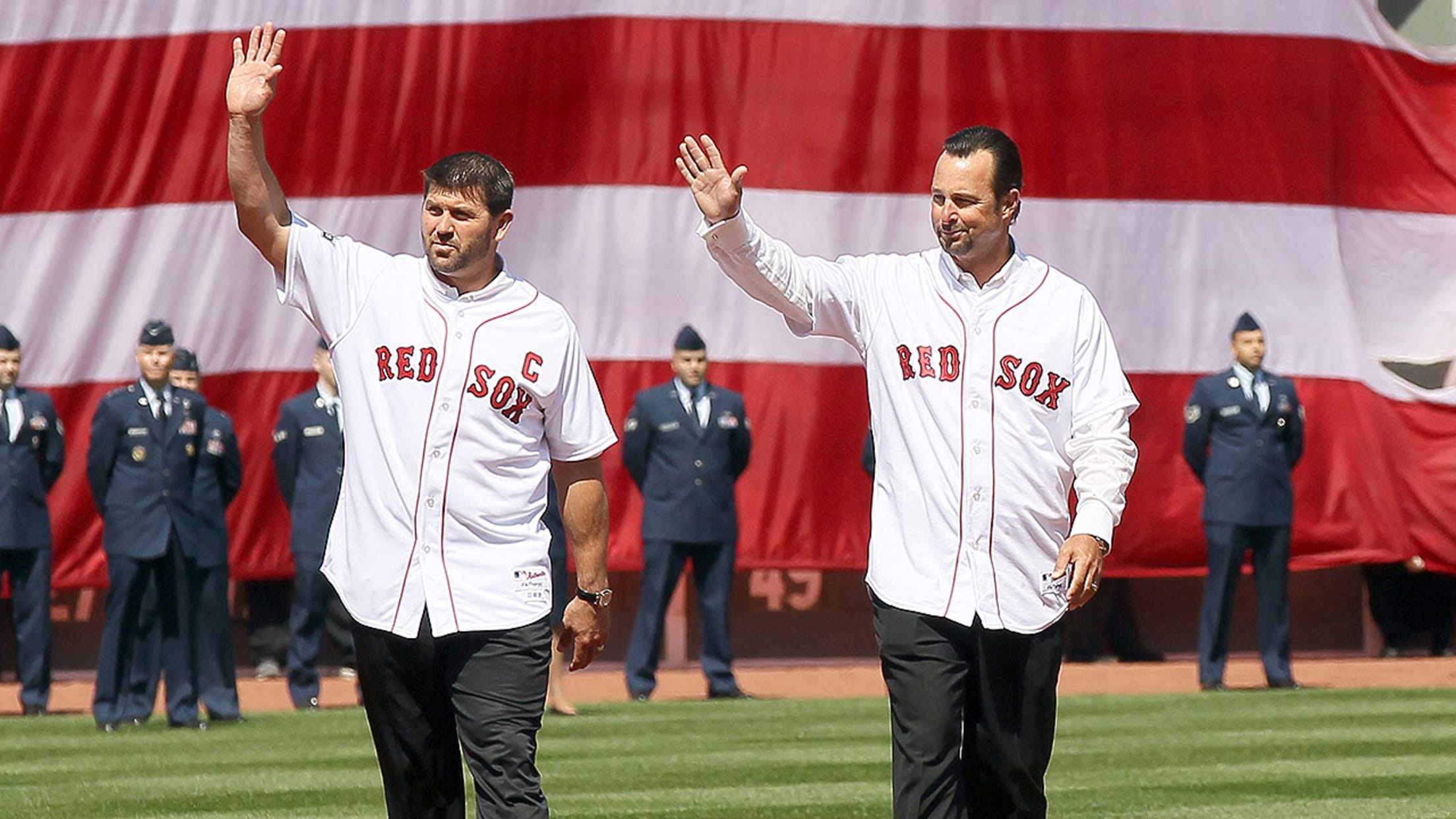 Jason Varitek and Tim Wakefield were on the 2004 and '07 World Series-champion Red Sox teams. (Getty)
BOSTON -- Jason Varitek and Tim Wakefield, cornerstone players for the 2004 and '07 World Series-champion Red Sox teams, are on the Hall of Fame ballot for the first time.A switch-hitting catcher known for his leadership behind the plate and his relentless approach in all facets of the game, Varitek
BOSTON -- Jason Varitek and Tim Wakefield, cornerstone players for the 2004 and '07 World Series-champion Red Sox teams, are on the Hall of Fame ballot for the first time.
A switch-hitting catcher known for his leadership behind the plate and his relentless approach in all facets of the game, Varitek played exclusively for Boston in a career that started in 1997 and ended in 2011.
In what proved to be a masterful move by then-general manager Dan Duquette, the Red Sox acquired Varitek and Derek Lowe for Heathcliff Slocumb on July 31, 1997.
It was also Duquette who took a flier on Wakefield in 1995 after he had been released by the Pittsburgh Pirates. Nobody would have guessed at the time of that transaction that Wakefield would wear a Boston uniform for 17 years.
The knuckleballer would go on to have a remarkable career, winning 200 games -- 186 of them for Boston -- and becoming an American League All-Star in 2009.
Only Cy Young and Roger Clemens won more games for the Red Sox (both 192) than Wakefield.
The stretch that Wakefield had to start his Red Sox career in 1995 was for the ages. Leading a team that surprised many pundits by winning the AL East title, Wakefield went 14-1 with a 1.65 ERA and six complete games in his first 17 starts.
Wakefield won 17 games twice for the Sox -- in 1998 and 2007. When Curt Schilling was injured for much of '05, Wakefield did his best to perform like an ace, going 16-12 while logging a career high of 225 1/3 innings. The right-hander pitched until he was 45 years old.
For most of his career, Varitek gave the Red Sox an offensive advantage at a position where good hitters were usually at a premium.
A three-time All-Star, Varitek slashed .256/.341/.435 with 193 homers and 757 RBIs, and he served as the team captain for his final seven seasons.
A player must get 75 percent of the votes from eligible Baseball Writers' Association of America members to gain access to the Hall of Fame. Players can remain on the ballot for up to 10 years as long as they get at least five percent of the vote each year.
The announcement of the Class of 2017 is slated for Jan. 18 at 6 p.m. ET, and it will be simulcast on MLB Network and MLB.com. The induction ceremony will be held on July 30 behind the Clark Sports Center in Cooperstown, N.Y.
Wakefield and Varitek were inducted into the Red Sox Hall of Fame together last summer.