Wiffle ball tournament fields a labor of love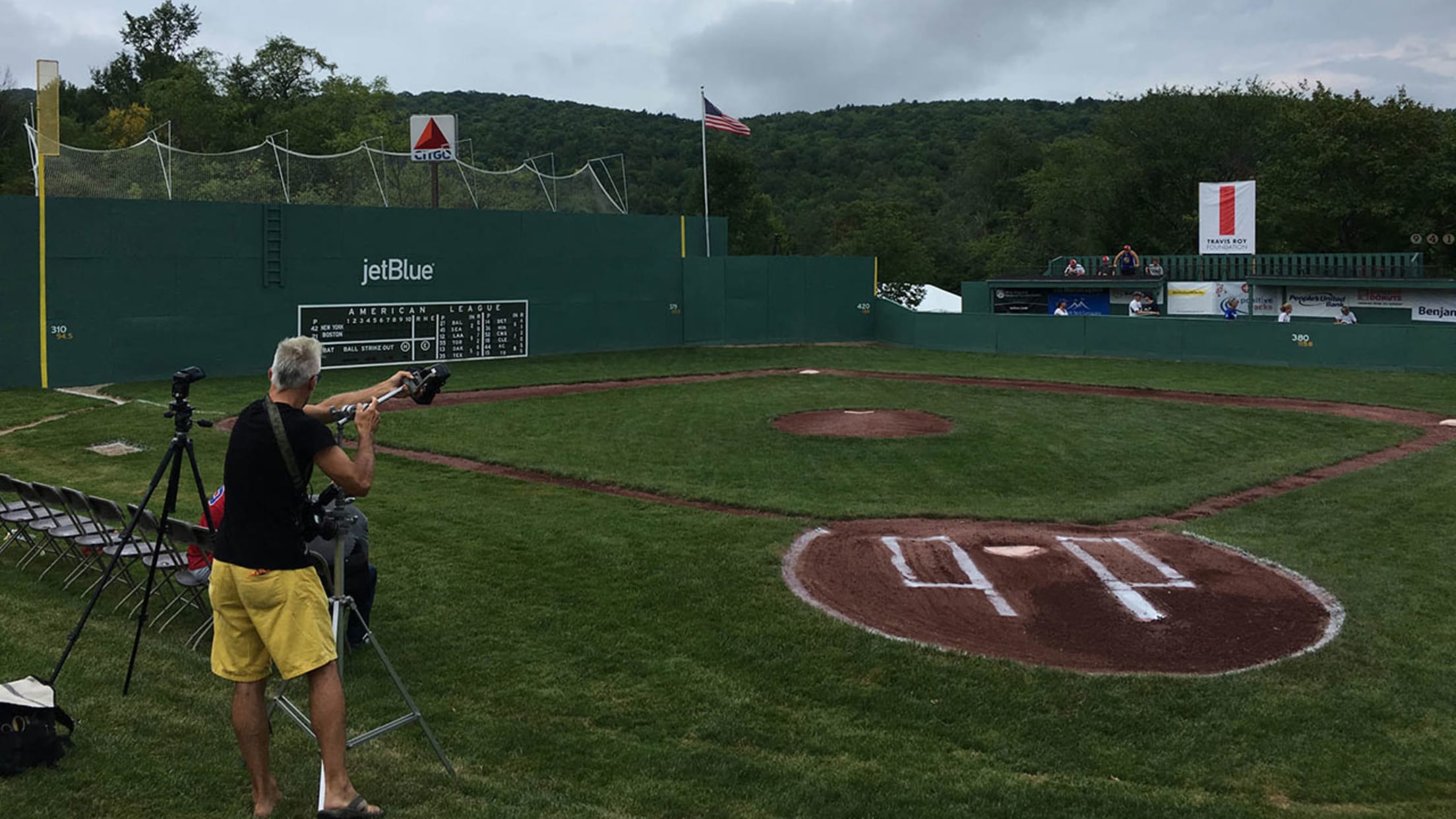 Little Fenway Park plays host The Travis Roy Foundation annual Wiffle ball tournament. (Joe Trezza/MLB.com)
ESSEX, Vt. -- Pat O'Connor's grand dream began on a tiny table napkin, a wild idea scribbled around coffee stains. He wanted, like so many New England baseball fans, for Fenway Park to be in his yard. As far as pipe dreams go, this one was as large as the
ESSEX, Vt. -- Pat O'Connor's grand dream began on a tiny table napkin, a wild idea scribbled around coffee stains. He wanted, like so many New England baseball fans, for Fenway Park to be in his yard. As far as pipe dreams go, this one was as large as the Green Monster.
"And from that napkin," O'Connor said. "We started digging some holes."
Nine months, 150 bags of concrete, thousands of feet of plywood and a whole lot of sweat later, O'Connor completed Little Fenway Park on his 11-acre property in 2001. More than a mile down a gravel path at the foot of Vermont's Green Mountains, a real Green Monster emerges from the hills. Above it, a red CITGO sign winks a dented sparkle. Vinyl letters mark the classic left-field scoreboard. The retired numbers of Red Sox hang beyond the stunted bullpen wall in right.
A near exact replica 214 miles from Fenway Park stands scaled down to 23 percent.
"We wanted to have every detail, down to the right-field sun," O'Connor said.
Travis Roy Foundation Tournament
In the years since, O'Connor's complex has expanded into a one-of-a-kind facility. Little Fenway stands adjacent to another sparkling replica, Little Wrigley Field, complete with brick ivy and the vintage center-field scoreboard. A replica of the field from "Field of Dreams" stands beyond Wrigley's fence. Its outfield, of course, is wrapped in cornstalks.

He built it, and kept building. And people came.
This weekend the complex brought more than 1,000 people from across the region to compete in the 15th annual Travis Roy Foundation Wiffle Ball Tournament. The foundation raises money for spinal cord injury research, connecting people through the story of Travis Roy, a former collegiate hockey player who was paralyzed in 1995. O'Connor's fields have played host to the foundation's tournament since its inception, and has helped it raise more than $4 million.
"This is a little bit more than a backyard wiffle ball field," O'Connor said.
Little Fenway has hosted charity events for former Red Sox pitcher Craig Breslow's Strike 3 Foundation, and hosted Rick Porcello, Rich Hill and Bill Lee.
The long-term goal is to see their charity work result in a cure for paralysis, and for a cured paraplegic to play on the field.

Until then, visitors will continue to turn off the rural Vermont service road, following the signs until they stumble upon so many childhood dreams, and ask one simple question, over and over: "How do I get one of these in my backyard?"
Little Fenway Park
Opened: July 4, 2001
Capacity: 1,000
Field size: 1 acre
Scale: 23% of Fenway Park
Baselines: 41.5 feet
Mound distance: 30.5 feet
Features: Authentic CITGO sign beyond left field, Green Monster wall in left field, short bullpen wall in right field, center-field bleachers, yellow home run line in left center, center-field flagpole, 10 retired Red Sox numbers, vinyl scoreboard on Monster.
Best moment: Nearly 100 people gathered here to watch the Red Sox clinch the World Series in 2004, their first title in 86 years. The diehards gathered on the field as temperatures sunk below 30 degrees to watch the game projected onto the Green Monster wall.
Little Wrigley Field
Opened: August 10, 2007
Capacity: 2,000
Field size: 1.5 acres
Scale: 23% of Wrigley Field
Baselines: 41.5 feet
Mound distance: 30.5 feet
Features: Ivy hanging over wood outfield wall, walls painted brick with stencil, vintage chalk scoreboard in center field, flagpole in center field, new lights.

Best moment: Hosting Travis Roy Foundation Tournament.