V-Mart returns to action, homers in Minors game
Anibal throws 6 1/3 innings of one-run ball in second spring outing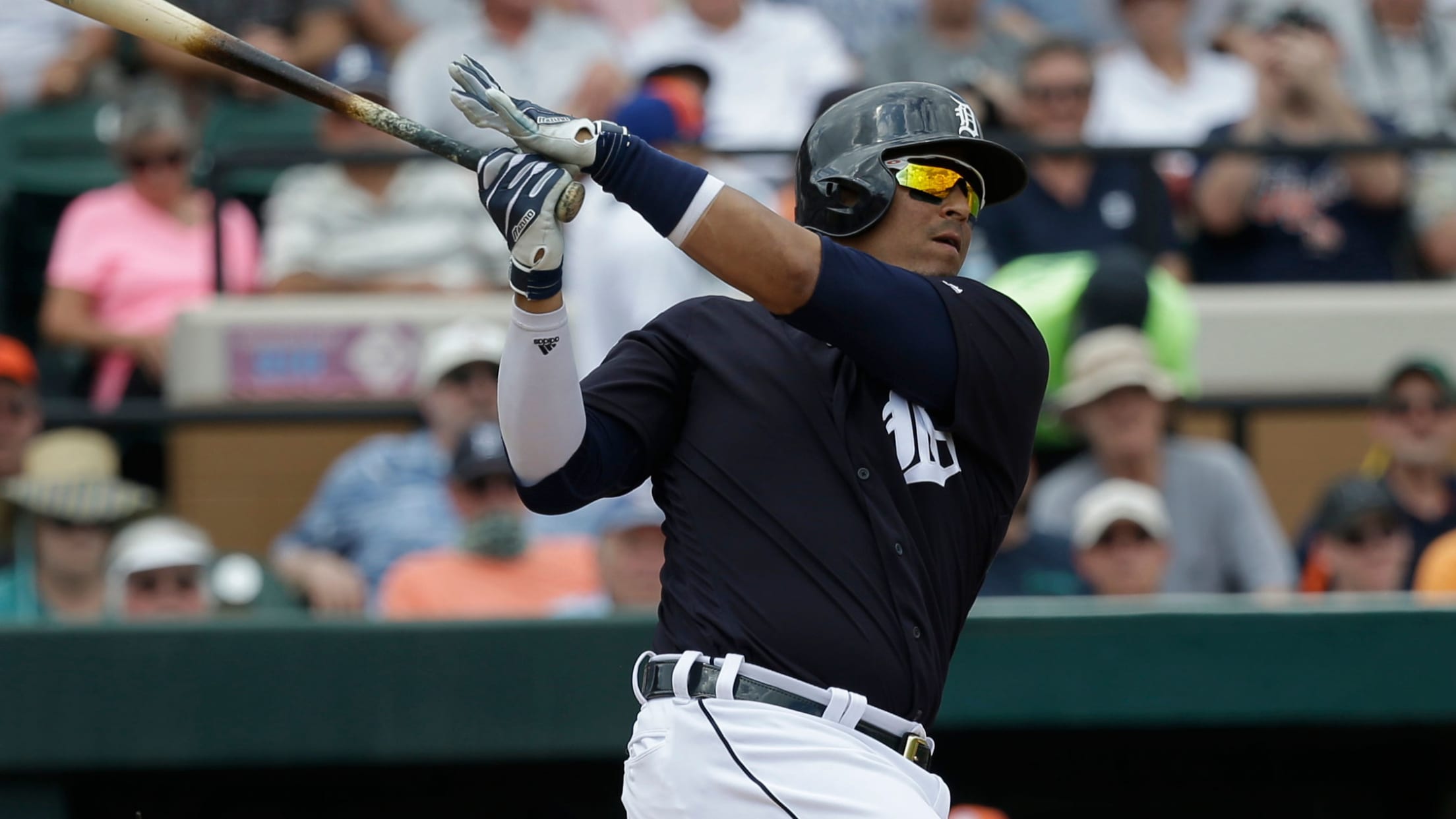 Victor Martinez hit a two-run homer in a Minor League game on Saturday. (AP)
CLEARWATER, Fla. -- While the Tigers visited the Phillies for a 6-5 Grapefruit League win Saturday at Bright House Field, Victor Martinez was on the back fields at Tigertown, getting at-bats as the designated hitter in a Minor League game. It marked his first game action since straining his left
CLEARWATER, Fla. -- While the Tigers visited the Phillies for a 6-5 Grapefruit League win Saturday at Bright House Field, Victor Martinez was on the back fields at Tigertown, getting at-bats as the designated hitter in a Minor League game. It marked his first game action since straining his left hamstring March 14.
Martinez didn't show much rust, hitting a two-run homer and trotting around the bases. He scored another run after drawing a walk, and he grounded into a double play.
Martinez will play in Minor League games Sunday and Monday as well, manager Brad Ausmus said. If all goes well, he'll likely return to Major League games Tuesday against the Blue Jays.
At this point, Martinez is progressing enough that he should be ready for Opening Day, although Interleague Play to open the season means he'll probably be on the bench as a pinch-hitter. Still, the Minors work gives the Tigers a few days to make sure he's healthy. If something happens, they'll be able to back-date a stint on the disabled list with enough time to have him eligible to return five days into the season.
So far, however, so good.
"I watched him run [Friday], and he was fine," Ausmus said. "He said he felt absolutely nothing."
Sanchez throws in Minor League game
Anibal Sanchez's second outing this spring came on the back fields at Tigertown, where he threw 6 1/3 innings of one-run ball in a Minor League contest.
Sanchez, who missed about a month with triceps inflammation and a bronchial illness before debuting Monday on the big league side, allowed an earned run on three hits with no runs and eight strikeouts, according to the Tigers. He threw 71 pitches, 49 of them for strikes.
Sanchez has one more start left this spring. The Tigers are hoping he can stretch out far enough to be ready for the second game of the regular season April 6 at Miami. Otherwise, Mike Pelfrey will start that game, and Sanchez would slot later in the rotation.
"In theory, [Sanchez] could be at 90 [pitches] his last start," Ausmus said. "And if he's at 90, then he's capable of making a start in the regular season. If you can't go to 90 pitches, then you don't want to really put him out there, just because you're going to tax your bullpen."
Collins makes statement in outfield competition
Tyler Collins got a spot start in right field Saturday afternoon after Steven Moya, who had been slotted to start, was optioned to Triple-A Toledo in the morning. Collins' resulting performance furthered his standing as the top candidate for the extra outfield spot on the Opening Day roster.
Collins had three hits, including a pair of triples, and two RBIs. He also had an outfield assist, throwing out Ryan Jackson at home plate trying to tag up on a fly ball.
The hits raised his average to .359 (14-for-39) this spring. Five of those hits are triples. No other Major League hitter had more than three triples this spring entering Saturday.
"I can't hit anything else right now," Collins said. "I'm not complaining. I've just never seen anything like it."
Collins is competing with Wynton Bernard for the extra outfield spot, backing up Anthony Gose in center. However, Ausmus didn't rule out other options.
"Nothing has been decided, so in that sense, any option is on the table," Ausmus said. "Those two are competing, but it's not like we're closing the door on any other possibilities."