Mesa, Alvarez get invites to Spring Training
Top prospect, veteran slugger among 14 Marlins not on 40-man roster who will attend camp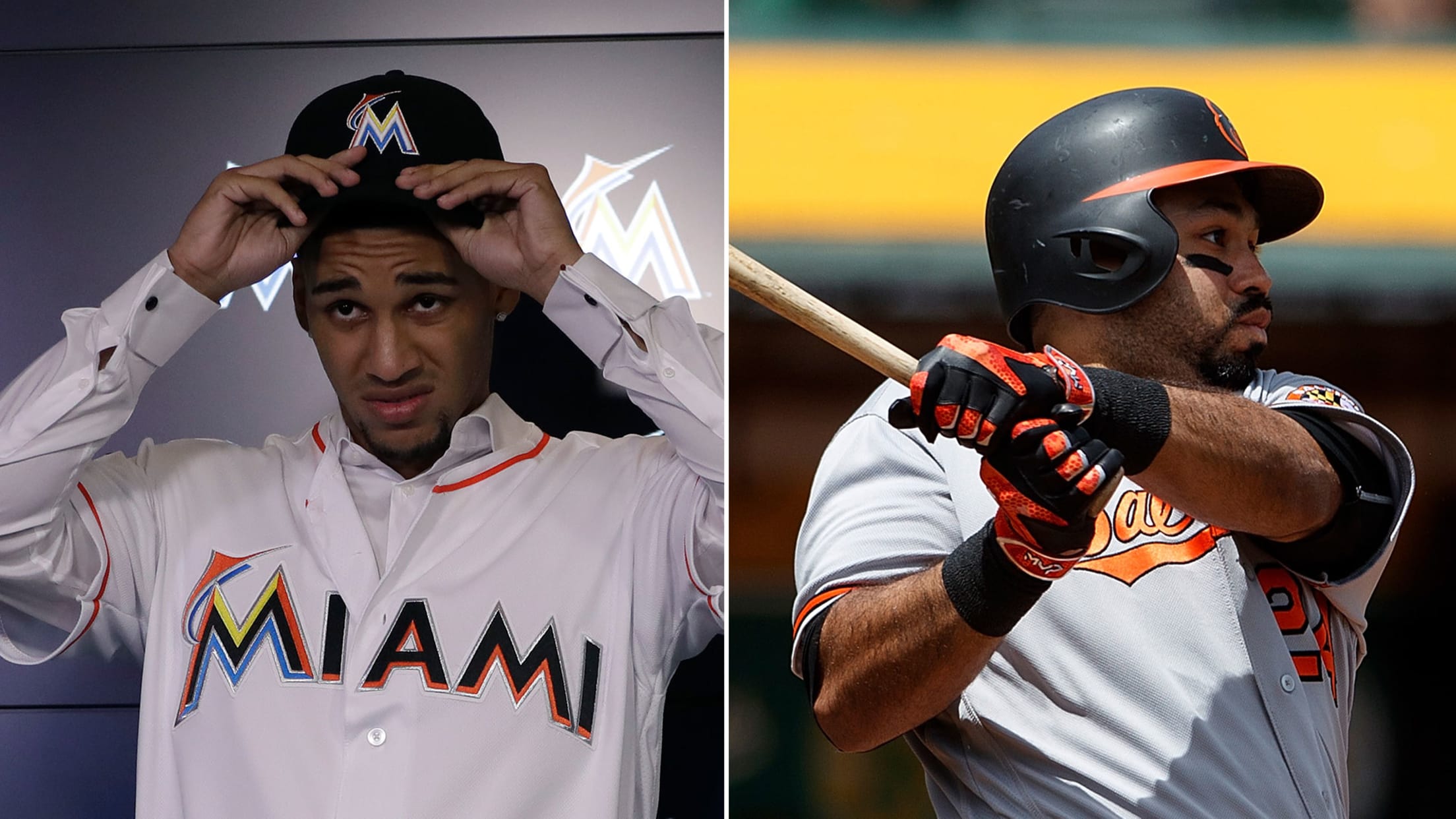 MIAMI -- The Marlins remain in the market for cost-effective corner outfielders and a first baseman, and they are hoping to find a few diamonds in the rough with their non-roster invitees.On Monday, the club announced 14 players not on the 40-man roster will be joining the big league team
MIAMI -- The Marlins remain in the market for cost-effective corner outfielders and a first baseman, and they are hoping to find a few diamonds in the rough with their non-roster invitees.
On Monday, the club announced 14 players not on the 40-man roster will be joining the big league team in Spring Training. Veteran first baseman Pedro Alvarez and the organization's top-rated prospect, outfielder Victor Victor Mesa, are on the list.
Miami also is bringing back veteran catcher John Holaday -- All-Star J.T. Realmuto's primary backup in 2018 -- on a Minor League contract with an invitation to Spring Training.
Also being invited to Spring Training on Minor League deals are: right-hander R.J. Alvarez, infielder Deven Marrero, infielder Jon Berti, outfielder Gabriel Guerrero, left-hander Mike Kickham, catcher B.J. Lopez, infielder Dixon Machado, left-hander Brian Moran, catcher Sharif Othman, outfielder Harold Ramirez and catcher Rodrigo Vigil.
Realmuto, who has two years remaining in the arbitration process, continues to be a trade candidate. Should Miami find a deal, Holaday is not viewed as a starting option, but he could again wind up as the backup.
Mesa, a native of Cuba who was highly coveted on the international free agent market, signed with the Marlins in October. Miami also landed his younger brother, outfielder Victor Mesa Jr., who will not be in big league camp.
Victor Victor Mesa is not looked at as a serious candidate to win a big league job in Spring Training, but the 22-year-old will get an opportunity to showcase his talents in a Major League environment.
Alvarez, 31, is a left-handed power hitter who spent parts of the past three seasons with the Orioles. In 2018, he appeared in 45 games, hitting .180/.283/.414 with eight home runs and 18 RBIs.
Alvarez's most productive years were with the Pirates, where he broke in and played from 2010-15. In '13, the first baseman was an All-Star and Silver Slugger Award winner, pacing the National League with 36 home runs, and he drove in 100 runs. He also led the league in strikeouts with 186.
Alvarez, Peter O'Brien and Garrett Cooper are internal candidates to play first base.
By bringing back Holaday, the Marlins now have the three main catchers they used in 2018. Realmuto, Holaday and Chad Wallach, who is on the 40-man roster, all have experience working with the young pitching staff.
Holaday appeared in 61 games last season, and the 31-year-old led National League catchers (with a minimum of 15 attempts) in caught-stealing percentage, throwing out 15 of 36 (44.7 percent) attempted basestealers. He also set a club record by throwing out nine straight runners attempting to steal.
Marrero, 28, attended American Heritage High School in Plantation, Fla., and played in 49 games last year with the D-backs. He saw limited action with the Red Sox from 2015-17, and missed time last season with an oblique injury.