Robles continues hot start to spring
Corbin falters early in loss, bounces back for strong outing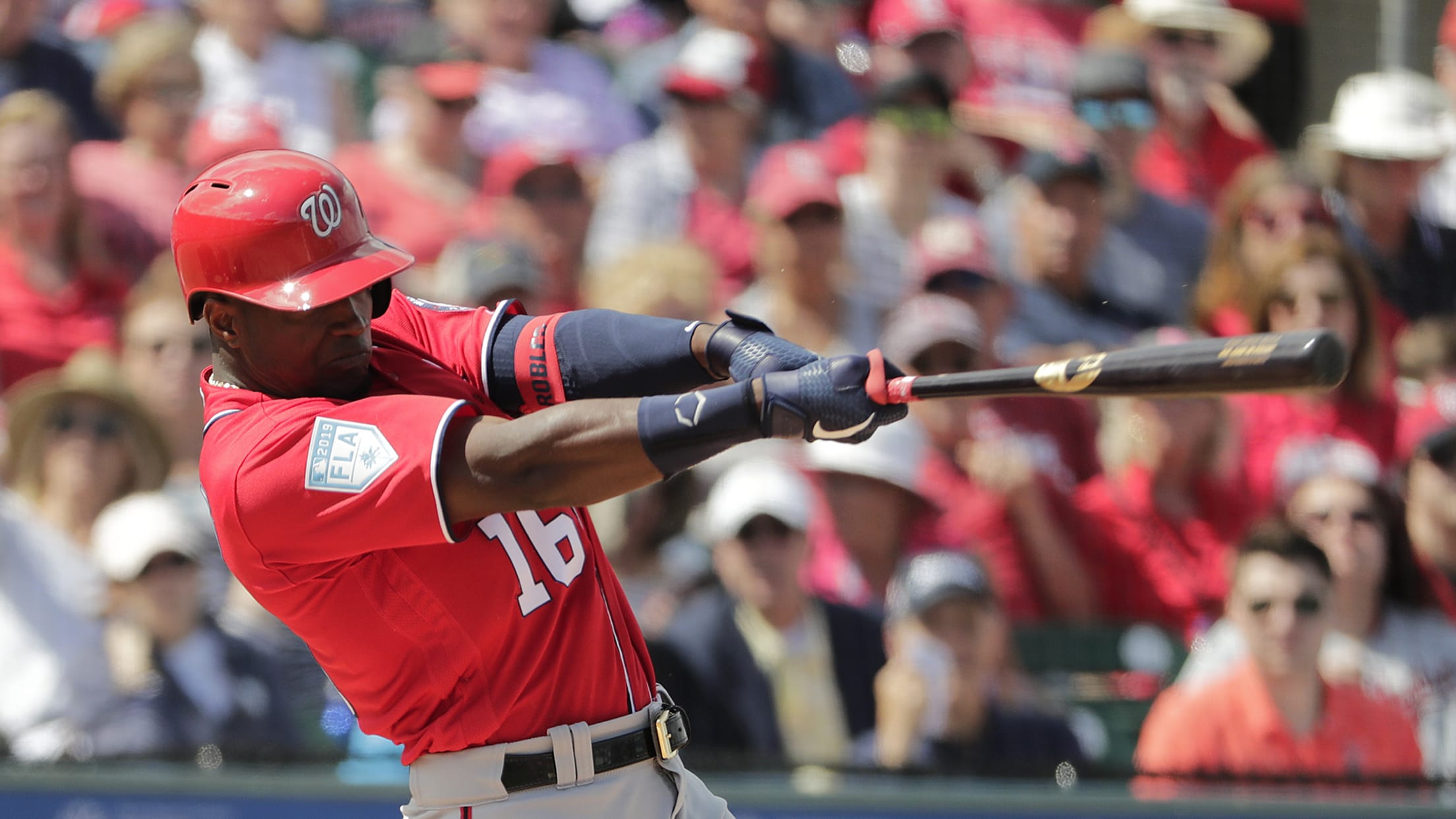 JUPITER, Fla. -- Nationals rookie outfielder Victor Robles continued to play his way toward the Opening Day roster on Friday afternoon by reaching base three times against the Cardinals on two hits and one walk, raising his spring batting average to .381. "He's going to help us win a lot
JUPITER, Fla. -- Nationals rookie outfielder Victor Robles continued to play his way toward the Opening Day roster on Friday afternoon by reaching base three times against the Cardinals on two hits and one walk, raising his spring batting average to .381.
"He's going to help us win a lot of games," Nationals manager Dave Martinez said after a 3-2 loss to the Cardinals.
On Friday, Robles was even better than the numbers say. He led off the game with a single and promptly stole second. OK, technically, he was thrown out attempting to steal, but let's not quibble with the fine print.
"He stole a base," Martinez said. "I would have challenged that [during the regular season]."
Robles slapped an opposite-field single to right his next time up, in the third inning, then after striking out in the fifth, he drew a walk in the seventh.
"I love the fact that he hit the ball the other way," Martinez said. "He's going to be one of those guys where he'll have the leeway to steal bases when he gets on and make things happen."
The 21-year-old center fielder arrived at Spring Training guaranteed of nothing other than an opportunity to compete for a starting job with Michael A. Taylor. Even better, Taylor is pushing Robles, hitting .529 and making his own case to start in center on Opening Day.
But Robles, ranked fourth on MLB Pipeline's Top 100 list, is special.
"I just want to see him play the whole game and get on base and use his speed," Martinez said. "[On Thursday], we put him in a `B' game because he wanted to work on his bunting for hits. He did that. That's a testament to how he thinks and what he feels like he needs to do to help us win."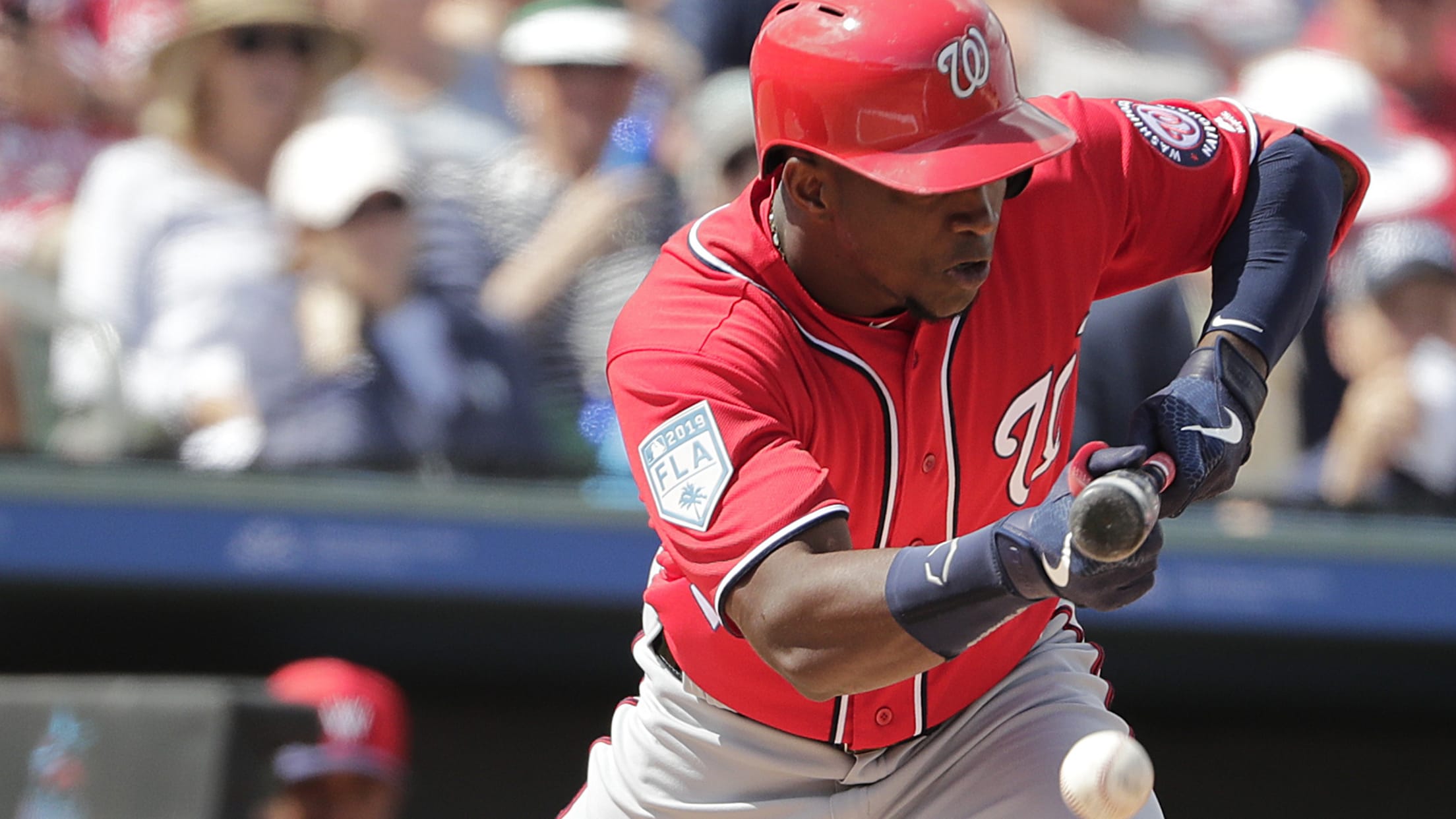 With 20-year-old Juan Soto coming off a 3.0 WAR rookie season (according to Baseball-Reference), the Nationals envision the two young outfielders as foundational pieces. Taylor's hot spring gives the Nats a problem they're happy to have.
"I think it's a sense of maturity at a young age," Martinez said of Soto and Robles. "They seem to get it. They understand what they need to do, and that's huge. It's not about them. It's about their teammates. It's exciting already. They've got their own little handshake in the dugout, and they do all these quirky things. They keep everybody loose."
Corbin strong after early stumble
Left-hander Patrick Corbin threw 49 pitches, including a handful of changeups, in four innings against the Cardinals. Five straight Cards reached base to open the game, but Corbin was excellent after that.
"I felt good," he said. "I think I could have gone out there again for the fifth. I wasn't fatigued at all. It feels like the ball is coming out a little better each game. I think I'll have three more starts. Plenty of time to make sure everything is working for the regular season."
During that rough first inning, there were some hard-hit balls mixed in with some that found holes and one that could have been an out. But the long inning and the chance to polish his changeup -- a pitch Corbin threw 1.2 percent of the time last season (according to Fangraphs) -- made it a productive day.
"Sometimes those innings can get on you," Corbin said. "It happens through the course of the season. Good to have that in the first and to be able to finish four when you're on a limited pitch count."
As for the changeup, Corbin said, "We're just trying to get more consistent with that pitch. Just kind of as another weapon."
Making moves
The Nationals optioned catcher Raudy Read (Triple-A Fresno) and right-hander James Bourque (Double-A Harrisburg); reassigned catcher Tres Barrera and righties Ronald Pena, Wil Crowe, Jose Marmolejos and Chuck Taylor to Minor League camp.
Celebrating in style
Third-base prospect Jake Noll celebrated his 25th birthday with a home run off Cardinals starter Michael Wacha.
Today is Jake Noll's 25th birthday.

He celebrated by homering off of Michael Wacha.#SpringTraining // #OnePursuit pic.twitter.com/s64ovsCWbd

— Washington Nationals (@Nationals) March 8, 2019
Up next
Right-hander Anibal Sanchez will make his third start of the spring when the Nationals play the Marlins at 6:35 p.m. ET on Saturday. Sanchez, the Nats' fourth starter, has allowed two earned runs in four innings over two starts.