Vlad Jr. matching his dad almost perfectly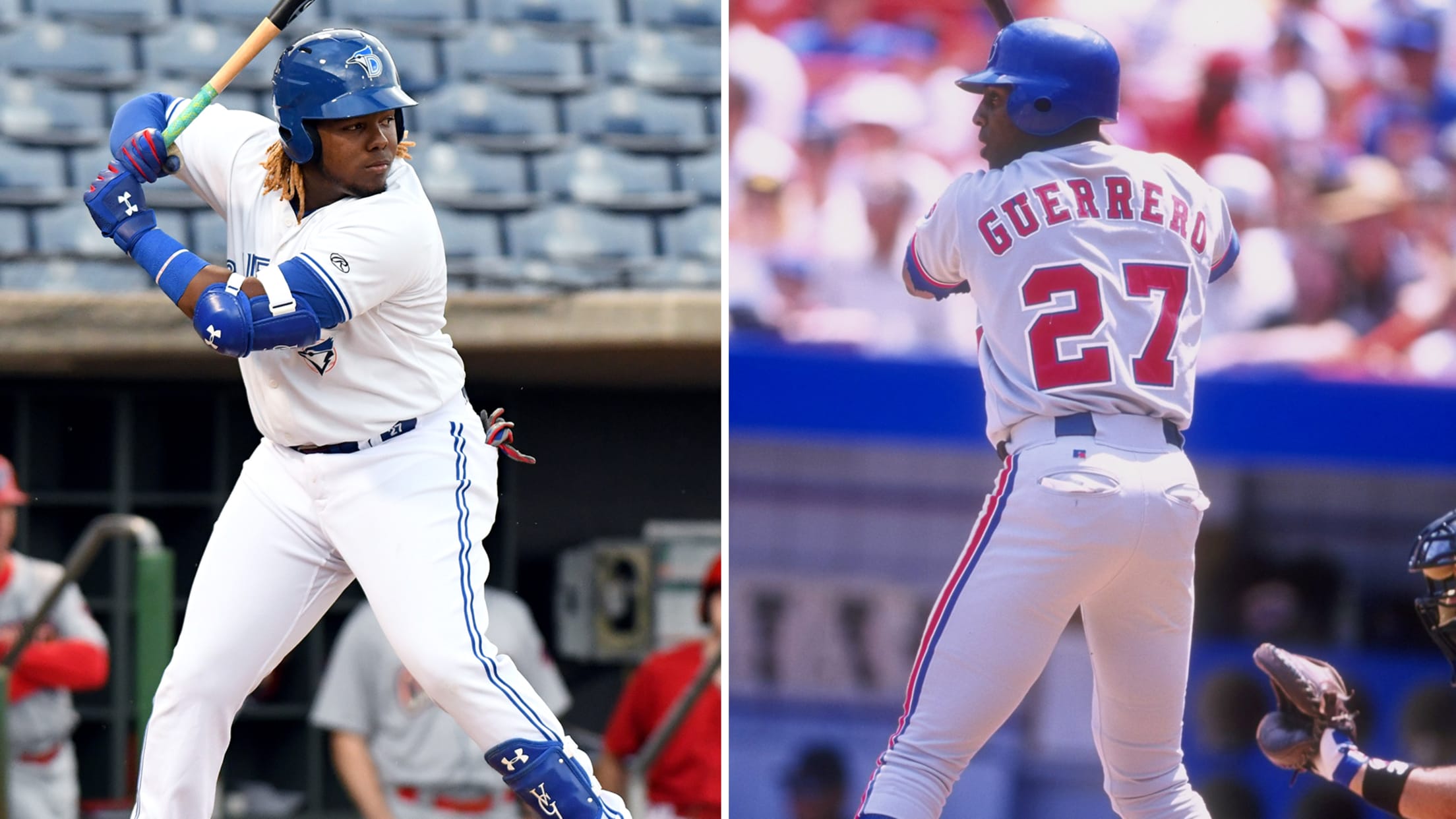 Vladimir Guerrero Jr. now has 1,055 career Minor League at-bats. What's so special about that total? That's how many Minor League at-bats his father, Vladimir Guerrero, had before he made his Major League debut on Sept. 19, 1996 -- as pointed out by Kelsie Heneghan on Twitter. Here's how they
Vladimir Guerrero Jr. now has 1,055 career Minor League at-bats. What's so special about that total? That's how many Minor League at-bats his father, Vladimir Guerrero, had before he made his Major League debut on Sept. 19, 1996 -- as pointed out by Kelsie Heneghan on Twitter.
Here's how they stack up:
Vladimir Guerrero Jr. now has exactly the same number of at-bats his dad had before his MLB debut. Through 1,055 AB's,

Vlad Sr: .343 AVG, 45 HR, 184 RBI, 95 BB, 115 K in 285 G
Vlad Jr: .332 AVG, 42 HR, 206 RBI, 149 BB, 137 K in 283 G

— Kelsie Heneghan (@Kelsie_Heneghan) April 15, 2019
In two fewer games -- but the same total of at-bats -- Guerrero Jr. has more RBIs, more walks and more strikeouts, and is almost tied in home runs and batting average with his father through that point.
Guerrero Sr. debuted in September 1996 and played in nine games, going 5-for-27 with a home run. He began the 1997 season on the injured list with a broken right foot, but made his season debut on May 3 after three Minor League rehab games. He ended up with two more injured list stints that year, for a pulled right hamstring and a fractured bone in his left hand. He hit .302 in 90 games that season, finishing sixth in National League Rookie of the Year voting.
Elite prospect status seems to run in the family. Guerrero Sr. entered his 1997 rookie season as the second-ranked prospect according to Baseball America, behind Andruw Jones. This year, Guerrero Jr. entered the season as MLB Pipeline's top-ranked prospect.
His father, of course, went on to have a Hall of Fame career, hitting .318 with a .931 OPS in 2,147 career games. He hit 449 home runs and knocked in 1,496 runs. He won the 2004 American League MVP Award, was a nine-time All-Star and won eight Silver Slugger awards. He was inducted into the National Baseball Hall of Fame in 2018.
We don't know exactly when we'll see Guerrero Jr. in the Majors, but it's likely to be soon. Steamer projections on FanGraphs forecast a 138 wRC+ for Guerrero Jr. before the season, higher than the projection for Paul Goldschmidt (136) and Aaron Judge (136).