Notes: Davis' status; Wolters loses locks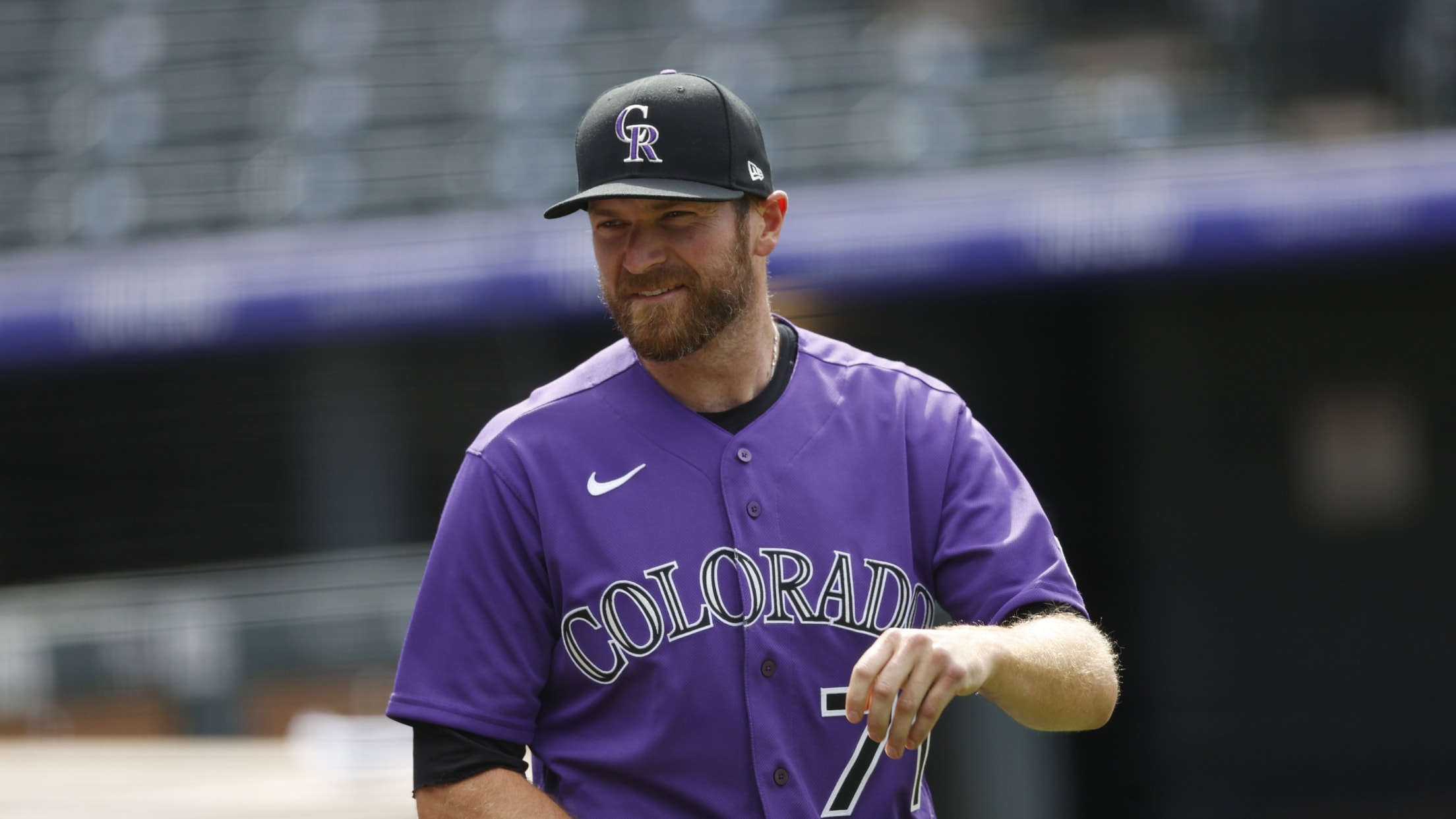 DENVER -- You don't even have to ask baseball's version of that thought-provoking, or eye-roll-inducing, question during Summer Camp. If a home run rockets off empty bleachers, it is heard loud and clear throughout Rockies Nation. And the questions about closer Wade Davis become immense. Everything said here must be
DENVER -- You don't even have to ask baseball's version of that thought-provoking, or eye-roll-inducing, question during Summer Camp. If a home run rockets off empty bleachers, it is heard loud and clear throughout Rockies Nation. And the questions about closer Wade Davis become immense.
Everything said here must be prefaced by this: The Rockies trust that Davis knows what he's doing. Davis led the National League with a club-record 43 saves as the team went to the postseason in 2018, and he has pitched in the postseason six different years (including for the '15 World Series champion Royals).
But in a 60-game season, after a 2019 in which Davis posted an 8.65 ERA and lost the closer job (and was way more impeded by a left oblique strain than he let on or anyone knew), Davis needs to put knowledge with production -- quickly.
In Monday night's simulated game, Davis gave up consecutive home runs to left-handed-hitting Raimel Tapia and right-handed-swinging Trevor Story. A week into a normal camp and it's, oh, big deal. But in this weird year, it could end up being a big deal if his adjustments don't take.
In fairness, there is method to what Davis was doing. His experiments that blew up on the bats of Tapia and Davis are continuations of his strategy during Spring Training, when he was healthy and looked much better than in '19.
"He got a little cutter-reliant last year, so the focus with him has been getting back to his fastball, getting back to his changeup," Rockies bullpen coach Darryl Scott said. "He's a guy that builds arm strength through camp and ramps up as things get closer. I think he's very comfortable with his delivery right now, comfortable with his fastball -- the command aspect of it.
"His changeup is really good and his curveball is really good. Those have been more of a focus right now. He's staying away from the cutter and then will ramp up the cutter late."
But Scott Oberg, who took the closer job last year, has been among the best MLB relievers statistically over the last two seasons. Righty Jairo Díaz, who is healthy after the start of camp was delayed, and Carlos Estévez also have shown well in camp.
Manager Bud Black handled closer questions deftly, by expressing confidence in Davis, noting that early in the schedule relievers may not pitch with the same frequency as in past years, and saying there isn't going to be much time for anyone to struggle in a 60-game schedule.
"Wade's been there before; he's done it," Black said. "He's conditioned for it. But it's going to come down to performance once we get settled in. It could be a combination of a few guys just like we did last September.
"As far as our bullpen, especially early, we're not quite sure where guys are going to be early and whether they're going to be able to pitch back to back or pitch three out of four or five out of seven. That might be a little unlikely for all Major League teams. So you might see different guys as the game unfolds in the later innings."
New look, big donation
Rockies catcher Tony Wolters arrived at Spring Training with flowing hair and his familiar mustache and goatee, and was even more hirsute by Summer Camp in Denver. But by Monday evening's simulated game, all the hair was gone. Turns out it was part of a plan to donate to Michigan-based Maggie's Wigs 4 Kids, which helps children and young adults who are dealing with disease, burns or other disorders.
Wolters' social media post read: "I did it, but it was all for a good cause. I set out to grow my hair to at least seven inches so that I could donate it all to @MaggieWigs4Kids. I'm glad that I could put my locks to good use."
I did it, but it was all for a good cause. I set out to grow my hair to at least seven inches so that I could donate it all to @MaggieWigs4Kids. I'm glad that I could put my locks to good use. pic.twitter.com/JGoVcOZH2N

— Tony Wolters (@TonyWolters) July 14, 2020
It's similar to a move right-handed pitcher Jon Gray made in 2017 to benefit Locks of Love.
"Tony's just another example of a guy helping out, right?" Black said. "He had this in mind. He wanted to do it. He told me what was happening about a week ago when I commented about his hair length, and it came to an end late yesterday afternoon.
"It was a big hit in the locker room when he got completely shaven."
Intrasquad highlights
• Catcher Drew Butera has homered in both intrasquad games. His pull shot to left off Yency Almonte on Tuesday mirrored his long ball off Jake McGee on Saturday. Butera is competing with fellow experienced non-roster player Elias Díaz and rookie Dom Nuñez for playing time alongside Wolters. Butera's hit helped the Purple squad defeat the Pinstripes, 7-2.
• Josh Fuentes' first-inning, two-run double off lefty Kyle Freeland was one that left fielder Chris Owings wanted back, judging his reaction after the ball cleared his outstretched glove as he leaped against the wall. It was still a decent inning for Freeland (49 pitches). He walked two, although one pitch to Matt Kemp was close. Some sharpness is needed, but overall it was a solid outing.
• Jon Gray (43 pitches) breezed through three innings with one run on two hits with a strikeout and one hard-hit ball. The slider and fastball played well low in the zone.
• Hitters prevailed with doubles in a couple of left-on-left challenges against reliever James Pazos (a bright spot at the end of last season). Raimel Tapia's hit to left-center could have been a triple had it not bounced over the wall, and Wolters sent his to right-center.
• MLB umpires Cory Blaser, Chris Guccione and Adam Hamari worked the game.