Brewers' Wang focused on getting back to bigs
Lefty turns down chance to pitch for Chinese Taipei in 2017 Classic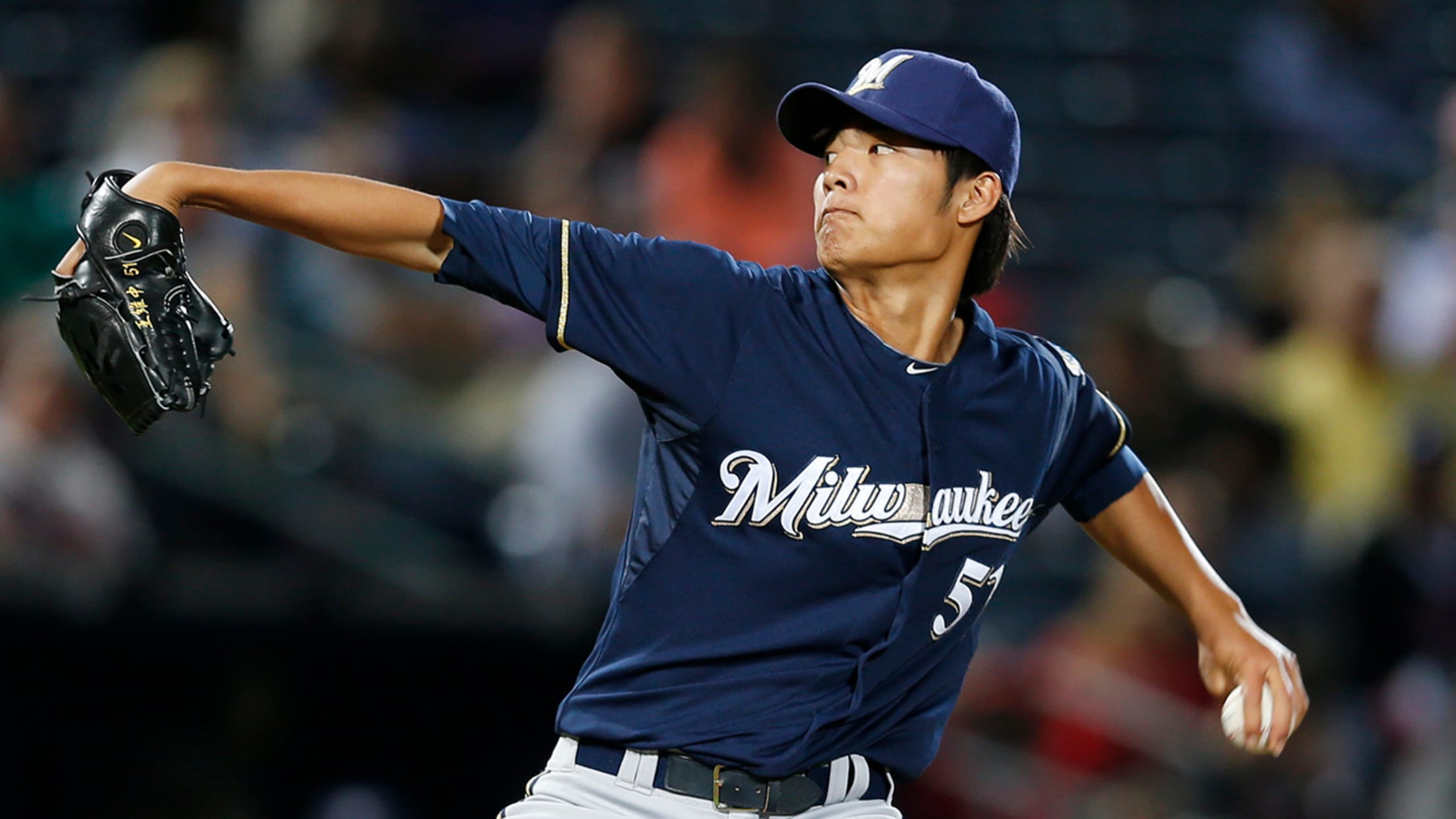 Wei-Chung Wang pitched in 14 games as a Rule 5 Draft pick of the Brewers in 2014. (AP)
PHOENIX -- Instead of pitching for his country, Wei-Chung Wang has been in the Brewers' Minor League Spring Training camp trying to continue the momentum he began last season.Wang, the left-hander who spent 2014 in the Major Leagues as a Rule 5 Draft pick, had been listed on the Chinese
PHOENIX -- Instead of pitching for his country, Wei-Chung Wang has been in the Brewers' Minor League Spring Training camp trying to continue the momentum he began last season.
Wang, the left-hander who spent 2014 in the Major Leagues as a Rule 5 Draft pick, had been listed on the Chinese Taipei roster for the World Baseball Classic. But he declined the offer, and reported to the Brewers' Minor League minicamp at Maryvale Baseball Park last month.
"I want to get another chance to go to the big leagues, and I have a few things I need to work on," Wang said through translator Sandy Guerrero, the Double-A Biloxi hitting coach who picked up Mandarin while playing professionally in Asia. "Plus, I might get a chance to throw in a couple of the [Major League Spring Training] games. That would be an opportunity for the coaches in the big leagues to see how much better I have gotten."
To understand Wang's resurgence, it is worth revisiting the 24-year-old's unique baseball journey.
Born in Taiwan and originally signed by the Pirates, Wang underwent Tommy John surgery in 2011 and had never pitched above Rookie ball when the Brewers made him a Rule 5 Draft pick in December 2013, pushing him all the way to the Majors at the start of 2014. Wang struggled to a 10.90 ERA in 14 appearances out of the Brewers' bullpen, missed time with a sore shoulder, then returned to Class A for the start of the 2015 season, and struggled badly again.
The assumption in Milwaukee was that Wang was bored, dismayed or both with being back in the Minor Leagues. On June 18, 2015, the Brewers removed Wang from the 40-man roster.
Rather than sulk, Wang began to pitch better. In each of his first two starts after the roster move, he pitched into the eighth inning without allowing a run. He posted a 1.95 ERA over his final 14 starts, including a scoreless outing at Triple-A Colorado Springs to cap the season.
In 2016, Wang split the year between Double-A Biloxi and Colorado Springs, with a 3.78 ERA, a 1.27 WHIP and a strikeout-to-walk ratio of better than three to one.
Before his uncomfortable stint in the big leagues, Wang compared his Rule 5 bid to swimming with sharks. Now, he said, he is more confident, and no longer thinks of it that way.
"I was really young, and there were a lot of things I didn't understand at that time," Wang said. "I'm still learning a lot of stuff, but right now, I have a better understanding of what it is like."
Wang also has asserted himself off the field. For the first time, he worked without a translator. When he got stuck on something at Colorado Springs, Guerrero was just a phone call away.
"We took it away because he wanted to learn English," Brewers GM David Stearns said. "Our perspective is he has handled that challenge very well. He was supportive of it last year when we discussed it with him, and he has done nicely with it.
"I think he has had a very odd transaction pattern for a young player. He's not catching up on a lot of development he didn't have because of that odd transaction pattern. For the most part, he has risen to the challenges when we have put them to him."