Here's everything at stake around MLB today
League leaders, milestones hang in the balance on season's final day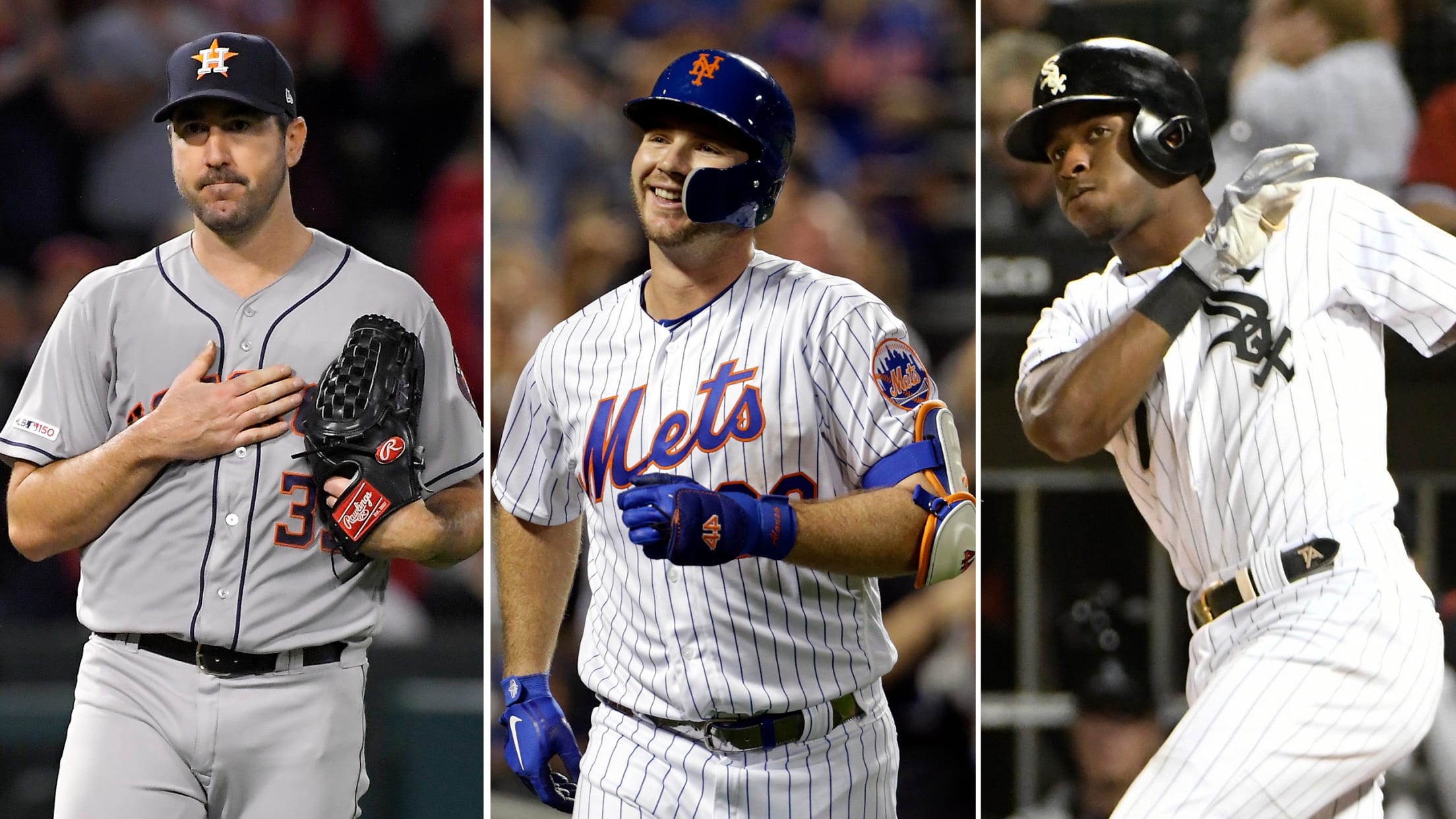 Major League Baseball is about to reach the final day of the 2019 regular season, and a lot still hangs in the balance. For one thing, the playoff picture has yet to be fully settled -- the NL Central is still up for grabs between the Cardinals and Brewers. And
Major League Baseball is about to reach the final day of the 2019 regular season, and a lot still hangs in the balance.
For one thing, the playoff picture has yet to be fully settled -- the NL Central is still up for grabs between the Cardinals and Brewers.
And while some big records have already been set, and milestones reached, there are plenty of statistical races to be decided, marks to be hit and awards cases to be made on Sunday.
Here's what you should keep an eye on as teams play Game 162.
STATISTICAL RACES
Batting titles
The AL batting title is Tim Anderson's to lose, as his .337 average gives the White Sox shortstop an eight-point lead on the Yankees' DJ LeMahieu (.329) entering the final day. Anderson would be the first White Sox batting champ since Hall of Famer Frank Thomas hit .347 in 1997.
In the NL, Brewers star Christian Yelich is in line to be the NL's first back-to-back batting champ since Larry Walker in 1998-99, even though his season ended weeks ago due to injury. Yelich and the D-backs' Ketel Marte -- also shelved for the remainder of the season -- are both at a league-leading .329, but Yelich owns the decimal point advantage over Marte, .3292 to .3286. Nationals star Anthony Rendon is still playing, but he's 10 points behind at .319.
Home run crowns
Mets slugger Pete Alonso has pulled away in the NL and MLB races -- he has 53 homers to Eugenio Suarez's 49 for the Reds and Cody Bellinger's 47 for the Dodgers. Howard Johnson (38) was the last Mets player to pace the NL in four-baggers in 1991, and George Foster (40) was the last Reds player to do so back in '78.
In the AL, it's pretty simple: Jorge Soler hit his 46th and 47th homers on Saturday before No. 48 on Sunday, giving him sole possession of the AL lead while setting the Cuban-born home run record along the way. Given that he broke a tie with Mike Trout, who is out for the year after undergoing foot surgery last week, Soler will likely become the first Royal in history to lead the AL in homers. Alex Bregman and Nelson Cruz are the next-closest, with 41.
Strikeouts leaders
The AL battle is also a battle for the MLB title, and Houston's Gerrit Cole put this one away. Cole's Astros-record 316 punchouts give him a big cushion over his teammate Justin Verlander, who sits at an even 300 after his final start of the year Saturday. Cole is also lined up to start the Astros' season finale Sunday.
Over in the NL, the Mets' Jacob deGrom sits on top with 255 strikeouts. The Nationals' trio of Stephen Strasburg (251), Max Scherzer (243) and Patrick Corbin (238) is lined up behind him, but they've all made their final regular-season starts.
ERA leaders
Hyun-Jin Ryu locked up the NL ERA title with one last dominant start on Saturday against the Giants, throwing seven scoreless innings to lower his MLB-leading ERA to 2.32. deGrom will finish with a 2.43 ERA after his final start Wednesday, and Mike Soroka carries a sterling 2.60 ERA into the final start of his rookie season Sunday in Queens.
The AL ERA battle again comes down to Cole and Verlander, and it's a nail-biter: Cole leads by six points, 2.52 to 2.58, as Cole enters his final outing.
Wins leaders
Strasburg picked up his career-best 18th win of the season against the Phillies in Washington on Thursday. Atlanta youngster Max Fried has 17 wins, but he is not scheduled to start Sunday in Queens, and even pitched in relief Saturday. Cardinals rookie Dakota Hudson, who received a no-decision in his final start of the regular season Friday against the Cubs, is next at 16 wins.
Verlander is the Majors' only 20-game winner thus far, and he put this race away with No. 21 on Saturday. Boston's Eduardo Rodriguez will take 19 wins into his start Sunday vs. the Orioles, as will Cole in his season finale Sunday vs. the Angels.
Stolen base leaders
Seattle's Mallex Smith leads the AL and the big leagues with 46 steals, and it looks like he'll be the Mariners' first stolen-base champ since Ichiro Suzuki swiped 56 bags in his famous 2001 rookie campaign. Kansas City's Adalberto Mondesi is two steals behind Smith, but he's out for the rest of the season as he requires left shoulder surgery to repair a labral tear.
Ronald Acuña Jr.'s regular season is over, and he won't join the 40-40 club, but the Braves' young star still leads the NL with 37 steals. The Nationals' Trea Turner is three behind at 34 entering Sunday.
LEAGUE AWARDS
MVP
In the NL, it's likely a three-horse race, and Yelich's absence due to a broken kneecap adds a twist to the voting. Yelich's 1.100 OPS will almost surely top Bellinger and Rendon, whose remarkable consistency has helped him surge in the race in recent weeks. Yelich also holds a slight edge over Bellinger in FanGraphs WAR (7.8 to 7.6), with Rendon at 7.0. But Bellinger holds a sizeable lead in Baseball-Reference's version of the metric, at 8.8 compared to 7.2 for Yelich and 6.5 for Rendon.
Games played could make a difference -- Bellinger enters Sunday with 155, Rendon has played 146, and Yelich is locked in at 130. Bellinger owned the edge over Yelich in the final poll of MLB.com writers, garnering 21 of the 36 first-place votes.
In the AL, Alex Bregman has submitted a phenomenal season for the Astros, tallying 41 homers and 100-plus runs, walks and RBIs. But Angels star Mike Trout might still have the edge with leads in the AL in fWAR, OBP, OPS and OPS+, despite having his season shut down in early September. Trout could become the 11th player to capture at least three league MVP awards.
Cy Young
For the AL Cy Young, take your pick between Astros co-aces Verlander and Cole, who are the runaway choices. Who knows, there's even a chance that they become the second co-winners of the award, following Mike Cuellar and Denny McLain in 1969. While Cole has the advantage in strikeouts, ERA and fWAR, Verlander owns the edges in bWAR, WHIP (0.80 to 0.89) and innings (223 to 207 1/3). Verlander more than doubled Cole's first-place vote total in MLB.com's final awards poll.
In the NL, deGrom has the league strikeout lead, Ryu leads in ERA and Scherzer owns a decided edge in FIP. Based on MLB.com's latest poll, deGrom is the clubhouse leader to win his second straight NL Cy Young, and he undoubtedly carries the most momentum after having allowed just one run while striking out 35 batters and walking just two over his final 28 innings.
Rookie of the Year
The Astros' Yordan Alvarez is a runaway favorite in the AL, with all due respect to fellow AL freshmen like John Means, Brandon Lowe, Luis Arraez and Eloy Jimenez. Houston's slugging phenom is hitting .317/.415/.663 with 27 home runs, and he's averaged an extra-base hit every 5.8 at-bats over his first three-plus months in the big leagues.
Alonso, with his 53 homers, is the big favorite in the NL. Alonso received all 34 first-place votes in MLB.com's final NL Rookie of the Year poll. Braves right-hander Soroka has had a stellar rookie campaign, he's held up under the pressures of the pennant race, and he has a final chance to sway votes on Sunday when he starts the Braves' regular-season finale against the Mets. Among other candidates: the Padres' Fernando Tatis Jr., who absolutely dazzled before going down with a stress reaction in his lower back, and the Pirates' Bryan Reynolds, who competed for the batting title all season.
TEAM AND PERSONAL RECORDS
Suarez shoots for 50
Suarez enters Sunday sitting on 49 home runs. One more would get him to the 50-homer milestone. A three-homer game would tie him with Foster for the Reds' single-season record (Foster hit 52 in 1977). A historic four-homer game would give Suarez the Reds record outright. Suarez also sits four homers back of Alonso for the NL and MLB home run lead.
Nothing free from the 'Stros
The Astros have issued zero intentional walks all year. They could become the first MLB team on record -- since the intentional walk stat was first kept in 1955 -- to go an entire season without issuing a single intentional walk. Houston is already the record-holder in the "fewest intentional walks" category, having issued just four all of last year. But in 2019, they're taking it to another level. Every other team in baseball has issued at least 10 intentional walks this season.
Semien and Reggie?
If you're not aware of the season Marcus Semien is having, you might want to go check out his numbers. Semien's 123 runs scored for the A's this season are tied with Reggie Jackson's single-season record for the franchise since it moved to Oakland in 1968. No A's player had even scored 120 runs in a season since Jose Canseco in 1988.
Yordan and Shoeless Joe
Any way you slice it, Alvarez is enjoying a historic rookie season. The Cuban native enters Sunday with a .663 slugging percentage, well clear of any other rookie in modern history with a minimum 300 plate appearances (Rudy York was the leader entering this year, with a .651 slugging mark in 1937). And, viewing Alvarez's year through a more comprehensive, league- and era-adjusted view, his 180 wRC+ is just behind the all-time mark of 184 set by Shoeless Joe Jackson (again, among rookies with 300 PA) way back in 1911.
Castellanos' quest for 60
Nicholas Castellanos' pursuit of 60 doubles looks like it will fall just short. Cubs manager Joe Maddon said Saturday that Castellanos' right groin tightness will likely end his season, leaving him two doubles shy of the mark at an MLB-leading 58. Sixty doubles would have been incredibly rare -- no one has totaled that many since Joe Medwick (64) and Charlie Gehringer (60) in 1936, more than eight decades ago. Castellanos is still the first player to hit 58 doubles in a season since Todd Helton (59) in 2000.
RECORDS REACHED
Verlander gets 3,000, and 300
Verlander reached two milestones in his final start of the regular season Saturday. He became the 18th member of MLB's 3,000-strikeout club, and he also recorded his first 300-strikeout season, becoming the 19th pitcher with a 300-K season in the modern era (since 1900). Verlander is the second pitcher to join the 3,000-strikeout club in 2019, after the Yankees' CC Sabathia did it on April 30 in Arizona. He's also the second this year to reach 300 strikeouts, along with his teammate Cole. They're just the second pair of teammates to reach 300 strikeouts in the same season, along with the D-backs' Randy Johnson and Curt Schilling in 2002.
Alonso breaks rookie HR record
Alonso gave Mets fans the moment they'd been waiting for on Saturday at Citi Field: home run No. 53, setting a new MLB rookie home run record. Alonso broke his tie with fellow New York superstar Aaron Judge, who hit 52 in 2017, crushing a moonshot just right of center field to set the record and coming out for a curtain call for a roaring crowd. Alonso already had the NL rookie and Mets single-season home run records in his possession; now he stands alone among all rookies. Alonso's 53 homers also lead the Majors by four over Cincinnati's Suarez, putting him in position to be the first rookie to lead MLB outright in home runs.