Inbox: What is Tigers' best-case scenario in '19?
Beat reporter Jason Beck answers fans' questions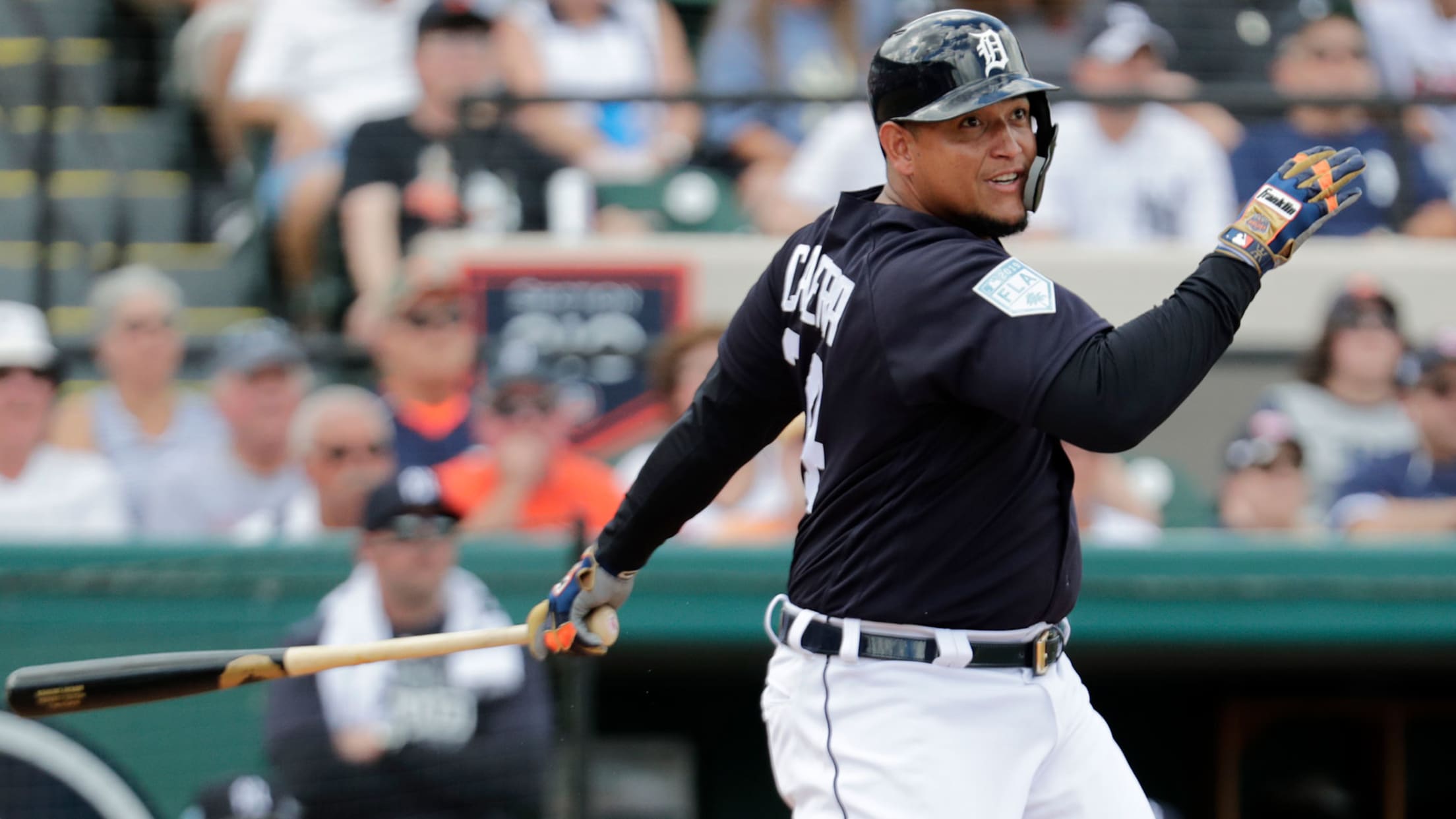 LAKELAND, Fla. -- The temperature dropped to around 60 degrees this morning in this pocket of central Florida. The high temperatures are supposed to fall into the low 70s over the weekend. It's a big adjustment around here, but I'm sure I'll pay for this warm weather when the season
LAKELAND, Fla. -- The temperature dropped to around 60 degrees this morning in this pocket of central Florida. The high temperatures are supposed to fall into the low 70s over the weekend. It's a big adjustment around here, but I'm sure I'll pay for this warm weather when the season opens in Toronto in two weeks.
Anyway, forget the beach. It's time to empty the mailbag:
What's the best case scenario for the team this year? We'll all take "lightning in a bottle on the way to the title" but more realistically what should we be looking for to feel like the team is on the right track to contention?

— Todd Plants (@tplants) March 13, 2019
The sign to look for is progress -- not simply in wins and losses, but progress from players who have a real chance to see through the rebuild. Yes, a healthy Miguel Cabrera is crucial, because he's still that good of a player and he's under contract for the next five years. But it's just as important to see Jeimer Candelario make strides at the plate, to make more productive, consistent contact and drive in runs. It's just as important for Christin Stewart to build off of last September and carry that disciplined approach at the plate through 2019 while giving the Tigers a left-handed power hitter. It's important to figure out whether Daniel Norris and JaCoby Jones are long-term fits.
You also want to see prospects close in on Detroit. The club's No. 5 overall prospect, per MLB Pipeline, Daz Cameron, is on the doorstep, having an eye-opening Spring Training and could be crucial to the Tigers' long-term fortunes. Dawel Lugo (No. 18) has some work to do and struggled this spring, but isn't far off. Beau Burrows (No. 6) is talking about reaching Detroit as a goal this season, and this is the year that you could see he, and maybe another of those highly-touted pitching prospects with a chance to make their big league debut.
Obviously, fans want to see more wins; that's the end goal. But even a really good season might mask the Tigers' hopes of long-term success if it doesn't include progress in the right areas.
What odds do you give Cameron startong the season with the Tigers?

— Jason (@jumpinmurphy) March 13, 2019
Slim, barring injuries. Cameron's spring has clearly impressed manager Ron Gardenhire and coaches, but they still see some need for development. They also want to see progress from Jones. If Jones struggles and Cameron gets off to a good start at Triple-A Toledo, it wouldn't be a surprise to see a mid-season callup.
When do you feel Funkhouser will debut for the tigers?

— Ryan La Ha (@RyanLaHa) March 13, 2019
Kyle Funkhouser looks like he'll be part of the Tigers' starting pitching depth at Triple-A. Considering the health questions within Detroit's starting rotation, Funkhouser should have a good chance to make it to Detroit at some point this season, at which point I confidently predict Twitter will go overboard with Curb Your Enthusiasm references.
Speaking of Bob Einstein characters, there has never been a Dave Osborne in the Majors. Which is too bad, because we could use an excuse to look up Super Dave Osborne clips.
Are they still shopping Nick? And should they be in the bidding for one of Boston's catchers, Vasquez preferably

— Joel Irvine (@joelirvine97) March 13, 2019
The Tigers still appear to be listening on Nicholas Castellanos, though Bryce Harper's signing with Philly hasn't had much trickle-down effect on his situation so far. The Giants, who were reportedly in on Harper, are open about seeking right-handed-hitting outfield help on the trade market now. They had scouts in Lakeland last week before Castellanos took a pitch off his left hand.
At the same time, I think there could also be a sliver of an opening for the Tigers and Castellanos to revisit the possibility a contract extension if Detroit doesn't see a meaningful trade offer coming.
"I think both sides know that at least the conversation would be welcome," Castellanos said Sunday when asked if he sensed any more openness towards an extension. "I think that's where it's at now. There's been no talks yet."
A week earlier, Tigers chairman Christopher Ilitch deferred to general manager Al Avila when asked about Castellanos' situation and the possibility of exploring an extension.
While this most recent offseason (and now spring) has been a slow one for free agency aside from the top end, the trade market hasn't yielded a big offer on Castellanos for a year now. If there's a middle ground for the two sides, and it might be slim, but trying to find a deal that the Tigers could absorb in their payroll, while allowing Castellanos to potentially still test free agency at a relatively young age, could be a route to explore.
Probability Garrett comes north for Opening Day and saving his Rule5 status?

— Jared Sayers (@JrodSayers) March 13, 2019
Reed Garrett's chances of cracking the Tigers' pitching staff are looking pretty good right now. With a power fastball and a grasp for pitching, he looks like a reliever that Gardenhire can use in close-game situations, instead of simply stashing for mop-up work.
Do you see the final 25 with 12 or 13 pitchers?

— Michael Jackson (@mdjaxon) March 13, 2019
Unless the Tigers go with three catchers, I think there's a good chance of a 13-man pitching staff, including eight relievers. Gardenhire has downplayed the need for extra position players early in the season, since most don't need days off right away and the Tigers don't project to have strict platoon situations.
Do Tigers go with 2 catchers, or do they add someone like Rupp as a third catching option?

— rschutzpah (@rschutzpah) March 13, 2019
Two big factors play into this: Can Grayson Greiner hold his own as an everyday catcher not just offensively, but defensively? And how much time does John Hicks project to get at first base and DH? Expect the Tigers to have a discussion on both of those questions as we enter the final days of camp. While the Tigers had interest in Cameron Rupp earlier in the offseason before he signed with the Giants, I don't think the Tigers would've made the move to get him if a third catcher wasn't at least a possibility.