College hero Merrifield living out baseball dream
Royals infielder played key role in South Carolina's 2010 championship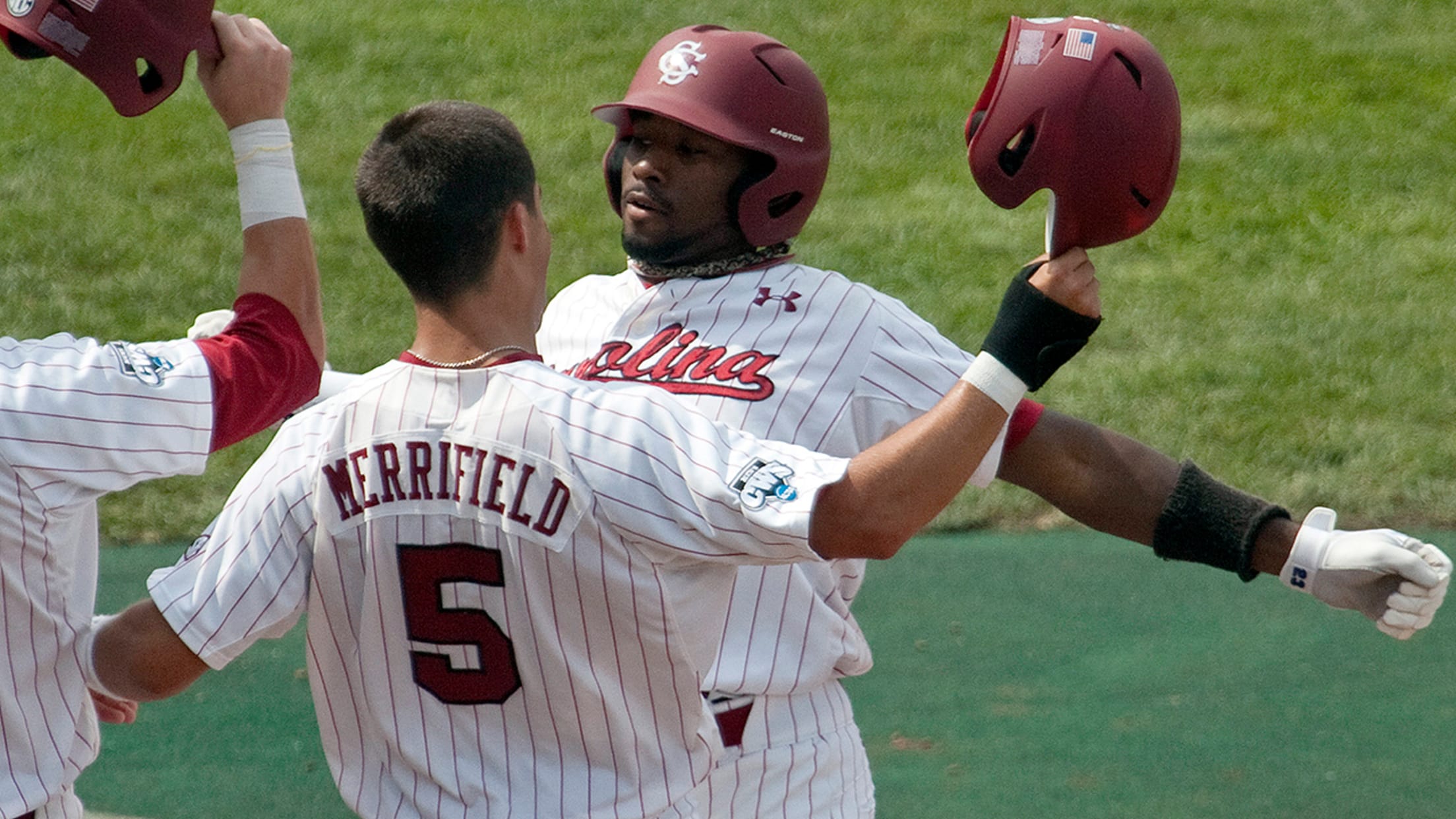 Whit Merrifield and Jackie Bradley Jr., now with the Red Sox, were instrumental in the Gamecocks' College World Series win. (AP)
SURPRISE, Ariz. -- It would be hard to script a better end to a college baseball career than Whit Merrifield.It was Merrifield who, as an infielder at South Carolina, laced a 2-0 fastball to right field in the 11th inning for a walk-off RBI single against UCLA in the final
SURPRISE, Ariz. -- It would be hard to script a better end to a college baseball career than Whit Merrifield.
It was Merrifield who, as an infielder at South Carolina, laced a 2-0 fastball to right field in the 11th inning for a walk-off RBI single against UCLA in the final of the 2010 College World Series. That hit at Omaha's Rosenblatt Stadium delivered the Gamecocks' first national championship in baseball.
Merrifield and his team had a flair for the dramatic, leading to a wild title run even before the walk-off moment against the Bruins.
"It was a crazy run," Merrifield said. "We lost our very first game of the regional, so we had to fight back from that. We had two down-to-the-wire games in [the super regionals], and we lost the first game of the [College] World Series, so we had to win six in a row to win it. It was a crazy run, and that last at-bat just capped it off for me."

Nine players at Rosenblatt Stadium that night, including Jackie Bradley Jr., Gerrit Cole and Trevor Bauer, made it to the big leagues before Merrifield made his Major League debut with the Royals on May 18 of last year.
At 27 years old, he was older than most rookies breaking through, but he made an immediate impact, hitting .356 over his first 11 games in May. Then he belted a couple of home runs in his second month in the big leagues.
"It was definitely rewarding," Merrifield said. "For a lot of years, I thought that I could play in the big leagues. To finally get the opportunity, and to capitalize on it, it was huge for me. It gave me a lot of confidence."
His success tailed off in July, as he hit .170 in 53 at-bats before being optioned to Triple-A Omaha. However, his second stint in the Minors wouldn't last six years like his first. He was a September call-up, and hit .307 over his final 101 at-bats.
"It was pretty surreal," Merrifield said. "It was great to finally get a shot and come up with a team who is as close as this team and as good as this team is. The goal every day is to come and help the team win, and I hope to continue to do that."
This time, he's determined to stick around. Merrifield is mired in a four-man race during Spring Training for the starting job at second base, along with Christian Colon, Cheslor Cuthbert and Raul Mondesi. Of the three, only Merrifield posted an OPS above .700 last season.
Merrifield said he has benefitted greatly from having an experienced group of veterans surrounding him in the infield, including first baseman Eric Hosmer, shortstop Alcides Escobar and third baseman Mike Moustakas. Becoming a regular with that group, he said, will depend on him cleaning up his game and making big league plays look routine. "Spring is always a time to work on things and make every part of my game better," Merrifield said. "Whether it is jumps on the bases, double-play turns, driving the ball to the opposite field, just different things I work on each spring to become a complete player."
Fabian Ardaya is a contributor to MLB.com.