Here are the White Sox 2019 Top 30 Prospects
Since the White Sox fully committed to rebuilding by trading Chris Sale and Adam Eaton at the 2016 Winter Meetings, their farm system has placed no lower than fourth in MLB Pipeline's biannual rankings. The headliners in those deals, Yoan Moncada and Lucas Giolito, have yet to live up to
Since the White Sox fully committed to rebuilding by trading Chris Sale and Adam Eaton at the 2016 Winter Meetings, their farm system has placed no lower than fourth in MLB Pipeline's biannual rankings. The headliners in those deals, Yoan Moncada and Lucas Giolito, have yet to live up to their promise, but there's still hope that GM Rick Hahn's moves will pay off with a return to contention in the near future.
Hahn's best trade looks like the one that sent Jose Quintana to the crosstown Cubs for outfielder Eloy Jimenez, right-hander Dylan Cease and two fringe Minor Leaguers in July 2017. Jimenez is one of the consensus three best prospects in baseball, while Cease is one of the top pitching prospects. Both should arrive in Chicago at some point this season.
Top 30 Prospects lists
| | |
| --- | --- |
| AL East | BAL, BOS, NYY, TB, TOR |
| NL East | ATL, MIA, NYM, PHI, WSH |
| AL Central | CLE, CWS, DET, KC, MIN |
| NL Central | CHC, CIN, MIL, PIT, STL |
| AL West | HOU, LAA, OAK, SEA, TEX |
| NL West | ARI, COL, LAD, SD, SF |
| Division | Team |
The White Sox system owes its currently lofty ranking (No. 4) in large part to deals. In addition to Jimenez and Cease, four more of their nine best prospects came via trades: right-handers Michael Kopech (part of the Sale return from Boston) and Dane Dunning (part of the Eaton transaction with Washington), and outfielders Luis Alexander Basabe (Sale) and Blake Rutherford (in a four-player package from the Yankees for Todd Frazier, David Robertson and Tommy Kahnle in July 2017). The only homegrown members of that group are second baseman Nick Madrigal (the No. 4 overall pick in the 2018 Draft) and international outfielders Luis Robert and Micker Adolfo.
Chicago has a top-heavy system, with more star-quality talent than depth, and most of its best prospects are set to play in Double-A or higher this season. The Major League club and Minor League organization should look radically different a couple of years from now.
Here's a look at the White Sox top prospects:
1) Eloy Jimenez, OF
2) Michael Kopech, RHP
3) Dylan Cease, RHP
4) Luis Robert, OF
5) Nick Madrigal, 2B
Biggest jump/fall
Here are the players whose ranks changed the most from the 2018 preseason list to the 2019 preseason list:
Jump: Laz Rivera, SS (2018: NR | 2019: 17) -- A 28th-rounder in 2017, he has some of the best bat-to-ball skills and instincts in the entire system and hit .314/.361/.481 in first full pro season.
Fall: Spencer Adams, RHP (2018: 15 | 2019: NR) -- Struck out just 4.2 batters per nine innings in Triple-A because his athleticism and projectability have yet to translate into improved stuff.
MLB's Top 10 farm systems
Best tools
Players are graded on a 20-80 scouting scale for future tools -- 20-30 is well below average, 40 is below average, 50 is average, 60 is above average and 70-80 is well above average. Players in parentheses have the same grade.
Hit: 65 -- Jimenez (Madrigal)
Power: 70 -- Jimenez
Run: 65 -- Robert
Arm: 70 -- Adolfo
Defense: 60 -- Madrigal
Fastball: 80 -- Kopech (Zack Burdi)
Curveball: 65 -- Cease
Slider: 65 -- Kopech
Changeup: 60 -- Lincoln Henzman
Control: 55 -- Henzman (Dunning)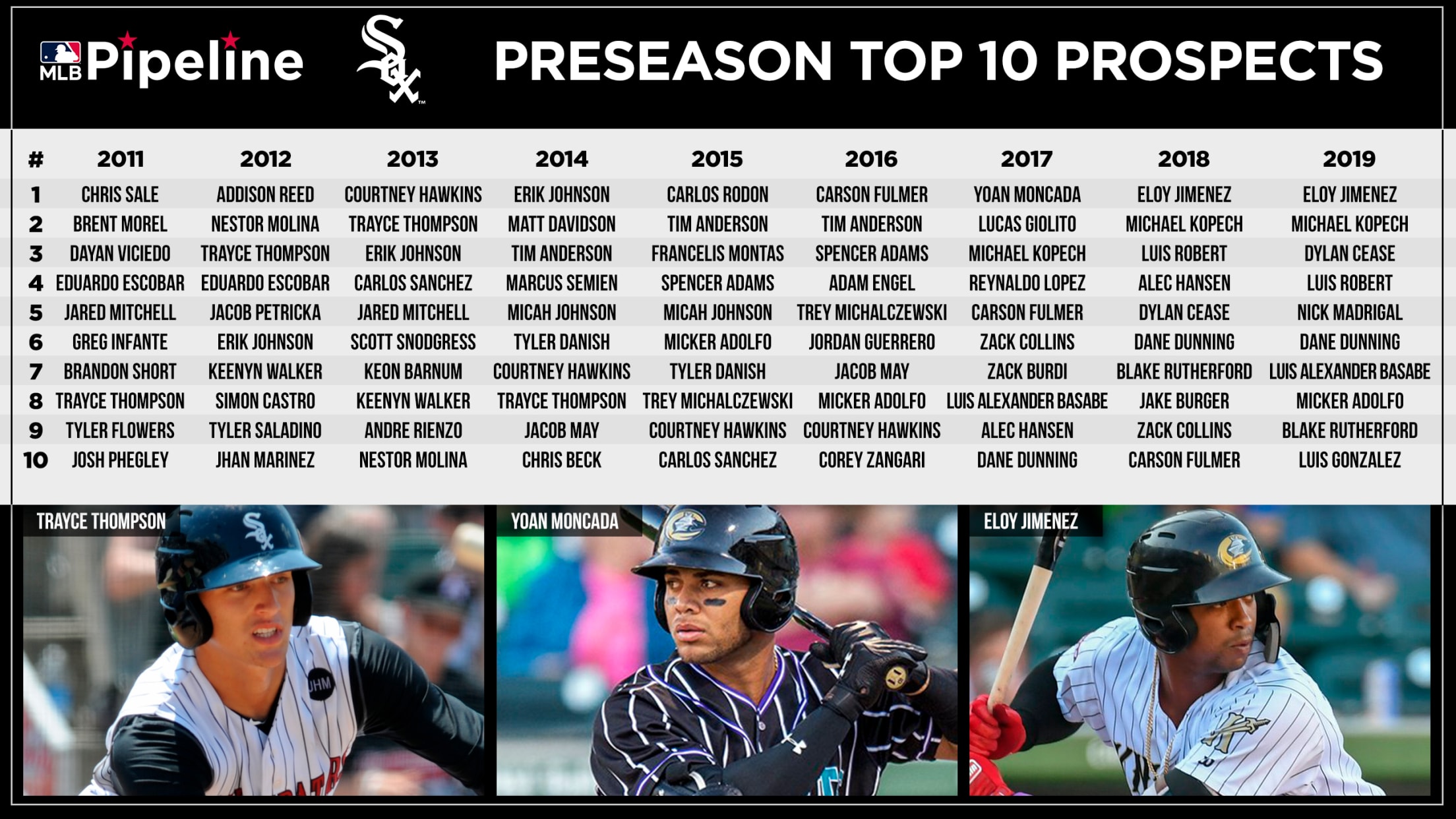 How they were built
Draft: 19 | International: 2 | Trade: 8 | Waivers: 1
Breakdown by ETA
2019: 12 | 2020: 12 | 2021: 5 | 2022: 1
Breakdown by position
C: 2 | 1B: 1 | 2B: 1 | 3B: 2 | SS: 1 | OF: 7 | RHP: 14 | LHP: 2