Top Draft pick Burger in awe of hitting for cycle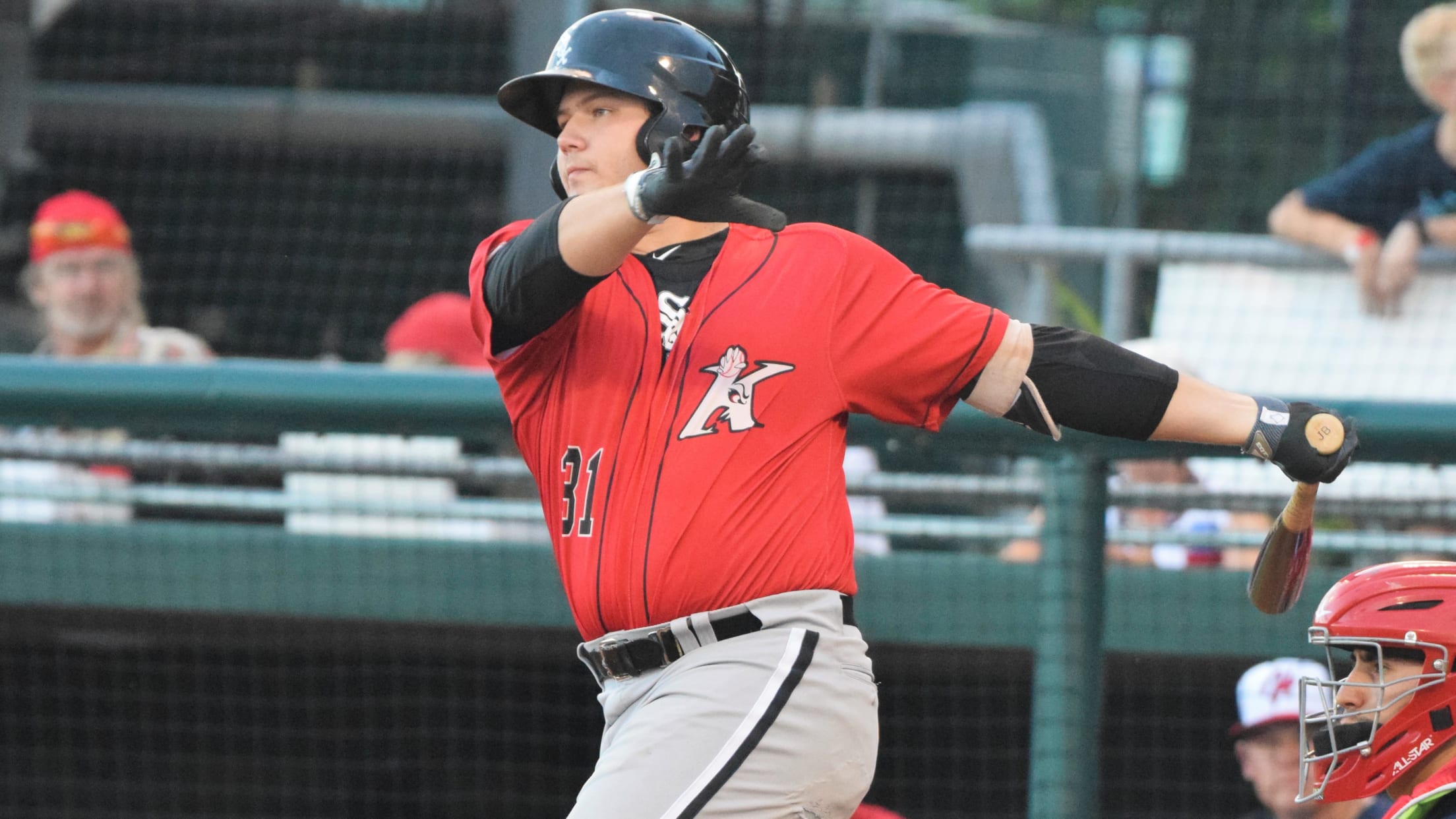 Jake Burger, the White Sox first-round Draft pick this year, went 5-for-5 on Thursday for Class A Kannapolis en route to his first cycle. (MiLB)
CHICAGO -- As Jake Burger stepped to the plate in the seventh inning of Class A Kannapolis' Thursday night contest at home against Greensboro, he knew a double was all he needed for the cycle.The White Sox top pick in the 2017 Draft, taken 11th overall, also knew he probably
CHICAGO -- As Jake Burger stepped to the plate in the seventh inning of Class A Kannapolis' Thursday night contest at home against Greensboro, he knew a double was all he needed for the cycle.
The White Sox top pick in the 2017 Draft, taken 11th overall, also knew he probably had two at-bats to get that two-bagger.
"I'm like, 'All right, I've got two at-bats left, don't try to do too much, just let it happen,'" Burger said during a conference call Friday after hitting for the cycle Thursday and finishing 5-for-5 with three RBIs in a 6-5 Intimidators victory.
"They walked me on four pitches in that at-bat in the seventh inning, and I was like, 'Oh no, I don't know if I'm going to get a chance. Then I come up in the ninth inning, and I hit the ball off the right-field wall and fortunately got a double out of it."
Not only did Burger, the White Sox No. 12 prospect according to MLBPipeline.com, get that elusive cycle, which he joked never even happened at the Little League level, but he also laid down a perfect bunt for a single behind a Blake Rutherford walk in the 11th, leading to Gavin Sheets' game-winning single. Sheets was the White Sox second-round pick in this year's Draft and joins Burger as two of six White Sox prospects at Kannapolis living in the same three-bedroom place.
That single, home run, triple and double, put together in that order Thursday, left Burger taken aback by the accomplishment.
"I was like, 'Wow, I actually just did that.' That's unbelievable," said Burger, who is hitting .293 with nine doubles, three homers and 24 RBIs in 39 games with Kannapolis this season. "Not many people get to do that at the professional level.
"[Manager Justin] Jirschele came over and got my batting gloves and stuff, and he was like, 'Dude, congrats. This is an awesome night. You'll cherish this for the rest of your life.' So that was pretty cool," Burger said. "It's something that I'll remember for the rest of my life. Having a night like that is awesome. It makes you feel good and makes you feel good about the work you've put in. It was definitely a reassuring night for me."