White Sox 7th-rounder tops No. 3 seed in CWS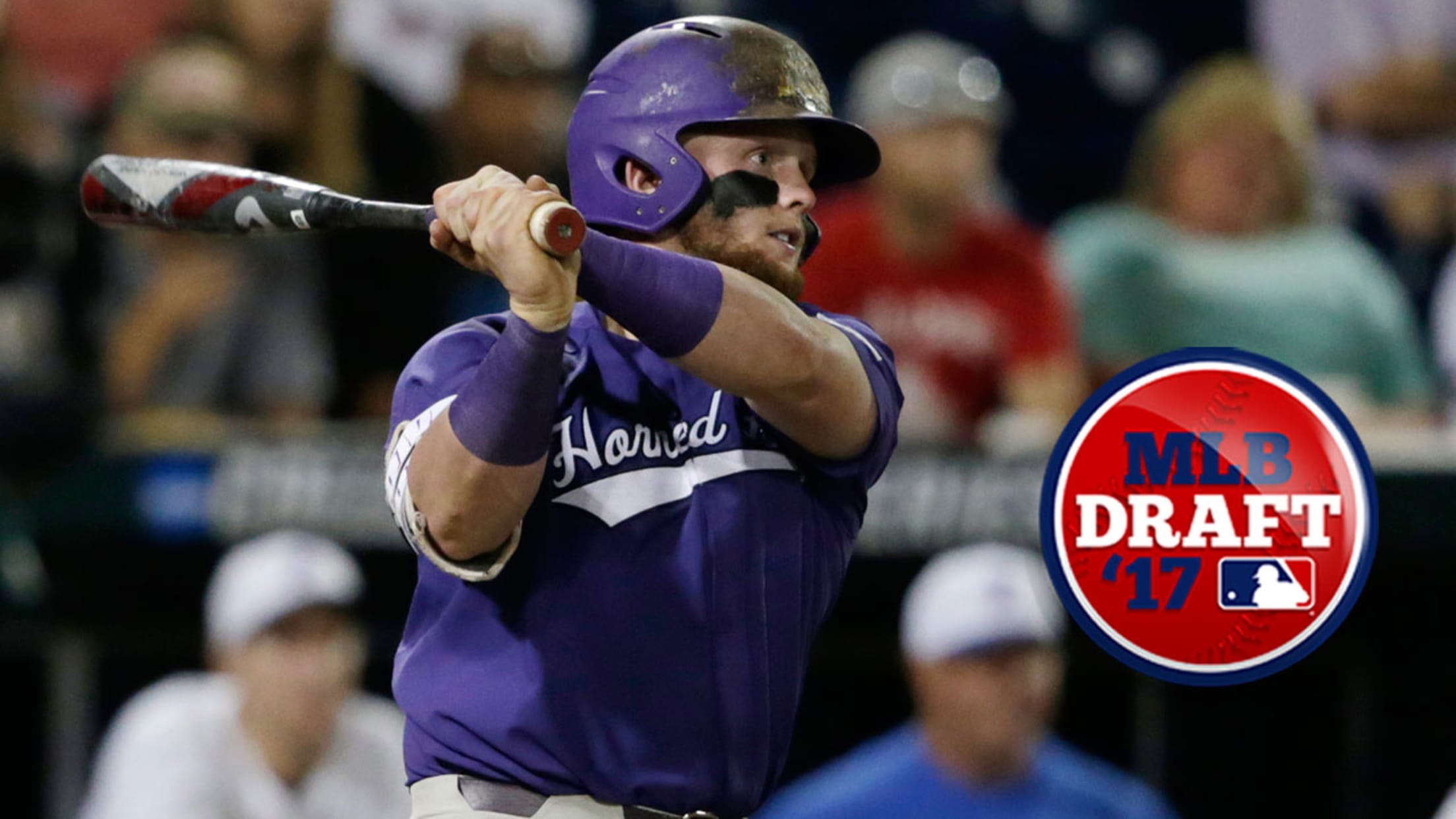 OMAHA, Neb. -- The easy way didn't work for Texas Christian University at the 2016 College World Series, so now the Horned Frogs are trying the hard way.TCU won its first two games in Omaha a year ago to get within a victory of its first championship series appearance, only
OMAHA, Neb. -- The easy way didn't work for Texas Christian University at the 2016 College World Series, so now the Horned Frogs are trying the hard way.
TCU won its first two games in Omaha a year ago to get within a victory of its first championship series appearance, only to get upset twice by Coastal Carolina University. This time around, the Horned Frogs got shut out by Florida in their CWS opener last Sunday, which meant they'd need four straight wins to get to the finals.
After beating Texas A&M on Tuesday and Louisville on Thursday, TCU staved off elimination again on Friday night by toppling the Gators, 9-2, at TD Ameritrade Park. The teams will meet again at 7 p.m. CT on Saturday, with the winner advancing to the best-of-three finals on Monday.
The Horned Frogs are making their fourth consecutive CWS appearance. Junior catcher Evan Skoug has been part of the teams that got knocked out in the semifinals in each of his first two seasons, and he doesn't want to experience that feeling again.
"The first two years we had a sour taste in our mouth because we haven't been able to finish the deal," Skoug said. "So I think now that we're so close again, we know what it feels like to be in the Final Four and get kicked out. ... So we have that taste in our mouth, and I think that's going to help because it brings us a sense of urgency."
Florida sophomore right-hander Jackson Kowar, a projected first-round pick in the 2018 MLB Draft, began the game by striking out seven of the first eight hitters before TCU got its bats going. Senior shortstop Ryan Merrill singled and junior center fielder Austen Wade (the Indians' fifth-round selection) and freshman designated hitter Zach Humphreys followed with RBI doubles.
"Jackson on their side was beyond amazing," Horned Frogs coach Jim Schlossnagle said. "I started thinking, after he was punching us out there so much in the first two-plus innings, 'Has there ever been a 20-strikeout game in the College World Series?'
"But then Merrill got on the ball and Austen, the wind was blowing, and he hit it good. He got the ball up in the wind, and Humphreys did the same thing. That just gave us some life."
When the Gators tied the game with two runs in the bottom of the third, TCU retook the lead in the top of the fourth with a two-run triple from sophomore left fielder Josh Watson. Kowar left after five innings with a career-high 11 strikeouts, losing for the first time this season after 12 straight wins. The Horned Frogs broke the game open with four runs in the sixth, three on a bases-loaded double from Skoug, a seventh-round choice by the White Sox.
Freshman right-hander Charles King earned his first collegiate win with 3 1/3 innings of scoreless middle relief. A highly regarded recruit who generated some first-round buzz early in his senior year of high school, he battled his command this spring and brought a 5.86 ERA to Omaha. King was sharp against the Gators, permitting just one hit and two walks while striking out five.
"He didn't have his 'A' stuff today," Skoug said. "He can usually run that fastball into the mid-90s, but he didn't quite have that today. He made pitches when he needed to, he got ground balls when he needed them. I think without having his best stuff, he did an amazing job of competing."
When No. 3 national seed Florida (49-19) and No. 6 national seed TCU (50-17) square off for a third time on Saturday, they're expected to start the same pitchers from their initial matchup. Junior right-hander Alex Faedo (8-2, 2.40 ERA), a first-round pick (No. 18 overall) by the Tigers, earned the 3-0 victory by striking out 11 in seven innings. Redshirt sophomore righty Jared Janczak (9-1, 2.19 ERA) took his first loss of the year after surrendering three runs in four innings.
In the 2 p.m. CT semifinal on Saturday, No. 1 national seed Oregon State University (56-5) will face No. 4 national seed Louisiana State University (51-18). The Tigers stayed alive by ending the Beavers' 23-game winning streak on Friday afternoon, thanks to a strong pitching performance by Cubs first-round pick Alex Lange.