White Sox games Saturday, Sunday postponed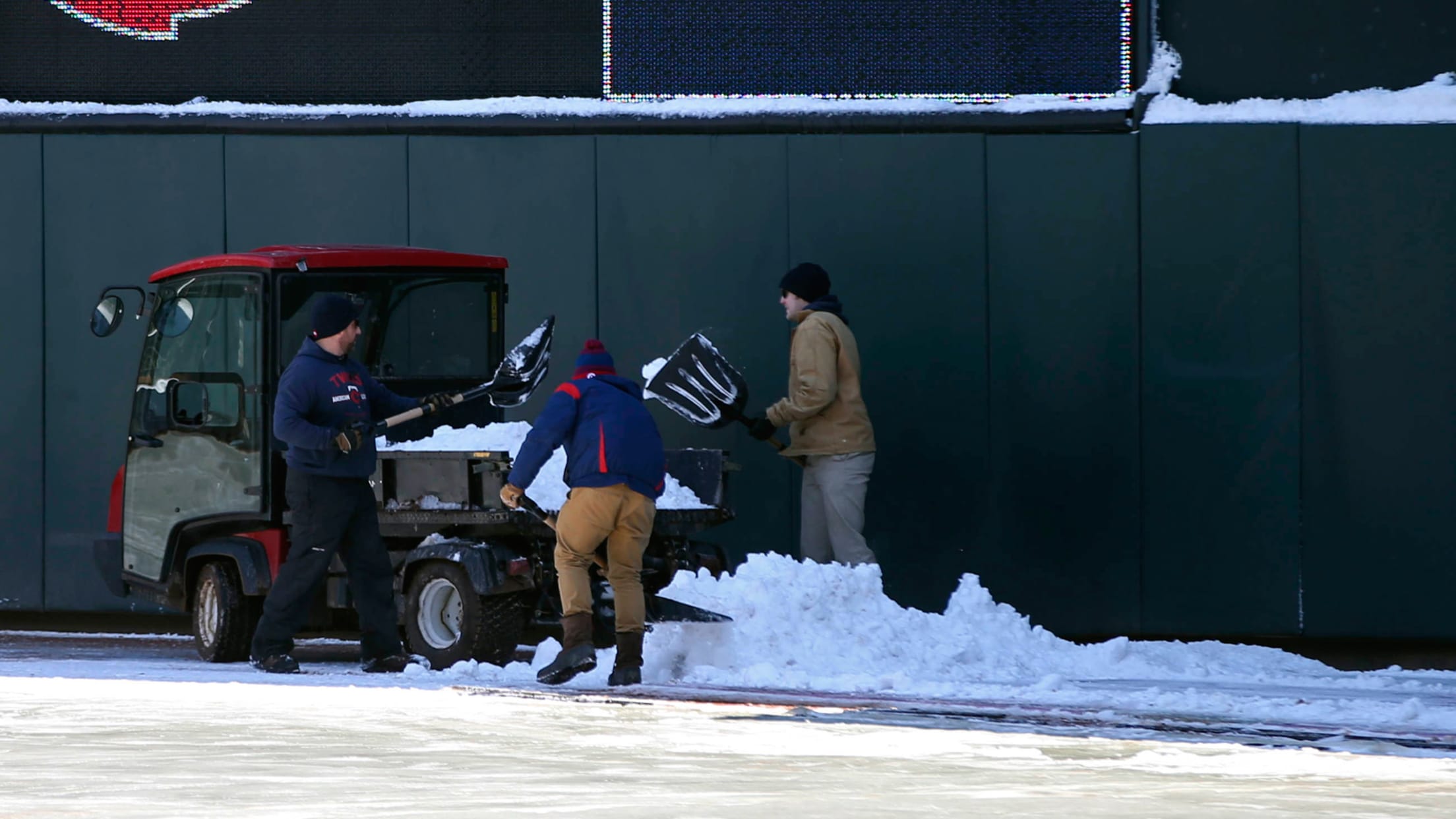 MINNEAPOLIS -- The White Sox were "swept" by the Twins this weekend at Target Field.Of course, that sweep consisted of a 4-0 loss to Minnesota on Thursday night and then three consecutive postponements due to a spring blizzard not expected to end until early Monday morning. Sunday's game was postponed
MINNEAPOLIS -- The White Sox were "swept" by the Twins this weekend at Target Field.
Of course, that sweep consisted of a 4-0 loss to Minnesota on Thursday night and then three consecutive postponements due to a spring blizzard not expected to end until early Monday morning. Sunday's game was postponed before dinner Saturday night, with the rescheduled games to be announced at a later date.
"Well, you know, they didn't miss on the forecast," White Sox manager Rick Renteria said on Saturday night. "Everybody knew it was coming."
Renteria could not remember a stretch where three straight games were postponed due to this sort of severe inclement weather, although he did bring up a Minor League Opening Day when he was managing in Portland, Maine, where they brought in helicopters and tried to use fuel to burn away the snow and play the game. Those options certainly weren't happening at the Major League level.
Reynaldo Lopez was scheduled to start Friday night's game for the White Sox, with Miguel Gonzalez set for Saturday's start. The White Sox announced Gonzalez as their starter for Saturday early in the morning, only to have the game postponed one hour later.
With the team hopefully moving on to Oakland Sunday for night games Monday and Tuesday and a day game Wednesday, it will return to its regular rotation with Lopez, Gonzalez and Carson Fulmer facing the A's in that order. The White Sox got their work in at the ballpark on Friday and Saturday, despite the weather, throwing necessary side sessions, hitting in the cages and doing their regular conditioning.
Renteria added Sunday will be used an off-day/travel day, with the team leaving from the hotel and not going to the ballpark.
"I'm sure they are doing everything they can to make sure that they can get in and out safely and we can get in and out safely," Renteria said of flying out Sunday. "I'm not too concerned. Like I said, the storm was kind of forecast so it didn't hit us by surprise.
"Honestly we couldn't play in this. It's as cold as all get out, and it wouldn't be safe to do. That would be ridiculous. We got a blizzard in Minnesota and we'll deal with it."
Welington Castillo's return on Monday in Oakland becomes one benefit of the three days off. The team's starting catcher, who has not played since April 10 due to right knee soreness, received extensive treatment and told Renteria he was ready to go Saturday.
Minnesota plays host to the White Sox from June 5-7 and Sept. 28-30, which are their last three games of the season. The two teams have a mutual off-day this Thursday, but the Twins are returning from Puerto Rico after a two-game set with the Indians and the White Sox will be returning from Oakland. They also have a mutual off-day on June 4, before that next series in Minnesota, and on June 25, Aug. 20, and on Sept. 6.
Some of the White Sox players tweeted pictures of the snow and sent live video via Instagram. But now the focus returns to actual baseball games.
"It's freezing out there," Renteria said. "Now it's just let's get on a plane and get to Oakland safely and get ready for that series."
UP NEXT
After a lost, snowy weekend in which three of four games against the Twins were postponed at Target Field, the White Sox go west to take on the A's with a first pitch of 9:05 p.m. CT Monday night. Lopez, who has not pitched since losing a 1-0 decision to Detroit on April 8, will get the White Sox start facing right-hander Daniel Mengden (1-2, 6.19 ERA). Catcher Castillo, bothered by a sore right knee and out of action since April 10, also is expected to return to the lineup.