Inbox: Which prospects could debut in '19?
Beat reporter Scott Merkin answers questions from fans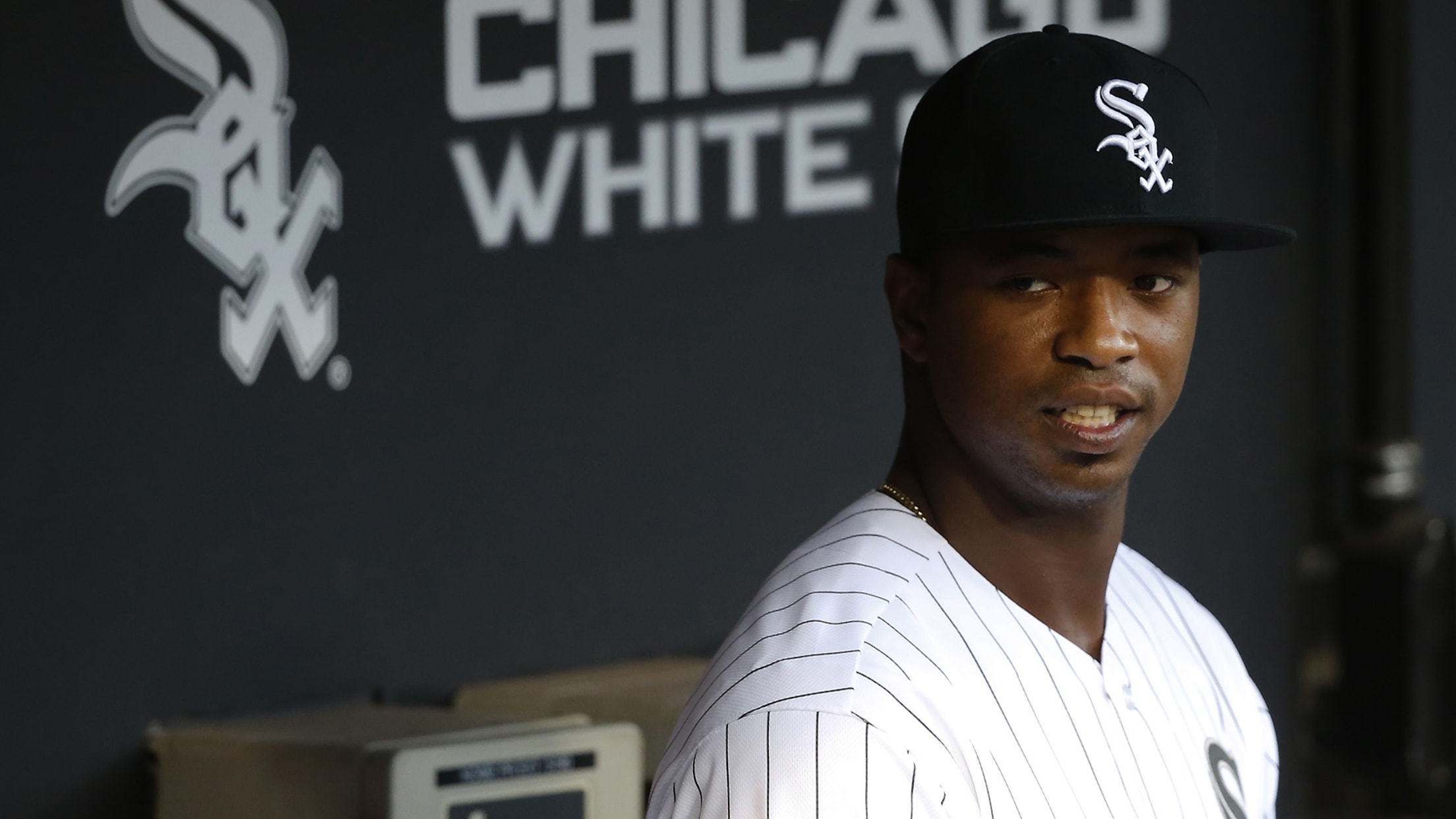 Eloy Jimenez, an outfielder with the Birmingham Barons, a Double-A affiliate of the Chicago White Sox, stands in the dugout before throwing out a ceremonial first pitch before a baseball game between the White Sox and the Cleveland Indians Tuesday, Sept. 5, 2017, in Chicago. (AP Photo/Charles Rex Arbogast) (Charles Rex Arbogast/AP)
CHICAGO -- Happy New Year to everyone and good luck to Michigan football in the Peach Bowl. Here's a look at the latest Inbox questions.Besides (Eloy Jimenez), what Top 30 Prospects do you see in Chicago in '19? -- Nick, Orland Park, Ill., @nd1330Jimenez, ranked as the White Sox No.
CHICAGO -- Happy New Year to everyone and good luck to Michigan football in the Peach Bowl. Here's a look at the latest Inbox questions.
Besides (Eloy Jimenez), what Top 30 Prospects do you see in Chicago in '19?
-- Nick, Orland Park, Ill., @nd1330
Jimenez, ranked as the White Sox No. 1 prospect by MLB Pipeline, is a given and he should be the early co-favorite with Vladimir Guerrero, Jr. for the American League Rookie of the Year Award. Right-hander Dylan Cease (No. 3) should follow the path set previously by Reynaldo Lopez and Michael Kopech, meaning the reigning Minor League Pitcher of the Year per MLB Pipeline will be up at some point later in this coming season. Also keep an eye on catchers Zack Collins (No. 8) and Seby Zavala (No. 22) as the season progresses.
:: Submit a question to the White Sox Inbox ::
If you want a long shot candidate for a big league promotion in 2019, how about Nick Madrigal (No. 5)?
Do you think that Nick Madrigal could start the season at second base and they move (Yoan Moncada) to third?
-- Tom, Chicago, @Flynnertwit
And so, we move on to Madrigal. He won't break camp with the White Sox, not with the second baseman finishing last season at Class A Advanced Winston-Salem. If the Major League club doesn't agree to terms with Manny Machado, I could see Moncada moving to third and Madrigal taking over at second at some point later in the 2019 season. Remember, general manager Rick Hahn's mantra of no player coming to the Majors before their time, so Madrigal, 21, would have to fulfill all the items on the organization's internal checklist to get there so fast.
I'm really bummed the Sox decided to non-tender Matt Davidson. He looked promising as a pitcher, and at the very least could be a great part-time hitter against lefties offensively.
Why is there no room for him? His stats while playing the field were also much better than as a DH, and since the Sox have refused to commit to (Jose Abreu) long term, I'm not sure why Matt (Davidson) didn't get a fair shot at 1B.
-- Nick, Evanston, Ill.
Davidson was a high character guy in the clubhouse and he certainly gave us something to write about down the stretch with his three sharp pitching appearances. Davidson wants to add pitching to his repertoire, and he is working toward that goal this offseason. He believes it's possible for players to pull off a form of what Shohei Ohtani accomplished.
Ultimately, Davidson's at-bats were going elsewhere on the roster. That fact becomes especially true with the recent acquisition of Yonder Alonso from the Indians.
"You know of our level of affection for Matty and the work he's done over the last several years, and the position he's put himself in to potentially continue to contribute as a right-handed-hitting DH or first baseman/third baseman, and perhaps even pitch," Hahn said. "We just felt switching that up would put us in a stronger position going forward."
Are the Sox still pursuing another starting pitcher or are they planning to look within for a fifth starter?
-- Mark, Minooka, Ill., @MarkMyWords35
The answer is both. Hahn mentioned the addition of Ivan Nova doesn't preclude from adding another starter, but they also could turn to Manny Banuelos, Dylan Covey, Jordan Stephens and a non-roster invite or two to compete for that fifth spot.
Any information on how Jake Burger's rehabilitation is going?
-- Bruce, Lemont, Ill.
According to Hahn's comments at the Winter Meetings, the White Sox project the third baseman to be active with an affiliate "come June 1," which is "provided everything goes smoothly." Burger, who happens to be a diehard Blackhawks fan, is working his way back from a pair of left Achilles tears.
If Khalil Mack played for the Sox, would he be as good as or better than Frank Thomas? I'll hang up and listen.
-- Julie, Naperville, Ill., @JulieDiCaro
I asked on Twitter the other day about an athlete in Chicago lore who has made a bigger initial individual and team-wide impact than Mack on the Bears. There were some interesting and accurate answers, ranging from Michael Jordan to Marian Hossa to Rick Sutcliffe, and Jonathan Lester to Scott Podsednik, Jermaine Dye and A.J. Pierzynski with the 2005 White Sox. But Mack has turned a subpar team into a Super Bowl candidate, not single-handed, but he has been a major reason.