White Sox instructional league report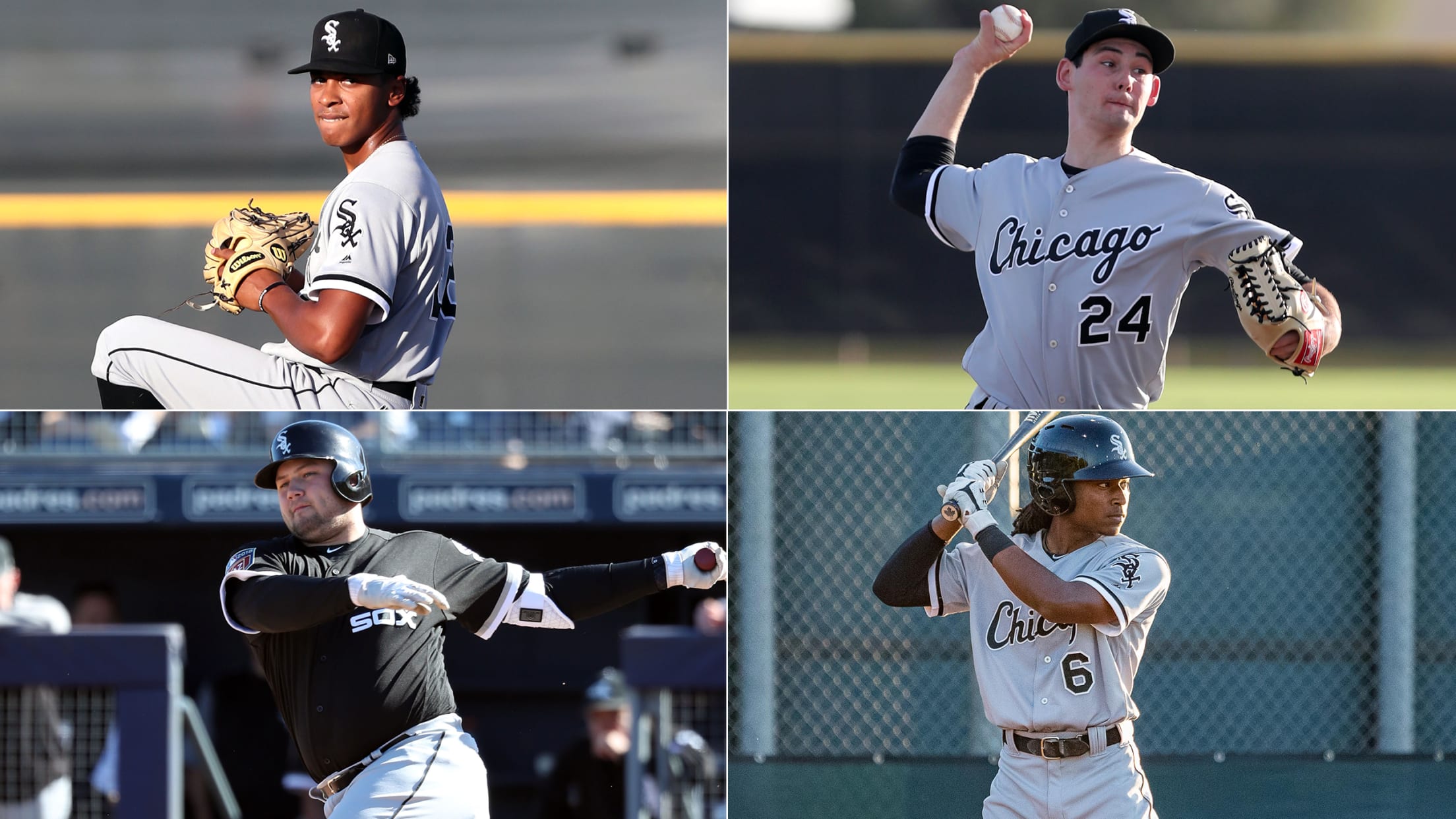 After the completion of the regular season and alternate training sites, most player development staffs have turned their attention to instructional league play. In the past, instructional leagues have been populated by new draftees, recent international signings and players at the bottom rungs of their organizational ladder. This year, in
After the completion of the regular season and alternate training sites, most player development staffs have turned their attention to instructional league play. In the past, instructional leagues have been populated by new draftees, recent international signings and players at the bottom rungs of their organizational ladder. This year, in an attempt to make up for lost time due to the pandemic, it's been expanded to include many more players. MLB Pipeline will be providing position-by-position reports from instructional league camps in Florida and Arizona.
Pitchers (19)
Jason Bilous, RHP; Cooper Bradford, RHP; Isaiah Carranza, RHP; Adisyn Coffey, RHP; Andrew Dalquist, RHP (No. 11); Caleb Freeman, RHP; Ronaldo Guzman, LHP; Alec Hansen, RHP; Bailey Horn, LHP; Jared Kelley, RHP (No. 6); Kade McClure, RHP; McKinley Moore, RHP; Wilber Perez, RHP; Konnor Pilkington, LHP (No. 21); Kaleb Roper, RHP; Yoelvin Silven; RHP; Chase Solesky, RHP; Matthew Thompson, RHP (No. 8); Avery Weems, LHP
The White Sox have bolstered their pitching at the lower levels of their system by investing heavily in high school pitchers in the last two Drafts. They signed second-rounder Matthew Thompson for $2.1 million and third-rounder Andrew Dalquist for $2 million in 2019, then second-rounder Jared Kelley for $3 million this summer.
Thompson's pro debut and the sum total of his game experience consist of two innings, while Dalquist's equal three frames. But because they were able to participate in instructional league last fall, a bit of Spring Training before the shutdown in March and alternate camp this summer, they had enough exposure to pro ball that Chicago had specific development goals for them in instructs this year.
"Dalquist, as advertised, has nice feel for pitching and is a pitchability guy with four pitches," White Sox farm director Chris Getz said. "He's starting to get stronger and fill out a little bit and his fastball is starting to jump. He's sitting 91-95 mph and flashing more, and the axis of the fastball and ride he gets are real good indicators. We're seeing some plus curveballs and sliders. In instructional league, we worked on building up a workload and establishing a good five-day routine.
"Thompson is really explosive, a great athlete who can create power. We're just smoothing out his lower half so he can be more consistent with all his pitches. His curveball will be a real weapon. Once he gets more aligned with his delivery, he'll be able to pound the zone with a plus fastball and curveball, and he has the makings of a changeup."
A projected first-rounder who unexpectedly fell in Chicago's lap with the 47th overall pick in June, Kelley had been a pro for just three months when instructional league began. He focused on maintaining consistency was his arm stroke. He had one of the best fastballs (95-98 mph) and best changeups in the camp, and he also made some progress with his slider.
Catchers (3)
Jefferson Mendoza, Tyler Osik, Carlos Pérez
Keith Osik went to Louisiana State as an infielder before moving to catcher as a junior, setting the stage for a 10-year big league career behind the plate. His son Tyler played first base and the outfield in college at Coker (S.C.), Chipola (Fla.) JC and Central Florida before the White Sox drafted him in the 27th round a year ago. After he played the same positions while hitting .274/.349/.456 in his pro debut, Chicago planned on shifting him to catcher this season.
Of course, there was no Minor League season. Osik got to catch briefly before Spring Training ended abruptly in March, and his conversion began in earnest in instructional league. The White Sox are encouraged by the early results.
"Catching is just a different animal and you've got to really like it," Getz said. "Osik had the right mindset from the start. He's got the pedigree. His mobility and his ability to block and throw are pretty solid.
"He continues to get better receiving. We like what he brings to the table offensively. If you can turn him into a catcher, you've got something there."
Instructs reports
| | |
| --- | --- |
| AL East | BAL, BOS, NYY, TB, TOR |
| NL East | ATL, MIA, NYM, PHI, WSH |
| AL Central | CLE, CWS, DET, KC, MIN |
| NL Central | CHC, CIN, MIL, PIT, STL |
| AL West | HOU, LAA, OAK, SEA, TEX |
| NL West | ARI, COL, LAD, SD, SF |
| Division | Team |
Infielders (8)
Jake Burger, 3B (No. 14); Lency Delgado, SS/3B; D.J. Gladney, 3B (No. 30); Bryan Ramos, 3B (No. 26); Jose Rodriguez, SS/2B (No. 27); Yolbert Sanchez, SS (No. 19); Gavin Sheets, 1B (No. 10); Lenyn Sosa, SS (No. 25)
The 11th overall pick in the 2017 Draft, third baseman Jake Burger has played in just 51 pro games since signing for $3.7 million. He ruptured his left Achilles tendon running out a groundball in February 2018, then tore it again during rehab three months later. He missed all of 2019 to a severely bruised left heel and finally returned to game action in the CarShield Collegiate League this July.
Burger later joined Chicago's alternate camp before reporting to instructional league. Getz raved about how good Burger looked at the team's training base in Glendale, Ariz.
"It's a tremendous story that you could turn into a movie someday," Getz said. "He looks like an absolute athlete now, almost better than he did before. He hadn't faced lived pitching in so long and he was driving the ball all over the field, hitting the ball hard. He looked like the old Jake Burger.
"He played third base and he made plays there. He's always had good feet and hands and arm strength."
Outfielders (7)
Benyamin Bailey (No. 20), James Beard (No. 18), Bryce Bush, Duke Ellis, Logan Glass, Chase Krogman, Cabrera Weaver
The fastest player in the 2019 Draft, James Beard was clocked as quick as 6.21 seconds in the 60-yard dash on the high school showcase circuit. He faced little quality pitching as a Mississippi high schooler, however, and his inexperience showed when he batted .213/.270/.307 in Rookie ball during his pro debut. His priority in instructional league was getting more exposure to pro pitching.
"It was really about playing time because that's what Beard needs," Getz said. "We knew coming in the tools he has and the twitch he has. It's a matter of refining his offense. He's getting a little bit stronger. He's developing a routine as a hitter and understanding his body, which should help maximize his skillset."