Danish grateful for 'second chance at life'
White Sox prospect survived car accident at end of 2017 season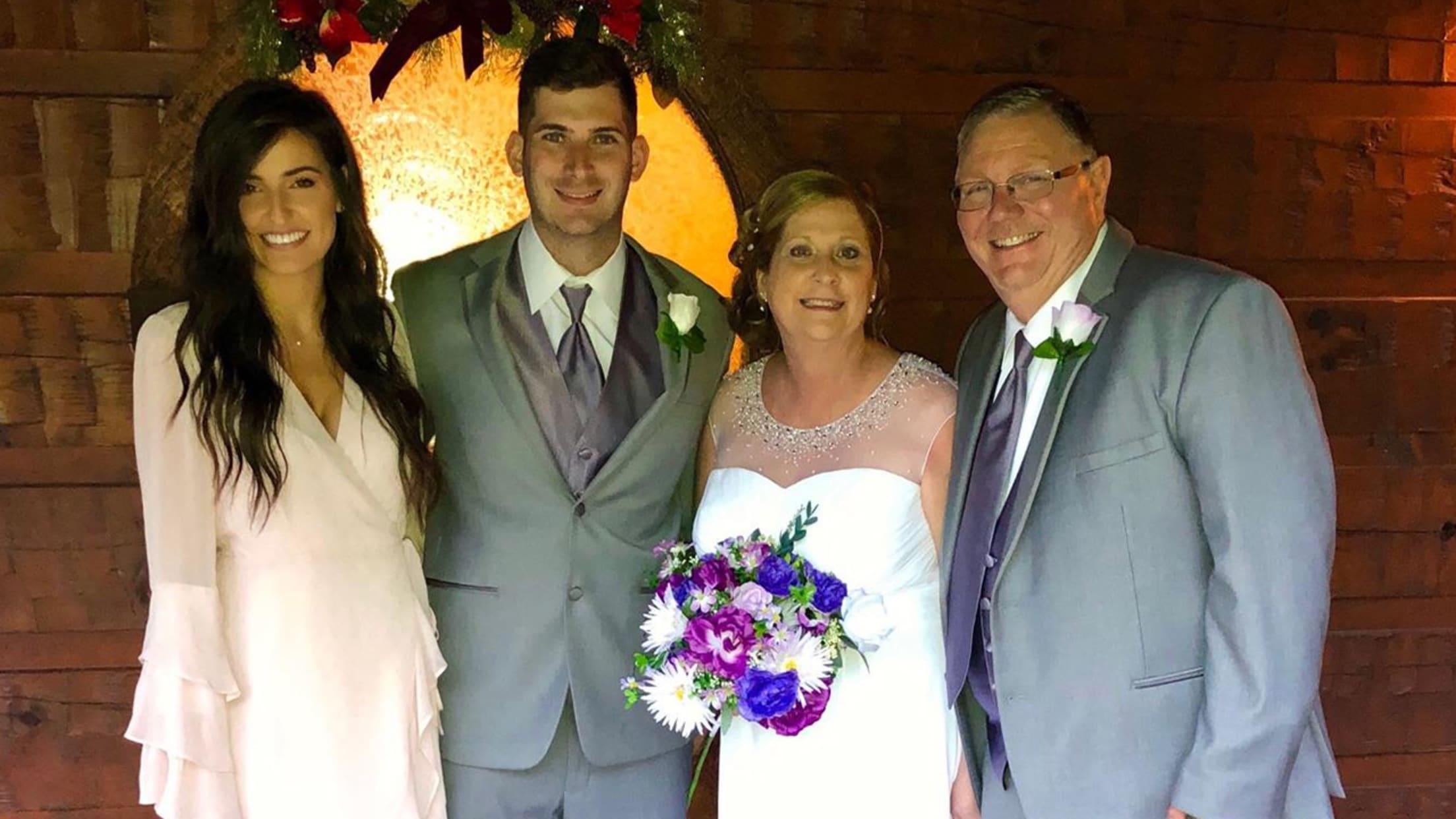 CHICAGO -- The holiday season has not been the easiest time for White Sox prospect Tyler Danish and Charlotte, his mother and guiding force.Not since Danish's father and longtime coach, Michael, passed away from colon cancer at the age of 50, two days after Christmas seven years ago. He was
CHICAGO -- The holiday season has not been the easiest time for White Sox prospect Tyler Danish and Charlotte, his mother and guiding force.
Not since Danish's father and longtime coach, Michael, passed away from colon cancer at the age of 50, two days after Christmas seven years ago. He was incarcerated for fraud at the time of his passing.
But this year has a different feel for the Danishes.
Charlotte remarried on Dec. 20, and despite being outrighted off the 40-man roster during this offseason, the 23-year-old Tyler simply feels lucky to be alive. He survived a multi-car auto accident at the end of the season, dislocating his left shoulder.
"Yeah, I mean, I'm not supposed to be here," said Danish, a second-round pick in the 2013 Draft. "Not many people get a second chance at life, and I did."
Danish was driving home after the completion of the 2017 Minor League campaign, which the right-hander finished 4-14 with a 5.47 ERA over 25 starts and one relief appearance for Triple-A Charlotte. His mother was about a half-mile back in her car on I-95 South in Jacksonville, Fla., when traffic stopped because of a car accident.
Danish heard a bang as his car was struck, and he ended up in a ditch 90 feet from where he started after being knocked across the highway. Luckily for Danish, he saw the accident coming and was able to turn his wheels to avoid getting slammed into the car in front.
"If I don't turn my wheels, I don't know if I'm standing here today," said Danish, whose uninjured mother ran up the interstate to check on him. "I'll never be able to forget it and it was just a night that will never, ever leave my memory. It is who I am now.
"Like I said, it happened, the same as the situation with the 40-man. I can't do anything about it, but I can learn from it and grow and be a better person."
In the midst of the White Sox rebuild, with seven of their Top 10 prospects acquired in the past year, a player such as Danish has moved somewhat into the background. He has gone through two brief stints with the White Sox, making three relief appearances in 2016 and winning his lone start with the team in '17.
Getting moved off the 40-man served as a shock to the system. The new attitude for Danish still leaves him excited for Spring Training competition as a non-roster invitee.
"Tyler's a bulldog. We've all known that since the day we got him," White Sox general manager Rick Hahn said. "He's going to do everything in his power to maximize his ability. What that leads to him ultimately being, we'll find out together at the big league level. But he's still 23 years old and fights like a warrior. So he's a good guy to have on your side."
"Slowing down isn't a bad thing for Tyler," White Sox director of amateur scouting Nick Hostetler said. "He has a great family, his mom is a terrific person. Tyler is going to come back with a renewed -- and I say renewed, it's not that he ever lost it -- but Tyler will have a different gear further than where he was at this year."
Hahn personally called Danish to tell him the roster news, a connection meaning a great deal to the right-hander and showing he's still in the White Sox picture. Danish took care of some "little minor things" with his injured left shoulder and went through physical therapy, but now feels fantastic.
An upbeat and grateful Danish also has worked his way under 200 pounds for the first time since he graduated high school.
"My whole mindset is different. I try to take advantage of every single day," said Danish, who intends to stress the importance of wearing seatbelts to every kid he encounters this season. "I'm trying to give my best to every single person I come across, being a positive man.
"This year is a big year for me, no matter what happens. When I come to Spring Training, everyone that sees me is going to understand and see the difference in body type and my attitude and just how I carry myself. It was a blessing come true to be here, so I'm going to live through that every single day."