Sox Players' Weekend nicknames explained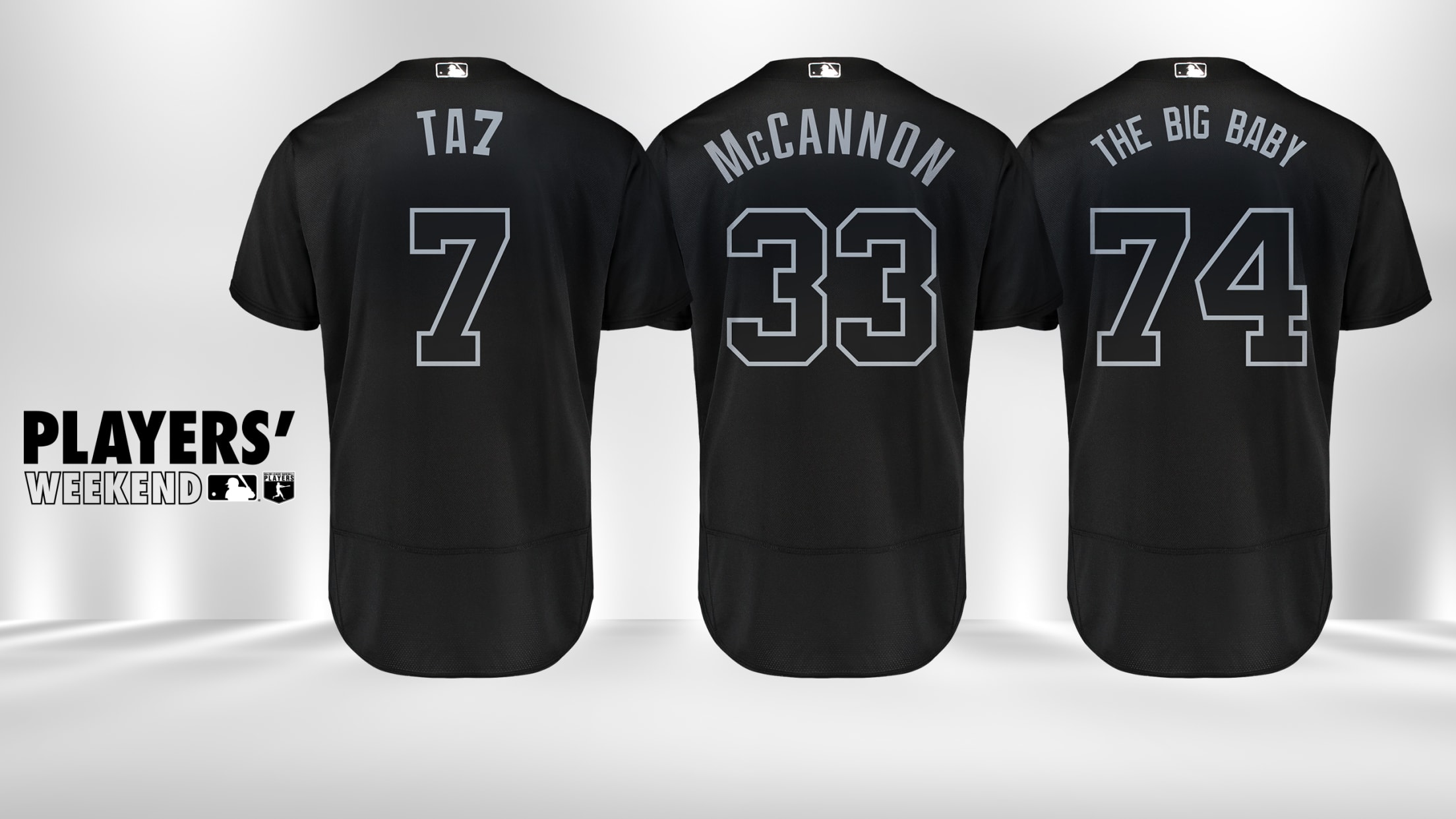 CHICAGO -- Right-handed reliever Evan Marshall might have stolen the spotlight with his cinematic-themed nickname for Players' Weekend, which runs from Friday through Sunday while the White Sox are home against the Rangers. But other creative choices exist on Chicago's roster, representing family, hometowns and longtime nicknames. Here's a look
CHICAGO -- Right-handed reliever Evan Marshall might have stolen the spotlight with his cinematic-themed nickname for Players' Weekend, which runs from Friday through Sunday while the White Sox are home against the Rangers.
But other creative choices exist on Chicago's roster, representing family, hometowns and longtime nicknames. Here's a look at the White Sox name selections, with explanations where the correlation isn't obvious.
• Every team's Players' Weekend nicknames
José Abreu, MAL TIEMPO
The White Sox first baseman's hometown area in Cuba.
Tim Anderson, TA7
Anderson's initials, jersey number and now brand name.
Aaron Bummer, BUM
"Closer of the future" might have been too long for Bummer's jersey.
Dylan Cease, CEASE
Alex Colomé, THE HORSE
Anyone who has watched the White Sox closer work over 47 games this season understands the choice.
Ryan Cordell, CORDY
Jimmy Cordero, GERARD
His middle name.
Ross Detwiler, DET
Adam Engel, MAN OF STEAL
"Superman" is one of the favorite comic book characters of his wife. It also plays off Engel's speed, both in the field and on the bases.
Jace Fry, FRENCHY
Yum.
Leury García, LEO
Lucas Giolito, BIG FOOT
It's a nickname given to the All-Star by Anderson last season, based on Giolito's clubhouse clumsiness.
Ryan Goins, GO GO
Jon Jay, 305 J
The veteran outfielder representing his Miami hometown via its area code.
Eloy Jiménez, THE BIG BABY
The rookie going with his well-known nickname.
Michael Kopech, KOPEY
Kopech won't be part of Players' Weekend, as he continues rehab work following Tommy John surgery last September.
Reynaldo López, REY
Marshall, FORGETTING SARAH
Quite possibly one of the best choices of the special weekend. Think Jason Segel, Kristen Bell, Mila Kunis, Paul Rudd and Bill Hader -- the "Forgetting Sarah Marshall" cast.
James McCann, McCANNON
There have been a few cannon shots recently off the bat of McCann, who hit two grand slams over a three-game period.
Yoán Moncada, YOYO
The nickname preferred by the White Sox third baseman, who almost certainly will be back from his injury rehab with Triple-A Charlotte.
Ivan Nova, SUPER NOVA
Nova has been a star of late like his Players' Weekend name choice, allowing two earned runs in his last 37 innings.
Josh Osich, O
Carlos Rodón, LOS
Although he's also working his way back from Tommy John surgery, Rodon has been around the team quite frequently.
Yolmer Sánchez, NOAH ALAN
Chosen in honor of his two sons.
Héctor Santiago, SANTI
Matt Skole, BABA
Short for "Baba Ganoush," a nickname for Vince Vaughn's character in the movie "Wedding Crashers." Skole says his friends call him that because, like Vaughn, he is tall and gangly.
• Shop for Players' Weekend gear
O'Brien next in the booth
After Bill Walton's turn in the television booth on Friday and Mike Schur's on Saturday, the White Sox wrap up their series of guest broadcasters on Sunday. For the finale against the Angels, it's actor, former "Saturday Night Live" writer and "A.P. Bio" creator Mike O'Brien joining Jason Benetti on the call.
A lifelong White Sox fan, some of O'Brien's earliest memories are of going to games at Comiskey Park with his grandparents, while Mark Buehrle's perfect game and the 2005 World Series were seminal moments in his life.
"It's surreal," O'Brien said of the opportunity to call a game. "It's a huge dream come true. It's more of like, a dream you don't actually think about, because I've watched games for so long that you don't go, 'Oh, I'll bet I'll call a game some time.' This is beyond the realm of what you fantasize about."