Sunday's best: Lopez piles up strikeouts for Charlotte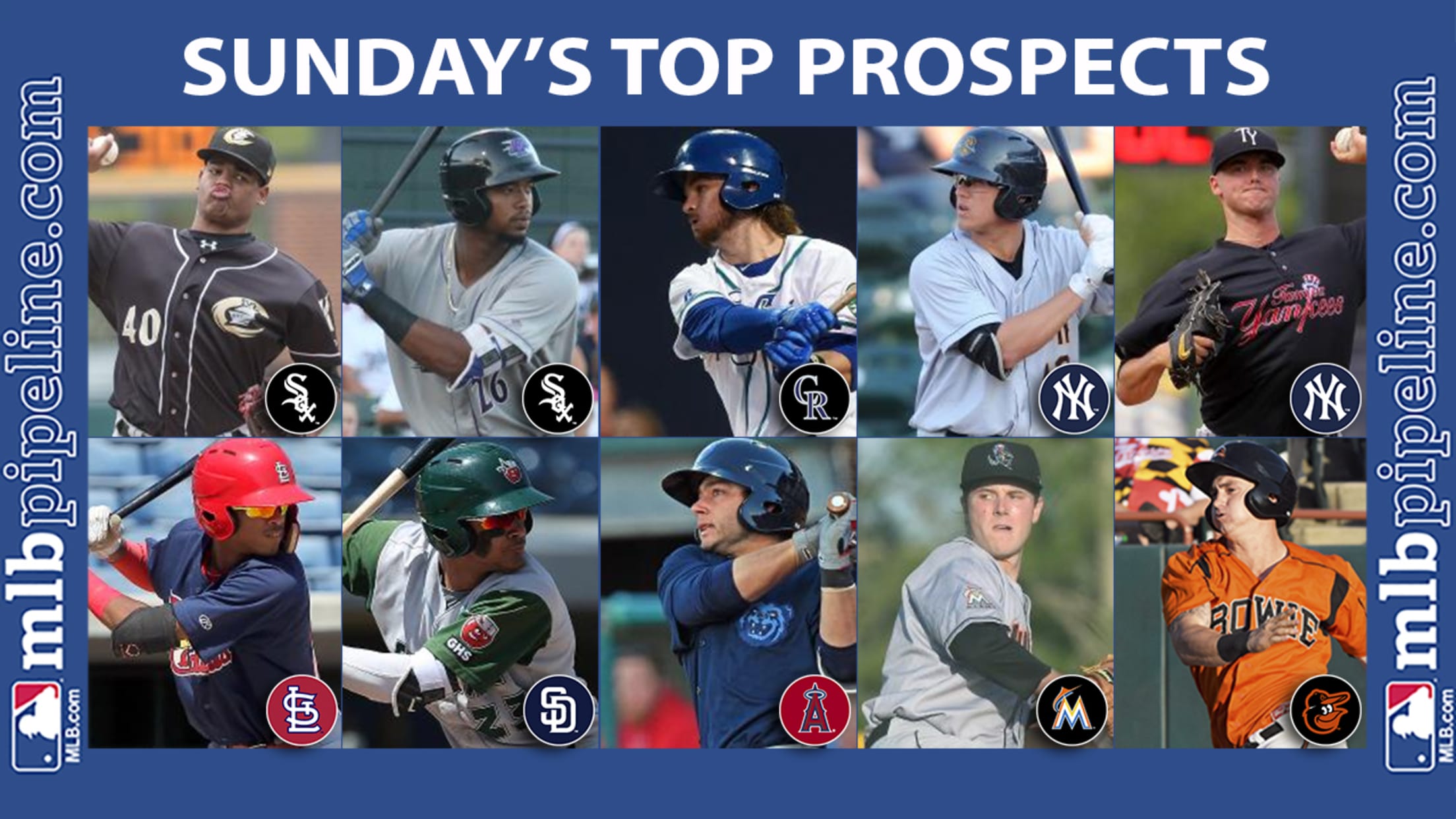 Reynaldo Lopez piled up the strikeouts as Triple-A Charlotte topped Gwinnett, 5-4, in walk-off fashion on Sunday.Lopez, the No. 36 overall prospect, fired 66 of his 99 pitches for strikes as he generated a season-high 12 strikeouts and yielded just two hits in seven innings of one-run ball. The White
Reynaldo Lopez piled up the strikeouts as Triple-A Charlotte topped Gwinnett, 5-4, in walk-off fashion on Sunday.
Lopez, the No. 36 overall prospect, fired 66 of his 99 pitches for strikes as he generated a season-high 12 strikeouts and yielded just two hits in seven innings of one-run ball. The White Sox No. 6 prospect was stuck with a no-decision as the Knights bullpen blew a ninth-inning lead, but that doesn't diminish Lopez's brilliant performance.
"He was very good," Charlotte pitching coach Steve McCatty told MiLB.com. "His changeup was good and he had a live fastball. When he got ahead, he used his change well. His offspeed got better as the game went along. I thought he pitched a real nice game. He's a young guy who's learning how to pitch and about what he does well. He didn't force things and did a very good job of controlling the game."
MILB Video - Title: Watch: Lopez fans 7th straight batter - Url: http://www.milb.com/r/video?content_id=1615618383
The 23-year-old righty got off to a fast start, retiring the first 11 batters he faced, seven via strikeout. In total, Lopez recorded at least one strikeout in six of his seven innings and had multiple strikeouts in five frames.
After illustrating strong command through six, Lopez's command wavered a bit in the seventh as he issued two walks and gave up a run via a wild pitch. However, with two on and two out Lopez was able to escape the jam with a strikeout, concluding his fourth straight quality start.
Other top prospect performances from Sunday's action:
• No. 8 overall prospect Eloy Jimenez (White Sox No. 2) put together his first multihit game since joining Class A Advanced Winston-Salem. Jimenez, who is 4-for-10 in three games with the White Sox organization, doubled and went 2-for-3 with three RBIs.
• No. 10 overall prospect Brendan Rodgers (Rockies No. 1) is starting to heat up for Double-A Hartford. Rodgers got off to a slow start with the Yard Goats, but went 1-for-3 with a homer in the win over Trenton and has hit three homers over his past two games. After hitting .174 through his first six games at the Double-A level, Rodgers has boosted his average to .257 through 18 contests.
MILB Video - Title: Rodgers hits a solo blast - Url: http://www.milb.com/r/video?content_id=1613284283
• No. 30 overall prospect Blake Rutherford (Yankees No. 3) came up big with a clutch two-run homer in the ninth inning of Class A Charleston's 2-1 win over Lakewood. Not only did Rutherford lift his club to victory, but he also extended his hitting streak to 11 games as part of his 2-for-4 performance.
• No. 76 overall prospect Delvin Perez (Cardinals No. 4) collected a season-high three hits for the Rookie-level GCL Cardinals. Perez, 18, is off to a slow start this season, hitting .190 through 18 games, but may be on the verge of turning it around. Perez finished 3-for-4 with a triple and has a hit in four straight games.
• No. 100 overall prospect Fernando Tatis Jr. (Padres No. 5) got back on track with a 2-for-4 game for Class A Fort Wayne. After going 0-for-12 over the past three games, Tatis began the game with a groundout, but broke out of his slump with a fourth-inning double and then hit a three-run homer in the sixth.
• Angels No. 9 prospect David Fletcher appears to be adjusting quite well to life with Triple-A Salt Lake as he stuffed the box score, going 3-for-4 with three RBIs and two stolen bases in a 14-11 loss to Sacramento. After hitting .276 in 64 games with Double-A Mobile, Fletcher was promoted to Salt Lake, where he is 4-for-8 through two games.
MILB Video - Title: Watch: Fletcher drives in a pair - Url: http://www.milb.com/r/video?content_id=1616277983
• Marlins No. 4 prospect Dillon Peters spun his second straight scoreless start as he went 4 2/3 innings for Class A Advanced Jupiter. Peters threw 47 of his 71 pitches for strikes, striking out four and giving up just three hits. The 24-year-old has a 1.54 ERA across six starts this season and has given up one earned run or less in each outing.
• Orioles No. 7 prospect Austin Hays showed off his power with his third multihomer game of the season. Hays, who has 22 homers across two levels, went deep twice in Double-A Bowie's win over Altoona. Hays also extended his hitting streak to eight games with the 2-for-5, four-RBI performance.
MILB Video - Title: Watch: Hays launched second homer - Url: http://www.milb.com/r/video?content_id=1615837983
• Red Sox No. 8 prospect Josh Ockimey collected a pair of extra-base hits, including a walk-off homer in Class A Advanced Salem's 12-inning win over Carolina. Ockimey, who finished 3-for-6, gave Salem a one-run lead with an RBI double and then ended the game as he led off the 12th with his 10th homer of the season.
MILB Video - Title: Watch: Ockimey belts walk-off - Url: http://www.milb.com/r/video?content_id=1613858583
• Phillies No. 14 prospect Adonis Medina put together one of his best starts this season for Class A Lakewood. Medina pitched six scoreless innings, notching seven strikeouts and giving up just three hits and no walks. The 20-year-old has a 3.32 ERA through 15 starts and has strung together five quality starts in his past six outings.
• Phillies No. 22 prospect Carlos Tocci had been hitless in four of his past five games with Double-A Reading, but snapped out of his funk with a season-high four hits. Tocci singled in each of his first four at-bats before grounding out and finishing the game 4-for-5.
MILB Video - Title: Watch: Tocci notches 4th hit - Url: http://www.milb.com/r/video?content_id=1616281583
• Rays No. 11 prospect Garrett Whitley collected his fourth three-hit game of the season, going 3-for-4 with two RBIs for Class A Bowling Green. Whitley had a pair of extra-base hits in the game as he doubled in the third and hit a two-run homer, his eighth, in the fifth.
• Rockies No. 12 prospect Tyler Nevin filled up the box score with a career-high four hits for Class A Nashville. Nevin, hitting .241 this season, went 4-for-5 with two doubles, a homer and a trio of RBIs.
• Royals No. 3 prospect Eric Skoglund picked up his third win of the season after throwing seven innings of one-run ball for Triple-A Omaha. Skoglund, who has given up one earned run in four of his past five starts, gave up nine hits in the outing, but struck out seven and didn't issue a walk as he threw 74 of his 102 pitches for strikes.
• Yankees No. 19 prospect Ian Clarkin lowered his ERA to 2.61 with another quality start for Class A Advanced Tampa. Clarkin, 22, struck out seven and gave up two runs in seven innings. The lefty has thrown the ball well in July, giving up four earned runs across 19 innings (three starts).