Robert: 'I'll be ready' when White Sox make call
MLB Pipeline's No. 5 prospect flashing power bat at Triple-A level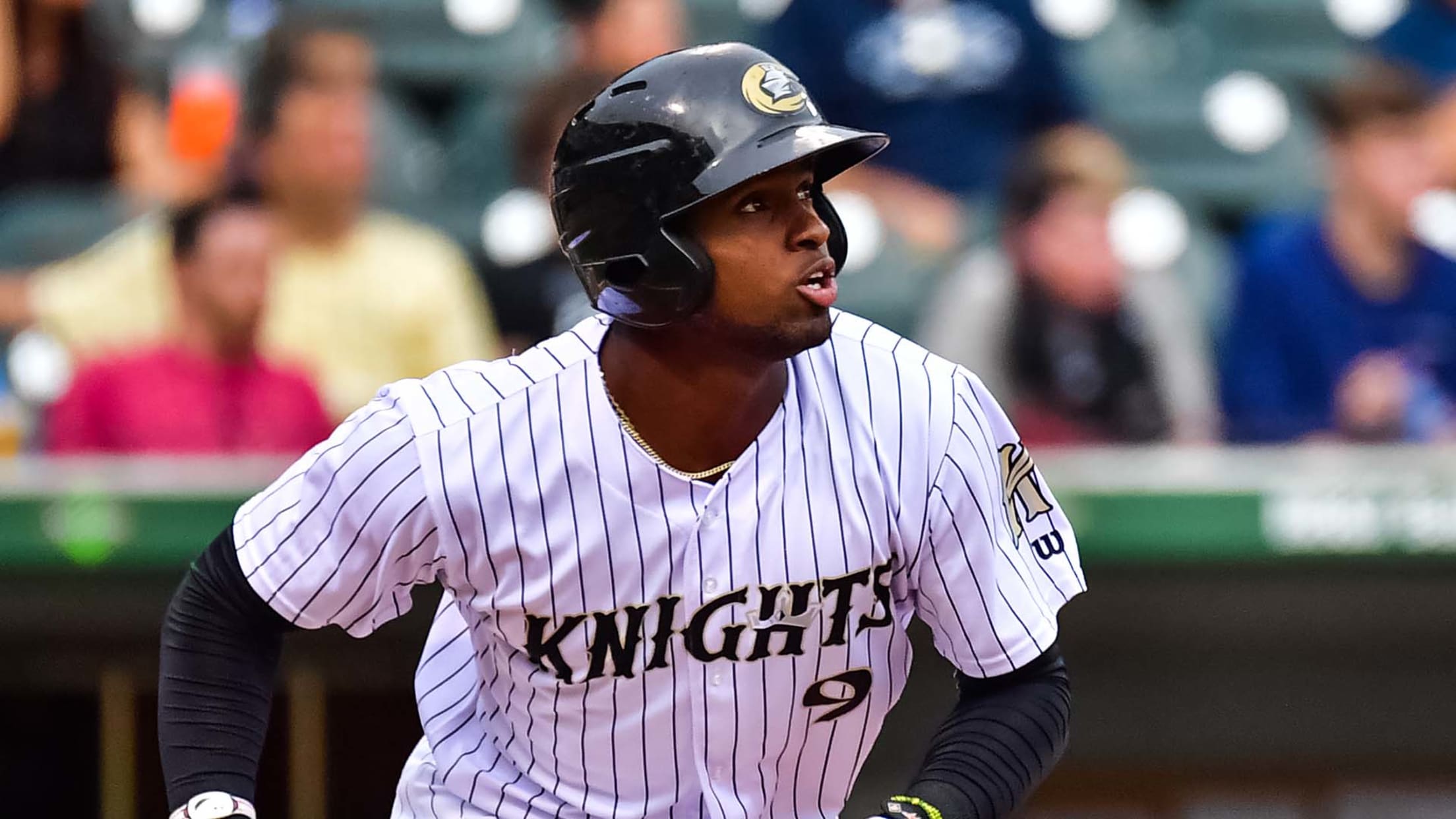 BUFFALO, N.Y. -- No matter the move, the level, or the competition he matches up against, Luis Robert has continued to put up video game numbers this season. In just his seventh game with Triple-A Charlotte on Thursday, the 21-year-old Cuban outfielder, ranked as the White Sox No. 1 prospect
BUFFALO, N.Y. -- No matter the move, the level, or the competition he matches up against, Luis Robert has continued to put up video game numbers this season.
In just his seventh game with Triple-A Charlotte on Thursday, the 21-year-old Cuban outfielder, ranked as the White Sox No. 1 prospect and No. 5 overall in baseball by MLB Pipleine, hit his fourth and fifth home runs for the Knights, helping the visitors to a 6-0 win over the Bisons at Sahlen Field.
It was Robert's third multi-homer game of the season, bringing his totals between Class A Advanced Winston-Salem, Double-A Birmingham and Charlotte to .356/.409/.659 with 21 home runs, 23 doubles, seven triples, 32 stolen bases, 74 runs and 64 RBIs in 82 games.
"I'm really glad that I've been having a good year so far, and all the credit goes to mainly being healthy," Robert said through an interpreter. "With the exception of five games this year, where I had a little pain, but besides that, I've had the results because I've been healthy."
This healthy season follows one in which Robert also spent time at three Minor League levels, but only got into 50 games. After he signed for $26 million in 2017, the native of Havana, Cuba, saw action in just 28 games. Between both seasons, Robert totaled three homers among 26 extra-base hits, but his health isn't the only thing that's changed.
"I've always had the power," Robert said. "Nothing is really different, it's always been there. Last year, I didn't play too many games, and also I was dealing with the injuries and everything, but I think the home runs have come this year because of the contact I've been making. I've been making better contact.
"I adjusted my swing, but I don't think that's what's helped gain more power. It's more helped me gain more contact, better contact. ... The biggest difference was really just trying to get my swing out in front of home plate more, to make more out-front contact. It's helped me see the ball better, balls with more velocity and also with a lot of movement. It's been easier to stay in the zone and to stay on those pitches."
Whatever adjustments Robert has made, they're working. In his small sample size of seven games against International League competition, the 6-foot-3, 185-pound right-handed hitter has slashed .433/.486/1.067 with 32 total bases, 11 RBIs, 10 runs scored and three stolen bases.
"I've gotten better at every aspect of the game," he said. "Obviously the preparation and everything is a lot harder in Triple-A, so I'm a lot more prepared, but I think I've improved in every aspect, like any other player year to year, getting better."
As well as adjusting to the game, the young center fielder has also begun to embrace his surroundings in his adopted country, making things easier on and off the field.
"I've definitely had to make a lot of sacrifices leaving from Cuba, but since leaving Cuba I've always had one objective," Robert said. "That's to make it to the big leagues. Thankfully I'm starting to feel a lot more comfortable in the U.S. now. My family is here, I have a house here, so it's starting to feel more like home, more like I'm in Cuba."
With the pace Robert has set for himself as he continues to climb the organizational ladder, discussions of when he might get a chance to roam the outfield in Chicago could continue to build at a similar rate. As those talks continue and the support pours in, Robert is excited about what career accomplishments lay ahead.
"Every since I signed, the fans have always been there supporting me and it's great," Robert said. "I've just been trying to go out and do my best every day, and whenever the team makes the decision to call me up, then I'll be ready. But the fans have always been there sending me messages, letting me know that they're ready to see me in Chicago."