White Sox tab groundskeeper's son in Draft
Brandon Bossard, a prep shortstop, was selected in the 31st round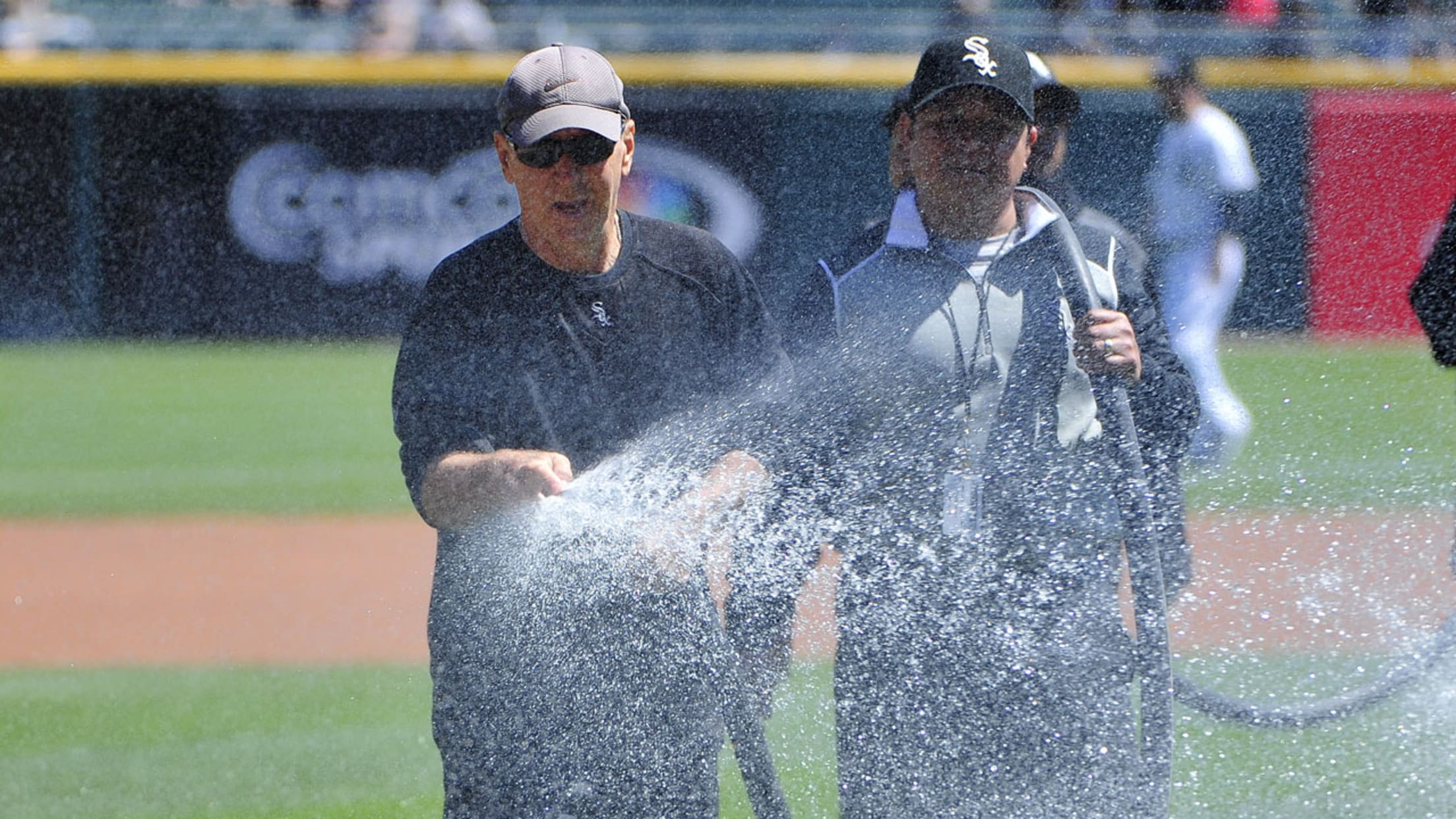 "For any father, it's a thrill," Roger Bossard said of his son Brandon being selected by the White Sox. (AP)
CHICAGO -- White Sox head groundskeeper Roger Bossard received a request to visit the club's Draft room on Saturday afternoon at U.S. Cellular Field, and honestly wasn't sure why he was needed."Actually, when I went up there, I asked, 'What are you guys going to fire me?'" said a smiling
CHICAGO -- White Sox head groundskeeper Roger Bossard received a request to visit the club's Draft room on Saturday afternoon at U.S. Cellular Field, and honestly wasn't sure why he was needed.
"Actually, when I went up there, I asked, 'What are you guys going to fire me?'" said a smiling Bossard prior to Sunday's game against the Royals. "They all laughed and said, 'No, no, it's not quite that bad.'"
The situation turned out to be quite good. Once Bossard entered the room, he was given a piece of paper with the name of the next White Sox selection in the 31st round. The name read Brandon Bossard, the son of the famous groundskeeper, who was a shortstop at Nazareth Academy College Prep located 40 minutes outside of Chicago.
:: Complete 2016 Draft coverage ::
Brandon will be attending Heartland Community College and playing baseball there. But it still doesn't diminish the honor and thrill of having his name announced by the team with two generations of connections to his family.
"For any father, it's a thrill," Bossard said. "To make the Major Leagues is so tough. I'm with the Major Leagues and I realize that. But it was a happy household last night.
"To dream a little bit, I would love to be the first head groundskeeper to take care of a field for his son. That's the first thing that came to mind. I don't know if it's ever going to happen. In fact, now that I think about it, now that we are talking, he might be the first guy to complain about my field.
"It was a thrill," Bossard said. "Brandon was tickled pink and we'll see where it goes. He's going to go to school obviously. But it was a special moment for the family."
Due to a broken right wrist sustained in the 12th game, Brandon didn't play much this past high school season. But White Sox director of amateur scouting Nick Hostetler likes what he has seen from Brandon in area code games competition.
"I love Roger's kid. He's a good player and he can swing the bat," Hostetler said. "I know it's hard for some people to wrap their head around and understand why family members get taken and stuff like that. It's really us showing our appreciation to the kids that had to deal with their parents or father or brother being away from him for so much. It's hard.
"My kids deal with it every day. My son had a game [Saturday] and it's killing me I'm not there. But it's our way of showing the kids we appreciate them and loaning us their fathers and their brothers, and whoever it may be for the time being, and them not getting to have them in their life."
Roger jokes that the rake and shovel are waiting for his son to join him in the groundskeeper business. For now, Brandon will be playing on the field instead of expertly attending to them.
"He's got a little bit of talent, more talent baseball-wise than his father," Bossard said. "That's why I have the shovel and the rake."