Wednesday's top prospect performers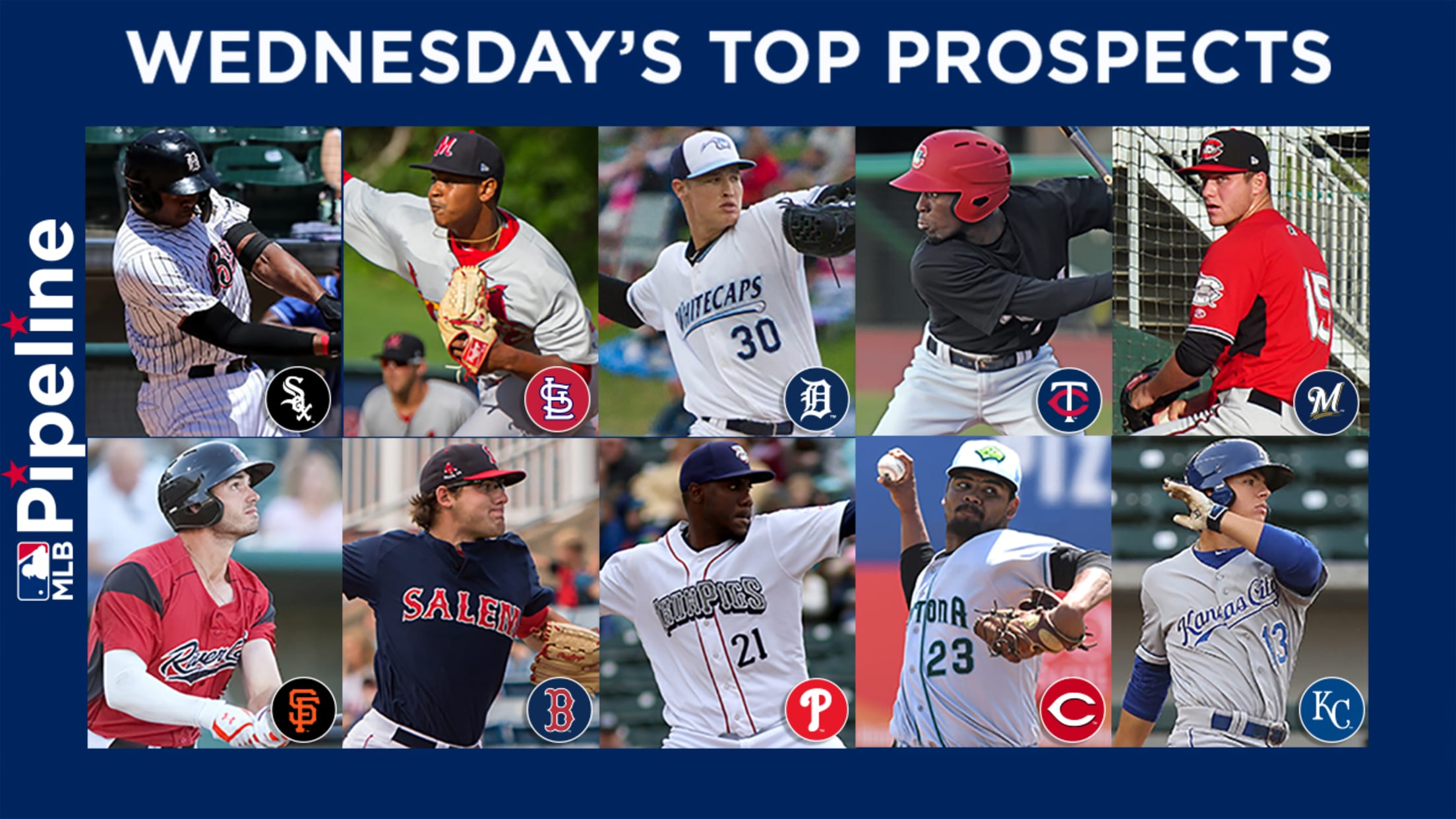 Here's MLB Pipeline's roundup of the top prospect performances in the Minor Leagues on Wednesday.A trio of the White Sox top prospects led Double-A Birmingham to its third straight win as the Barons cruised past Pensacola, 16-3, on Wednesday.:: Complete prospect coverage ::Eloy Jimenez, Chicago's No. 1 prospect (No. 4
Here's MLB Pipeline's roundup of the top prospect performances in the Minor Leagues on Wednesday.
A trio of the White Sox top prospects led Double-A Birmingham to its third straight win as the Barons cruised past Pensacola, 16-3, on Wednesday.
:: Complete prospect coverage ::
Eloy Jimenez, Chicago's No. 1 prospect (No. 4 in MLB) continued his torrid offensive stretch as he extended his hitting streak to 13 games with his ninth straight multihit effort and Seby Zavala (No. 21) went deep for the third time in as many games. On the mound, Jordan Stephens (White Sox No. 20) put together a scoreless outing for the third time in his past four starts.
Jimenez, who finished 2-for-3 with a walk and two RBIs, has been red-hot lately and is slashing .346/.375/.704 through 20 games. Meanwhile, Stephens has been stringing together some quality starts of his own. The right-hander, who struck out eight and yielded two hits over six scoreless innings, has a 2.95 ERA through seven starts and has struck out seven or more in five of those starts.
MILB Video - Title: Jimenez doubles twice - Url: http://www.milb.com/r/video?content_id=2026101283
Zavala, who finished 2-for-6, hit his ninth homer of the season and appears to be heating up offensively as he's 5-for-14 over the past three games, after going 1-for-16 in the four games prior.
Other top prospect performances from Wednesday's action:
• No. 18 overall prospect Alex Reyes (Cardinals' No. 1) threw 43 of his 67 pitches for strikes, including two that registered 99 mph, in a strong start for Class A Advanced Palm Beach. Reyes, who was making his first start since 2016 after missing all of last season recovering from Tommy John surgery, walked one, struck out six and yielded four hits over 3 1/3 scoreless frames.
• No. 35 overall prospect Jack Flaherty (Cardinals' No. 2) was lights-out for Triple-A Memphis in a win over Oklahoma City. Flaherty, who was stuck with his first loss of the year in his last outing, threw 77 of his 113 pitches for strikes as he racked up a career-high 13 strikeouts. The right-hander threw 6 2/3 innings and gave up two runs on six hits.
• No. 48 overall prospect Adrian Morejon (Padres' No. 6) bounced back from a rough outing in a big way with Class A Advanced Lake Elsinore. The lefty set a career-high with seven innings and a season-high with seven strikeouts in the outing. Morejon walked one, gave up three hits and didn't allow a run.
• No. 53 overall prospect Matt Manning (Tigers' No. 2) bounced back from his worst start of the season (five earned runs in two innings) to twirl a gem for Class A West Michigan. Manning, who threw six scoreless innings, gave up four hits and struck out eight.
MILB Video - Title: Manning's eighth strikeout - Url: http://www.milb.com/r/video?content_id=2026172283
• No. 79 overall prospect Nick Gordon (Twins' No. 4) hit his third homer of the season -- and his first since April 18 -- in Double-A Chattanooga's win over Jackson. Gordon, who also doubled twice and finished 3-for-4, is hitting .339 through 31 games in his second go-around with the Lookouts.
• No. 94 overall prospect Blake Rutherford (White Sox No. 7) set a career-high with five RBIs for Class A Advanced Winston-Salem. Rutherford, who finished 2-for-5, had a two-run single in the fifth and then capped his evening with a three-run, go-ahead homer in the 10th.
• Astros' No. 9 prospect J.D. Davis continued his hot streak with a 4-for-5, two-RBI effort for Triple-A Fresno. Not only is Davis in the midst of a 12-game hitting streak, he's also hitting .450 through 25 games and has multiple hits in nine of the 12 games during his streak.
• Brewers' No. 24 prospect Zack Brown picked up his second win as he twirled his best start of the season for Double-A Biloxi. The 23-year-old right-hander, a fifth-round Draft pick in 2016, surrendered just two hits as he worked seven scoreless innings.
• Giants' No. 2 prospect Chris Shaw turned in his second straight two-hit game for Triple-A Sacramento. Shaw, who finished 2-for-4 with a trio of RBIs, is swinging a hot bat lately as he's 5-for-12 with a homer and six RBIs over his past three games.
• Red Sox No. 9 prospect Mike Shawaryn cruised through seven scoreless innings for Double-A Portland. Shawaryn, who set a season-high with eight strikeouts, walked one and gave up three hits over seven scoreless innings
• Phillies' No. 13 prospect Enyel De Los Santos posted his third straight scoreless start (18 2/3 innings) in a win for Triple-A Lehigh Valley. The 22-year-old has a 0.84 ERA across six starts, but in a season full of great outings, this may have been his best. De Los Santos fired 72 of his 108 pitches for strikes, struck out six and gave up just one hit in seven innings.
• Reds' No. 4 prospect Tony Santillan lowered his ERA to 1.28 as he twirled a gem for Class A Advanced Daytona. The 21-year-old right-hander only notched a pair of strikeouts, but yielded just four hits across eight scoreless frames. Santillan gave up four runs in his last start, but has surrendered one earned run or fewer in six of his seven outings.
• Rockies' No. 25 prospect Chad Spanberger put together one of the best games of his career for Class A Asheville. Spanberger, who was picked in the sixth round of the 2017 Draft, finished 3-for-4 with six RBIs and two homers. The 22-year-old hit a solo homer in the second and a three-run blast in the seventh.
• Royals' No. 2 prospect Nick Pratto continued his power surge with another homer for Class A Lexington. Pratto, who has gone deep three times in the past six games, hit an RBI single in the fifth and a three-run homer in the seven on his way to finishing 3-for-4 with a season-high four RBIs.
• Yankees' No. 14 prospect Jonathan Loaisiga continued his strong 2018 campaign with another solid start for Double-A Trenton, giving up one run on five hits over six innings. Loaisiga, who began the year with Class A Advanced Tampa, has allowed two runs or fewer in all six starts across both levels and has an impressive 38-to-3 strikeout-to-walk ratio through 30 innings.