Inbox: Who's out of potential playoff rotation?
Beat reporter Brian McTaggart answers questions from Astros fans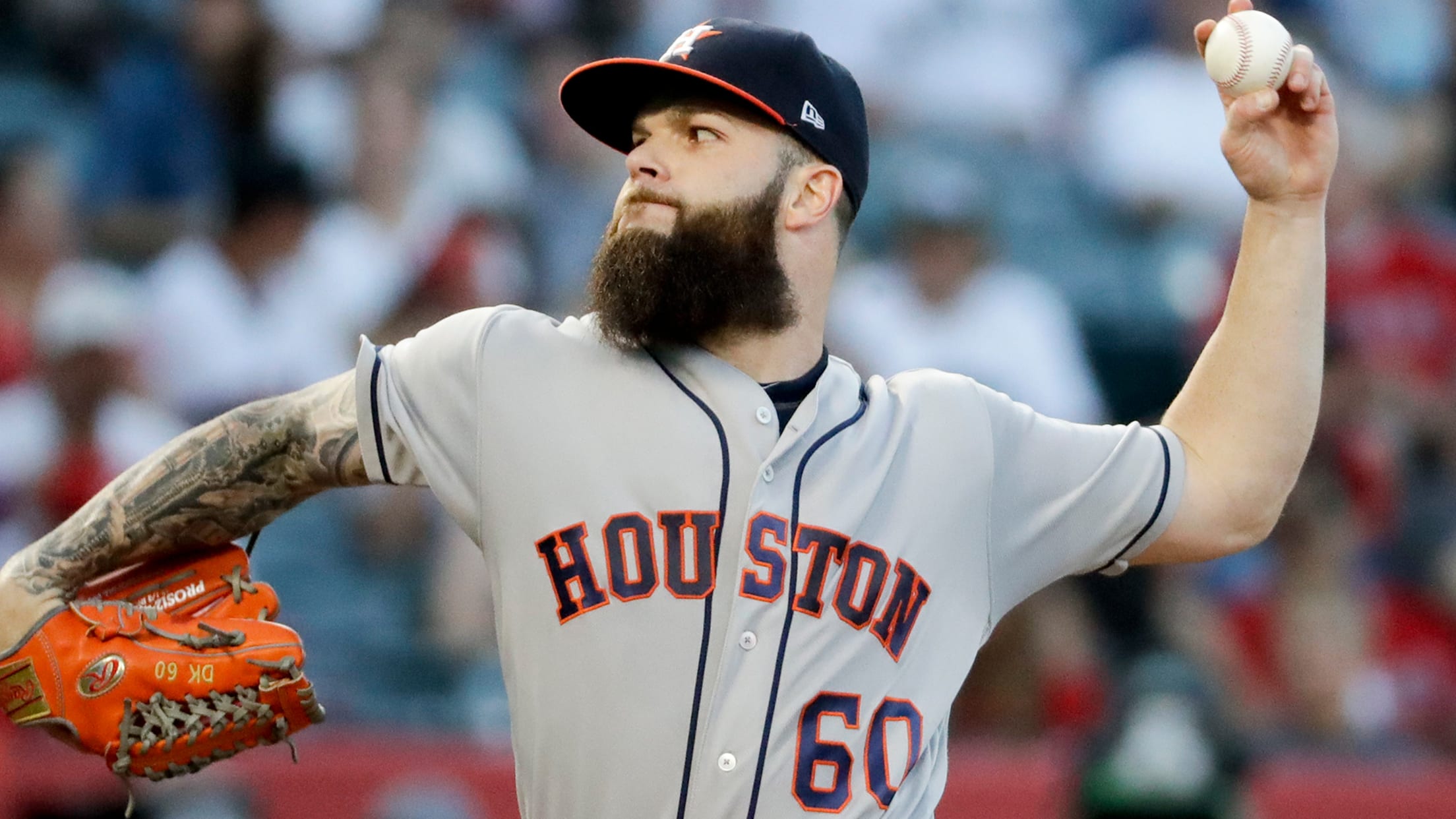 The non-waiver Trade Deadline is rapidly approaching, and several key deals have already been made across baseball. It's not surprising to see that you have so many questions about the Astros in relation to trades, so I'll try to answer them the best I can in this week's Inbox:Assuming the
The non-waiver Trade Deadline is rapidly approaching, and several key deals have already been made across baseball. It's not surprising to see that you have so many questions about the Astros in relation to trades, so I'll try to answer them the best I can in this week's Inbox:
Assuming the Astros make the playoffs and go with a four-man rotation again, who could be moved to the bullpen? And could you see them possibly moving that starter to the bullpen in September so he can get acquainted with throwing from the 'pen before the playoffs?
-- Aaron M., Houston
It's hard to say which starter will get moved out of the rotation two months ahead of the playoffs. A month ago, it would have been Dallas Keuchel, but he's been terrific lately. Plus, there's always the chance for injuries. It may also depend on the matchup. The Astros aren't going to move any of their starters to the bullpen in preparation for the playoffs. Lance McCullers and Charlie Morton did just fine transitioning to relief last October (Brad Peacock started and relieved during the season). They are keeping an eye on the workload of the starters, though, and the extra off-days this season will help them manage that in July and August.
:: Submit a question to the Astros Inbox ::
With Houston's team ERA almost a half-point point better than anyone else, rather than closer or relief pitching, shouldn't the Astros look more for a bat at the Trade Deadline to lengthen the lineup?
-- Robert S., Princeton, N.J.
The Astros' trade priorities are relief pitching and catching, so if they're going to add any offense, it will be at catcher to help while Brian McCann is out. McCann is a couple of weeks removed from right knee surgery and won't be back until September at the earliest. While the team likes what Max Stassi has done, adding a veteran catcher for the stretch drive and perhaps the playoffs is on the table.
Could the Astros bring back Ken Giles if he has his act together? This would make the bullpen even more dominant with Giles and hopefully Zach Britton.
-- James, Erie, Mich.
My gut tells me Giles won't be back anytime soon. Frankly, I would be surprised if we see him before rosters expanded on Sept. 1 -- no matter how well he's pitching. I'm sure getting sent to Triple-A Fresno last week was a kick in the gut. It will be interesting to see if the Astros consider Giles for their playoff roster if he's pitching well when and if he returns.
Manager AJ Hinch hinted that no big move was in the works. Is this concerning? We have an excellent team, but we have to close out games. Do you see someone that the Astros may target at the Deadline to be a lights-out closer come playoffs? I see it as almost a must have to get through the AL.
-- Thomas S., Kingwood, Texas
Well, if they were on the brink of a "big move," Hinch wouldn't say anything about it publicly, so I wouldn't read much into that. The team is in the market for relief pitching and catching, but it's impossible to handicap the likelihood of a trade. I get the sense that if the club doesn't add anything significant at the Trade Deadline, it won't rattle the clubhouse like it did last July. And remember, the Astros went out and got Justin Verlander in August, so deals can get done after July 31.
What about Jose Abreu? Where would he fit ... DH? Because we would rather Yuli Gurriel at first, right? Not sure Abreu should be in the conversation ... what do you think?
-- Chas S., Houston
I've had several scouts ask me about the Astros' interest in Abreu in recent weeks, but they aren't interested in adding the White Sox slugger at this point.
What's the real story on Carlos Correa's back?
-- Bill G., Sugar Land, Texas
Correa has been out nearly a month with back soreness, but there's no conspiracy here. He had a setback prior to the All-Star break and had to stop doing baseball drills. He started playing catch at Minute Maid Park on Saturday, but until he can swing a bat pain-free, there's no real progress to report. Of course, once he ramps up his baseball activities to where he can run, hit, throw and field grounders with no pain, he'll have to go on a Minor League rehab assignment that could last a few games. That means Correa is a couple of weeks away from returning to the lineup, barring no further setbacks.
Where did Derek Fisher go? Is he coming back? Last I remember he was put on the DL. Is he still injured?
-- Sholom L., Houston
Yes, Fisher was on the DL with gastrointestinal issues in late May and was sent to Fresno on a rehab stint. He was activated from DL in early June and is still playing for Fresno. I suspect he'll return in September when rosters are expanded.
How much longer are Hinch and [GM Jeff] Luhnow going to give Kyle Tucker a chance to adjust to Major League pitching? Do you think he's overmatched?
-- Becky B., Kingwood, Texas
Sure, he's overmatched at times, but Tucker is not the first prospect to struggle making his Major League debut. I'm sure you remember Alex Bregman going 1-for-34 to start his big league career two years ago before figuring things out. Tucker has hit the ball into the shift some, so when he starts hitting the ball in the air, the results will improve. If Tucker's struggles continue into August, you could see him perhaps get sent down to finish out the Triple-A season.