Inbox: Who profiles as Blue Jays' answer at SS?
Beat reporter Gregor Chisholm answers fans' questions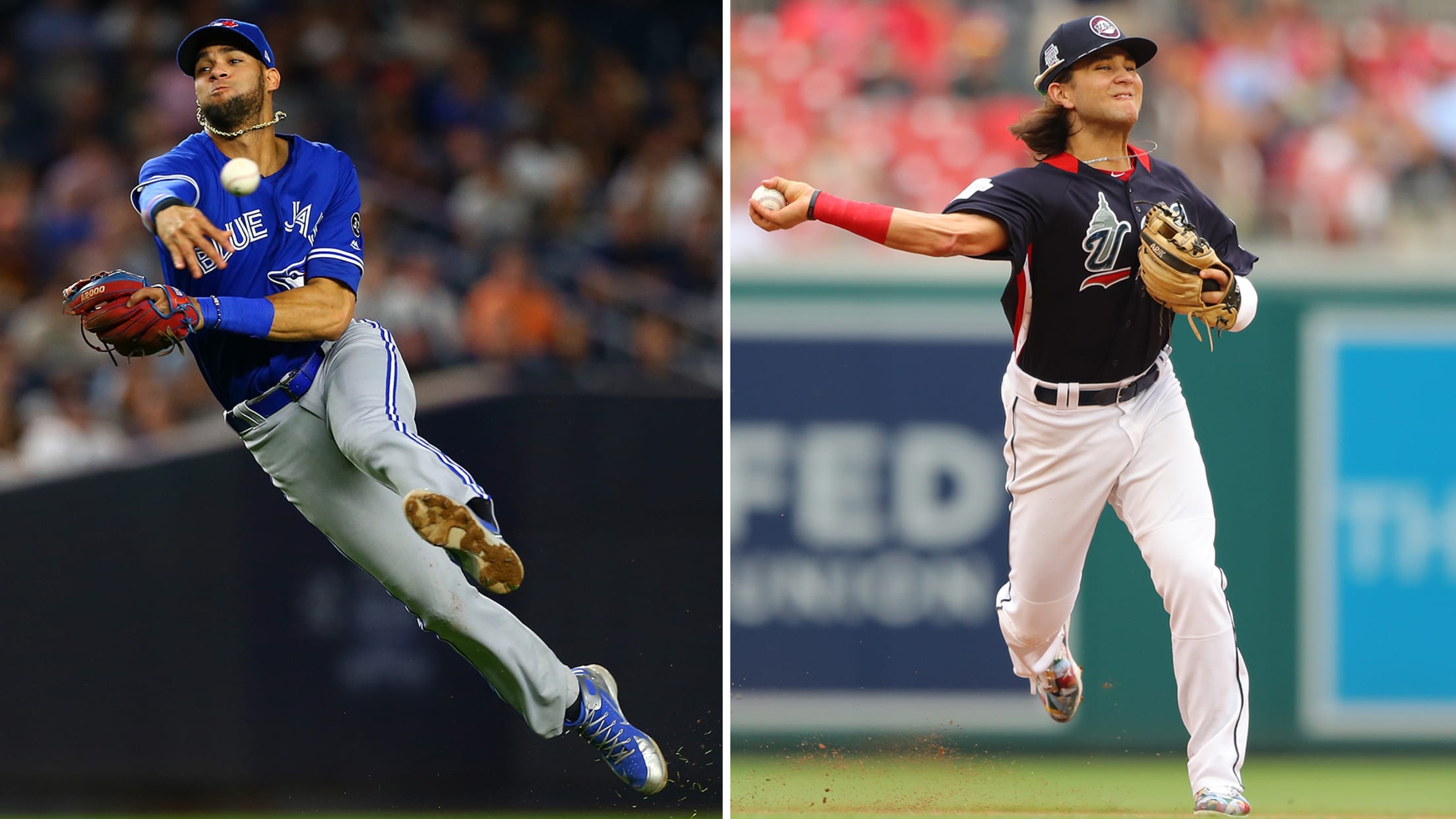 Who do you see as the short- and long-term solution at shortstop? I'm sure they would love for Bo Bichette or Lourdes Gurriel Jr. to work out there, but do you feel they can play well enough defensively to not be a liability? -- Scott, Coquitlam, British ColumbiaIf I had
Who do you see as the short- and long-term solution at shortstop? I'm sure they would love for Bo Bichette or Lourdes Gurriel Jr. to work out there, but do you feel they can play well enough defensively to not be a liability?
-- Scott, Coquitlam, British Columbia
If I had to pick one guy, it would be Bichette, but the truth is even the Blue Jays won't know the answer for at least a couple of years. Gurriel will get the first crack at the job, and if he exceeds expectations then it's possible he never gives the job up. If the results are bad, Bichette, Toronto's No. 2 prospect, steps in the following year, Kevin Smith the year after that and the list goes on and on. This is one area where the organization has a lot of options.
If you would have asked me eight months ago whether Gurriel had the ability to stick at short, I would have said no chance. Since then, his footwork has improved, he started to make the routine plays with more regularity and he's at least given himself a chance to succeed. The big question with Bichette is the accuracy of his arm, but I think he's better at the position than most people give him credit for. He's still my long-term pick.
:: Submit a question to the Blue Jays Inbox ::
Understandably, there has been a lot of attention on roster personnel and trades, but do you have any early thoughts on how style of play might change with the new manager and coaches?
-- @sutton1110 via Twitter
The style of play from on-field personnel is not going to change much. The current projected 25-man roster is younger and more athletic than it used to be, but this is still a group that lacks a traditional leadoff man, speed on the basepaths and above-average defenders. Charlie Montoyo and his staff won't be able to make widescale changes until new players arrive, but the in-game management and strategy is an entirely different story.
Montoyo has floated the idea of using an opener, which is when a "reliever" starts the game for an inning or so and then turns things over to the "starter," who attempts to pitch deep into the game. Other changes to expect: Outfielders consulting with charts on their wristbands to determine proper field positioning, catchers taking a similar approach and a team that becomes very aggressive with its defensive shifts, including the use of a three-man infield and a four-man outfield depending on the situation. The early changes will be more tactical than anything else.
With the team in an obvious rebuild, why hold on to veterans who are not part of the future (Justin Smoak, Kevin Pillar, etc.) if there are viable replacements in the system (Rowdy Tellez, Anthony Alford or one of the other outfield prospects)?
-- @aaronluvsleafs1 via Twitter
A rebuilding team should almost always look to deal its veteran players who do not figure to be a part of the long-term future. If the price is right, then it's a no-brainer to sacrifice a bit of the present for the future. That being said, there has to be proper value coming in return, and unless the veterans are blocking key prospects, there's no sense of making a deal just to make a deal. Promotions need to be earned, and despite all of the attention, neither Tellez or Alford have done that quite yet.
Alford battled with injuries and confidence in 2018 and posted a disappointing .240/.312/.344 slash line across 105 games with Triple-A Buffalo. He remains one of the best athletes in the system, but the 24-year-old needs to string some success together before he can be considered a viable option. The same could be said about Tellez, who posted a .943 OPS across 23 September games, yet was limited to a .765 OPS over a full year at Buffalo. If Tellez and Alford start strong, the Blue Jays will find room, but there's no sense to rush anything unless the club is getting something it wants in return.
What mid- to low-end starters do you expect the Blue Jays to sign? I believe they need at least one veteran signing, and more if they move Marcus Stroman and/or Aaron Sanchez?
-- Zach L., Ottawa
Your belief is similar to how the organization feels, and general manager Ross Atkins agreed earlier this month that adding two starters is the club's ideal scenario. One starter is an absolute necessity, and while two might be a luxury, that's what Atkins and the rest of his front office will be trying to accomplish over the next several weeks.
So who will they target? Toronto has done a lot of background on Japan's Yusei Kikuchi as an option for both the short and long term. That's about as high ceiling as it will get because Dallas Keuchel isn't realistic. The other candidates can be found in one of the lower tiers: Mike Fiers, Trevor Cahill, Giovany Gonzalez, Wade Miley, Jeremy Hellickson or Shelby Miller. Cahill was my pick at the start of the offseason and he's still my pick now.
Who are some of the under-the-radar type relievers the Blue Jays might be looking at?
-- Bruce P.
Early indications I've received suggest the bullpen is less of a priority right now. The Blue Jays are focused on adding to the rotation, and it seems unlikely the club will make a move on a guaranteed contract for a reliever until the starting market gains more clarity. Last year, Atkins waited until Spring Training to sign the veteran trio of John Axford, Seunghwan Oh and Tyler Clippard, and you can expect a similar approach again in 2019.
As for specific candidates, it's safe to say the top group can be ruled out. Montoyo has familiarity with Sergio Romo, and Yency Almonte and Amir Garrett offer underrated value, and there's no shortage of bounce-back candidates. Just don't expect much to happen any time soon.