Calhoun has undergone physical makeover
Outfielder vying for roster spot drops 24 pounds in offseson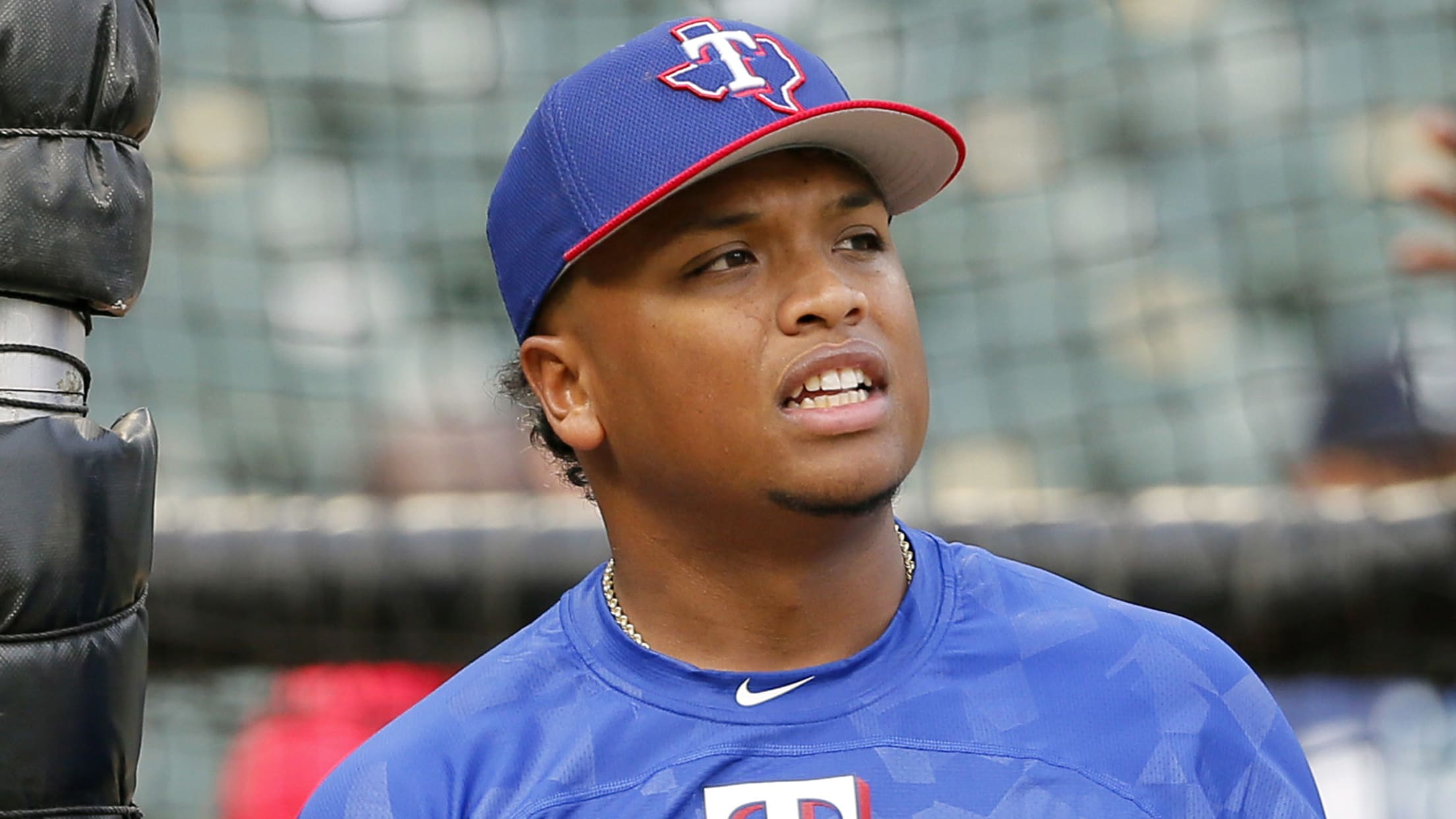 Texas Rangers' Willie Calhoun participates in batting practice before a baseball game against the Seattle Mariners on Tuesday, Sept. 12, 2017, in Arlington, Texas. (AP Photo/Tony Gutierrez) (Tony Gutierrez/AP)
SURPRISE, Ariz. -- There are jobs to be won in Rangers camp, manager Chris Woodward said before Friday's workout. The most compelling battle could be between Willie Calhoun and Hunter Pence for the fourth outfield spot.:: Spring Training coverage presented by Camping World ::Those two might be in a head-to-head
SURPRISE, Ariz. -- There are jobs to be won in Rangers camp, manager Chris Woodward said before Friday's workout. The most compelling battle could be between Willie Calhoun and Hunter Pence for the fourth outfield spot.
:: Spring Training coverage presented by Camping World ::
Those two might be in a head-to-head battle to make the Opening Day roster.
"Not necessarily," Woodward said. "I can definitely see a scenario where both make the team. It's going to be tough, but who knows? There are a lot of things that are going to happen between now and Opening Day. Willie should feel he has done everything possible up to this point; guy needs to go out and let his body work."
Calhoun might be the most compelling player in camp. The Rangers, who acquired him from the Dodgers in a Trade Deadline deal in 2017 for Yu Darvish, have always liked Calhoun's bat. But this offseason they gave him a mandate to lose weight and get his body in shape. Calhoun followed orders and showed up to camp weighing 199 pounds. He said he lost 24 pounds in the offseason.
"The first month and a half, it was hard, because my body wasn't used to it," Calhoun said. "The first week of December, it started picking up a lot. I started dropping a lot. So, that's when I was more motivated, and I kept seeing numbers."
Calhoun has been on diets before. Woodward strongly urged him to get in better shape in 2017, when Woodward was the Dodgers' infield instructor and Calhoun was playing second base. Calhoun did so but later relapsed.
"It's real," Woodward said. "He's committed to it. The beautiful thing Willie has done now is he can focus just on baseball. He doesn't have to come to the field every day consumed about losing weight or getting in shape or proven he's committed. He is committed."
Gallo to get time in center
The Rangers plan on Joey Gallo being in left field this year next to Delino DeShields in center. But Gallo could end up being the Rangers' backup center fielder if Calhoun or Pence make the team as the fourth outfielder.
"Yeah, I have already talked to Joey about that," Woodward said. "I'm 100 percent comfortable putting Joey out there from what I have seen. I've told him a few times where if something happens and we are in need, 'You could be the everyday guy.'"
Miller, Smyly throw bullpen
Right-hander Shelby Miller and left-hander Drew Smyly both had good bullpen sessions on Friday, their first ones of Spring Training. Along with Edinson Vólquez on Thursday, that's a good first step for the three veteran pitchers being counted on to make full recoveries from Tommy John elbow reconstruction surgery.
• Cabrera confident he can make transition to 3rd
"I think I'm there," Miller said. "Physically, I feel like I'm 100 percent. Obviously, you won't know that feeling of getting into a rhythm until I'm starting every fifth day. Physically, I'm doing everything like a normal baseball player."
Both pitchers will take two days off and then throw another bullpen session on Monday. After that, they will move up to facing live hitters.
Rangers beat
• The Rangers had two first-round picks in the 2011 MLB Draft in left-hander Kevin Matthews and outfielder Zach Cone. Both are out of baseball, but the Rangers now have that year's 24th pick in camp. Right-hander Taylor Guerrieri is here on a Minor League contract. He was taken that year by the Rays and his career has been derailed by two arm surgeries. But he is healthy now and has a career 2.88 ERA in the Minor Leagues with a 1.13 WHIP. He could give the Rangers valuable starting depth at Triple-A.
• Country music legend Charley Pride arrived in camp on Friday for his annual visit to Spring Training. He is still one of the Rangers minority owners.
• Rangers Spring Training tickets | Schedule | Buy gear
• Young pitchers such as Taylor Hearn, Jonathan Hernandez, Brock Burke and Joe Palumbo aren't expected to make the team, but Woodward refuses to say they have no chance.
"I don't think it is fair to do that," Woodward said. "You never know. Weird things happen. I don't want them to start the year with us. But if out of necessity or they force our hand … why wouldn't we if [a player] proves he's ready? I don't want these guys feeling they are living and dying by every pitch to make the team … at the same time, understand, you never know."