Calhoun's torrid start slowed by trip to IL
Outfielder diagnosed with strained left quad; DeShields recalled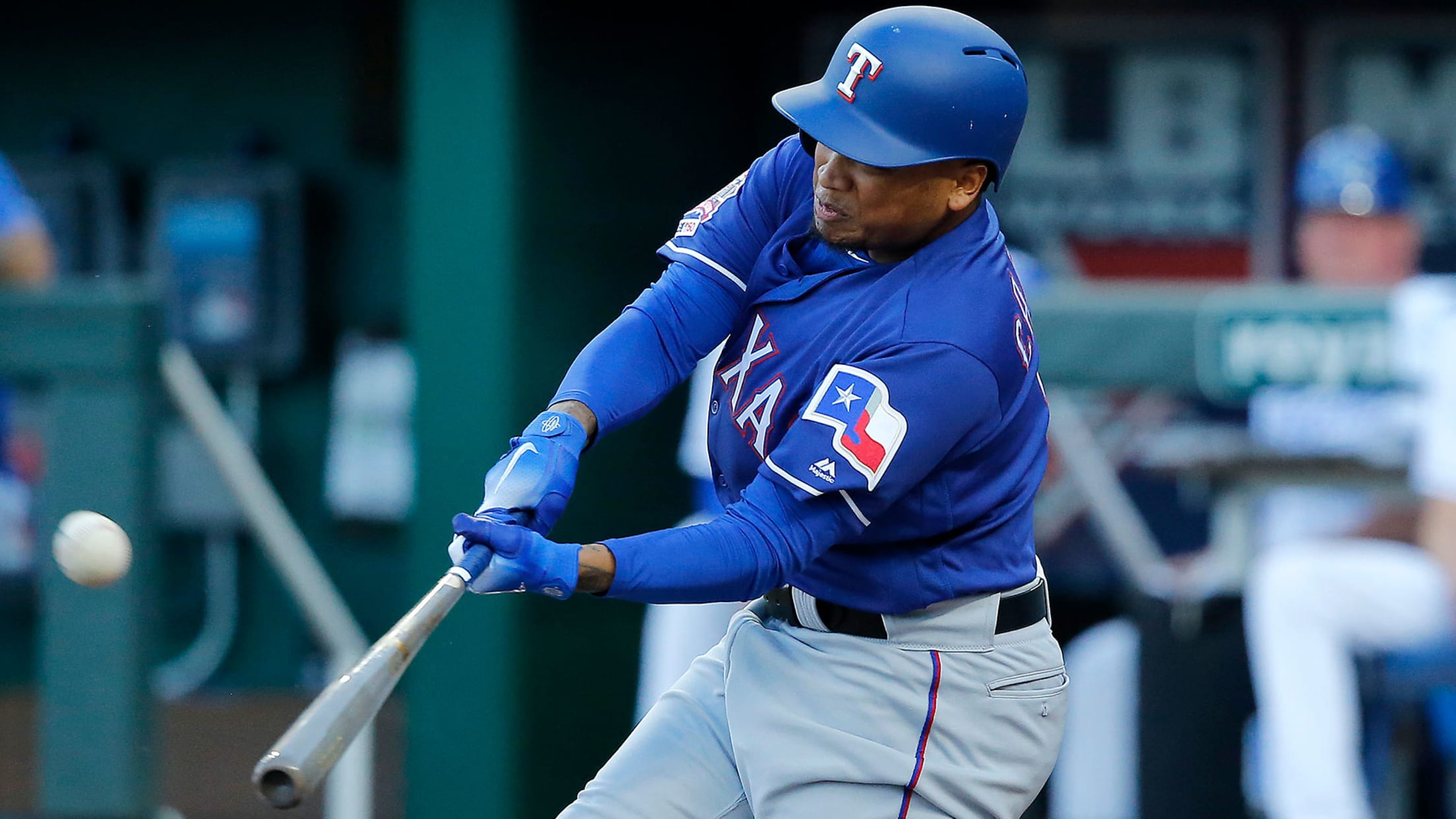 ARLINGTON -- Rangers outfielder Willie Calhoun was placed on the 10-day injured list Wednesday with a strained left quad muscle. Texas called up outfielder Delino DeShields from Triple-A Nashville to replace him on the active roster. Calhoun injured his leg trying to beat out a ground ball in the sixth
ARLINGTON -- Rangers outfielder Willie Calhoun was placed on the 10-day injured list Wednesday with a strained left quad muscle. Texas called up outfielder Delino DeShields from Triple-A Nashville to replace him on the active roster.
Calhoun injured his leg trying to beat out a ground ball in the sixth inning of Tuesday's game against the Mariners. Calhoun left the game when he felt tightness in the muscle, and an MRI taken Wednesday morning showed a strain.
It's a tough break for Calhoun, who had been called up last Wednesday when shortstop Elvis Andrus went on the injured list with a strained right hamstring. Calhoun was 10-for-23 (.435) with two home runs and seven RBIs in six games since joining the Rangers.
Calhoun was making a bid to stay with the Rangers, even once Andrus is activated off the IL.
"That is not the solution I was hoping for, for Willie's sake," manager Chris Woodward said. "Unfortunately, sometimes that's the way it goes."
Andrus is on track to be activated off the injured list Saturday, the first day he is eligible. He has been out since May 14 with a strained right hamstring. Andrus played two games at Double-A Frisco on a rehab assignment and is flying with the team Wednesday evening as it heads off for a six-game road trip in Anaheim and Seattle.
Andrus' return likely means DeShields will be with the Rangers only for a few games. The other option for Texas would be to go from eight to seven relievers and carry an extra position player on the bench.
"Yeah, it's something worth discussing for sure," Woodward said. "If I were a betting man, I would assume there is a better chance for us not to. Higher probability not to, but we are definitely talking about it. Just puts a lot of pressure on having to get through games."
Rangers switch sports for trip
The Rangers turned themselves into a basketball team for their Wednesday night flight to Orange County. In honor of the NBA playoffs, they wore basketball jerseys for the flight.
Shin-Soo Choo donned a Michael Jordan jersey, Jose Leclerc had on a Stephen Curry jersey and Shelby Miller went with James Harden. The two catchers had matching Boston Celtics jerseys -- Jeff Mathis went with Larry Bird and Isiah Kiner-Falefa had on Kyrie Irving.
The idea was proposed by veteran reliever Jesse Chavez.
"He brought it up and I said OK," Woodward said. "I don't want to get cheesy and do things just to do things, but it's fun. Guys have a good time with it. Get a little creative. There were some interesting things I saw."
The winner in that regard might have been third-base coach Tony Beasley. He wore a Jimmy Chitwood/Hickory jersey from the movie "Hoosiers."
Rangers beat
• Mike Minor and Lance Lynn both struck out 11 batters in their starts Monday and Tuesday, respectively, against the Mariners. The last Rangers pitchers to post back-to-back games of 11-plus strikeouts were C.J. Wilson and Colby Lewis on May 4-5, 2011, both of which coincidentally came against Seattle.
• The Rangers are splitting up Minor and Lynn. Minor will pitch Saturday against the Angels and will be followed by Ariel Jurado on Sunday. Lynn is being pushed back to Monday against the Mariners in Seattle.
• Joey Gallo, who was not in the lineup Wednesday, has a home run for every 9.80 at-bats this season. The lowest ratio in club history for a full season is 10.95, set by Alex Rodriguez in 2002.