Adames optioned to Triple-A to get more action
Rays hope to get club's No. 2 prospect into better rhythm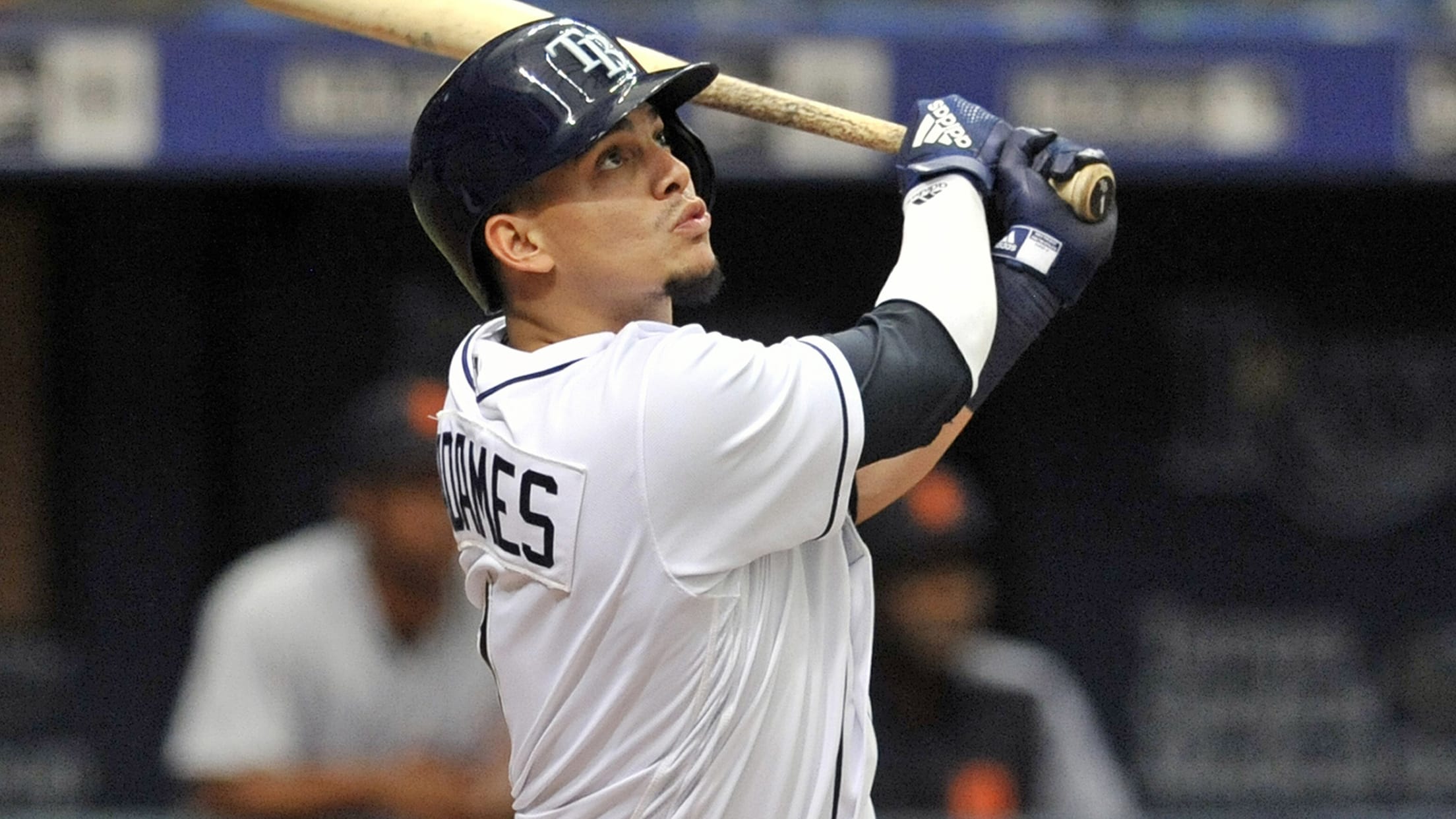 Tampa Bay Rays' Willy Adames bats during a baseball game against the Detroit Tigers Wednesday, July 11, 2018, in St. Petersburg, Fla. (AP Photo/Steve Nesius) (Steve Nesius/AP)
MINNEAPOLIS -- In order to get one of their top prospects more playing time, the Rays optioned shortstop Willy Adames to Triple-A Durham on Thursday. In a corresponding roster move, right-hander Chih-Wei Hu was recalled from Durham.Adames, the Rays' No. 2 prospect per MLB Pipeline, hit .216/.263/.341 with three homers in
MINNEAPOLIS -- In order to get one of their top prospects more playing time, the Rays optioned shortstop Willy Adames to Triple-A Durham on Thursday. In a corresponding roster move, right-hander Chih-Wei Hu was recalled from Durham.
Adames, the Rays' No. 2 prospect per MLB Pipeline, hit .216/.263/.341 with three homers in 26 games with Tampa Bay. He was called up on May 22 after Adeiny Hechavarria went on the 10-day DL with a right hamstring strain.
But with Hechavarria back in the mix over the past few weeks, Adames had been bumped from his natural position at shortstop and was playing primarily at second base.
"It was a really hard decision," Rays manager Kevin Cash said. "We thought about it and, in fairness to Willy, when we called him up, we thought we were going to be able to do a better job of creating a lane. We've got a lot of good infielders here right now playing. We needed pitching, which also went into it, obviously, with the two bullpen days back to back."
Adames, MLB Pipeline's No. 19 overall prospect, hit .286/.356/.424 with four homers and 30 RBIs in Triple-A prior to his promotion. The organization hopes that more consistent playing time will help Adames find his rhythm.
"Ultimately, it was more about Willy, in fairness," Cash said. "We want him to be a shortstop. He's got to get some reps down there and get some more consistency. But we anticipate he's going to go do his thing. He was positive with the message, and get him right back up here."
This will be Hu's second Major League stint for the Rays this season. He made one appearance, allowing three runs in 2 2/3 innings vs. the Rangers on April 16, before being sent down. He has recorded a 4.66 ERA in 16 appearances (14 starts) for Durham. The Rays used five pitchers on both Tuesday and Wednesday.
Jarrid Denney is a reporter for MLB.com based in Minneapolis.