Font dealt to Mets; Yarbrough sent to Triple-A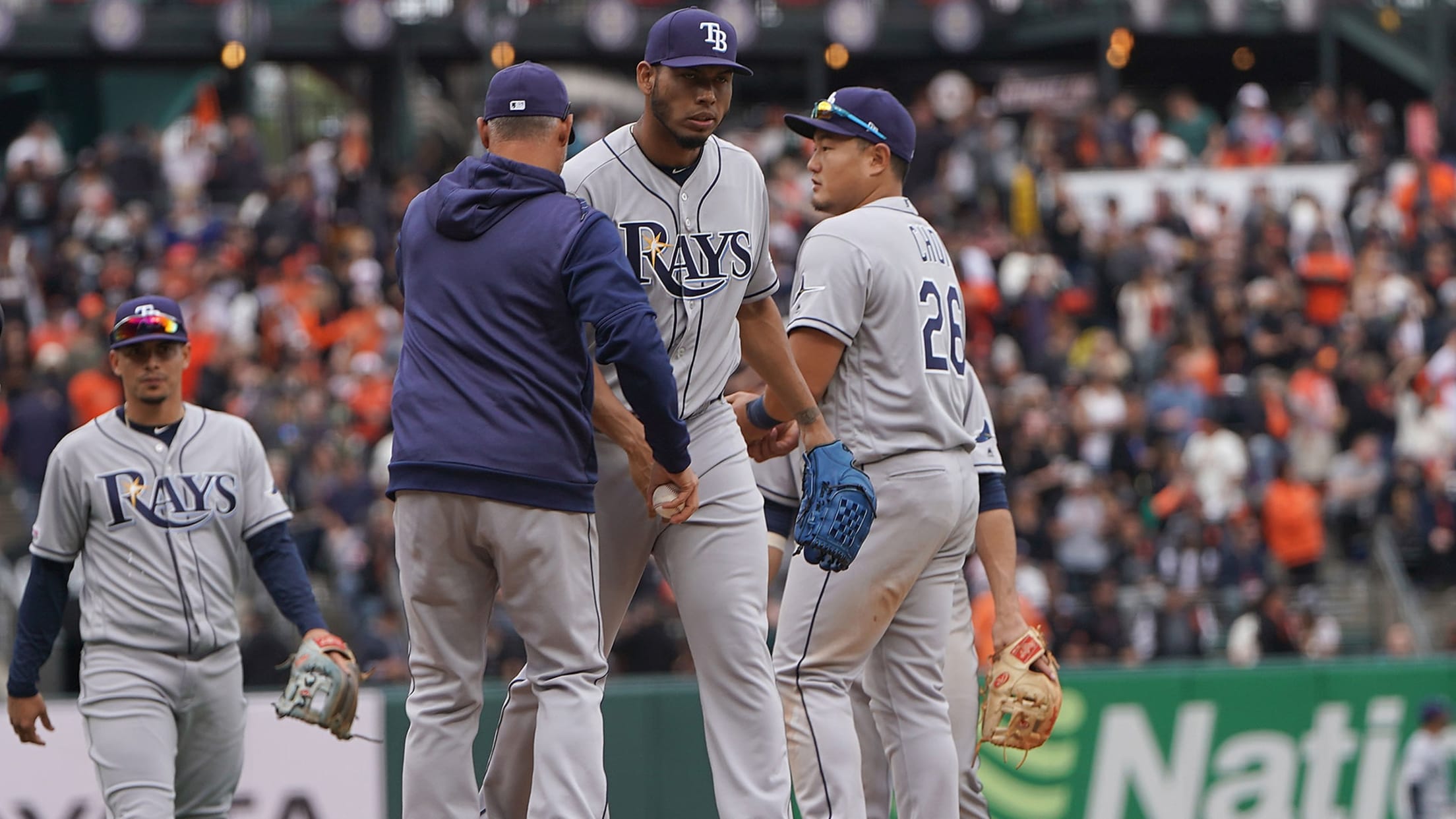 ST. PETERSBURG -- The Rays traded Wilmer Font, off to a slow start this season, to the Mets on Monday for a player to be named later or cash considerations. Font, acquired by the Rays from the A's last May, was a pleasant surprise last season. In nine appearances with
ST. PETERSBURG -- The Rays traded Wilmer Font, off to a slow start this season, to the Mets on Monday for a player to be named later or cash considerations.
Font, acquired by the Rays from the A's last May, was a pleasant surprise last season. In nine appearances with Tampa Bay, the 6-foot-4 right-hander posted a 2-1 record with a 1.67 ERA before a lat injury in June forced him to miss the remainder of the season.
"He did some good things for us," Rays manager Kevin Cash said. "The thing that didn't work out was the injury last year. That stunk, because he was developing and getting on a good run. Then this year, it was just a little tough to find bulk innings of work for him."
Font has struggled after having a shortened Spring Training. In 10 appearances, Font has a 5.79 ERA, but he has shown the ability to strike out hitters, recording 18 whiffs over 14 innings.
"I wish him nothing but success," Cash said. "I want to see him go over there and get an opportunity to pitch a little bit more than maybe he had here. He's a Major League pitcher, he's a pro, a great teammate and a good guy."
The Rays recalled right-hander Casey Sadler to replace Font on the 25-man roster. The Rays' 40-man roster now stands at 39 players.
Yarbrough sent down, Velazquez recalled
Ryan Yarbrough, who was called up prior to Sunday's game in Baltimore before the game was postponed by rain, was optioned again to Triple-A Durham, where he will continue to get built up and stay on a more consistent routine.
After leading all rookies with 16 wins last season, the left-hander struggled to start the 2019 season, posting an 8.10 ERA in five appearances as the team's bulk guy.
"The Yarbs thing kind of goes back to the rain and all those decisions that didn't work out," Cash said. "We had every intention of him pitching [Sunday]. He's a big part of our club. Just because he's not here right now, that doesn't mean much."
With Jalen Beeks emerging as a quality long reliever and the team having four off-days over the next couple of weeks, there weren't going to be many opportunities for Yarbrough. The Rays believe keeping him on a regular throwing routine will benefit him.
"His Spring Training was not very normal," Cash said. "He had a little bit of a groin injury. He had some personal stuff come up where he had to take a couple of days off. I think this consistency will allow him to continue to get his work in."
The Rays called up Andrew Velazquez from Triple-A, giving them more versatility off the bench. The 24-year-old can play the outfield and multiple infield positions. He made his Major League debut last season and went 3-for-10 in 13 games. This season, Velazquez is hitting .290 with three home runs in 23 games with Durham.
Meadows feels close to returning
Austin Meadows, who has been sidelined since April 21 with a right thumb sprain, appears to be getting closer to a return to the Rays' lineup.
"I feel close," Meadows said Monday. "I've been here the past 10 days rehabbing and doing everything I can to get back. Thumb feels good, playing catch and everything feels good."
Meadows took batting practice for the first time since suffering the injury and will go through a full workout on Monday and Tuesday. If all goes well, Meadows could go on a rehab assignment later this week.
"He's done really good," Cash said. "We kind of shut him down for eight to 10 days of doing nothing, and then since then, he has graduated from doing tee work to soft toss to velo machine. He's going to work out the next two days with us. Full work, and then we'll see how that soreness subsides and then if we can get him out there. But we're happy with his progress to this point."
The left-handed hitter said that he has experienced some soreness, but that's normal coming back from the injury. He believes he'll need only five to 10 at-bats in rehab games before he's ready to contribute at the big league level.
Could the three-game series against the Yankees starting Friday be a possibility?
"That's what I'm shooting for," Meadows said. "Like I said, you don't know how this is going to react. I'm doing a heavy day today. A heavy day tomorrow, and hopefully get into some games. But yeah, I feel good, and hopefully at the end of the week. That would be a huge goal."
Juan Toribio covers the Rays for MLB.com. Follow him on Twitter @juanctoribio.